NFL
AFC Win Totals: A few AFC West Teams are Offering Value
The Patriots, Chargers, and Broncos are Standing Out
By Phil Naessens - Jun 29, 2019, 12:00pm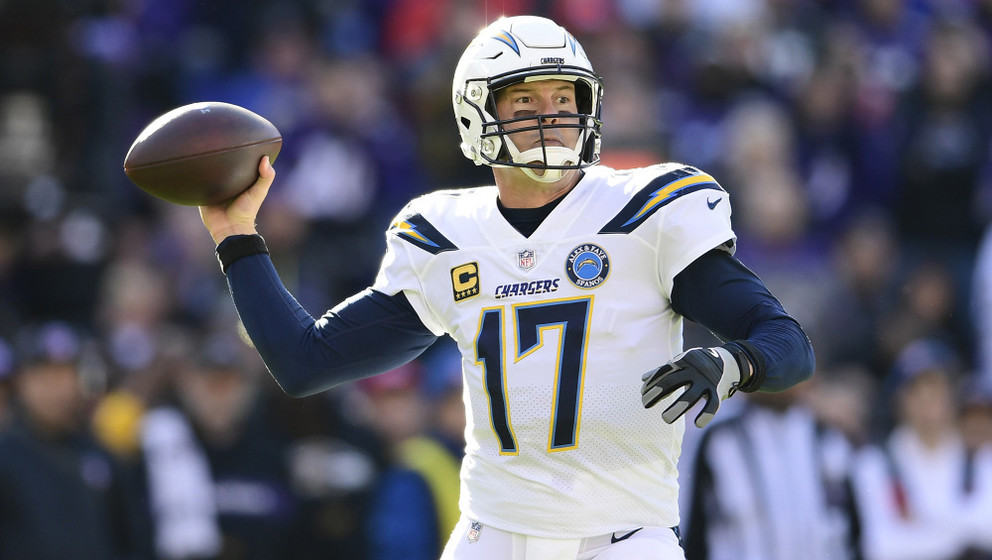 The NFL season is rapidly approaching as most of the free agents have been signed, the Draft and OTAs are over, and we now await the opening of training camps.  
What gets us excited this time of year is the regular season over/under win totals. I look at these wagers as an investment for the season and hopefully the difference between having a successful or unsuccessful NFL gambling season.
What I've done with this article is go through each division in the AFC and attempted to find solid investments that we can hopefully look forward to profiting from at the end of the regular season.
AFC East
Patriots: O/U 11 Wins (Over: -150, Under +130) 
Jets: O/U 7.5 Wins (Over -110, Under -110) 
Bills: O/U 6.5 Wins (Over -160, Under +140) 
Dolphins: O/U 5 Wins (Over +100, Under: -120)
The Dolphins will start either Ryan Fitzpatrick or Josh Rosen at quarterback and they open with Baltimore and New England at home, followed by a road game against Dallas, then back home against the Chargers. It's very possible that they start the season 0-4 and could spiral from there. I don't feel strongly either way on Miami, so I'll be saving my bankroll for other teams in the AFC. 
I don't see Buffalo losing ten games. They play a soft schedule that includes the Jets twice, and also Cincinnati, Miami, and Denver at home. I see them managing at least two more wins but I don't want to pay the -160 juice on the over, so I will fade Buffalo. 
There's not enough reward for the risk either way with the Jets. They should be improved in 2019, but this is still a team that has a losing culture. 
The play I like the most in the AFC East is under 11 wins for the Patriots. 
The losses are evident: WR Chris Hogan, WR Cordarrelle Patterson, TE Dwayne Allen, TE Rob Gronkowski, OT Trent Brown, DE Adrian Clayborn, DE Trey Flowers, DT Malcom Brown and CB Eric Rowe have all left New England. These are huge shoes to fill and I don't think that they did enough in free agency to offset those losses. Their notable acquisitions include: WR Demaryius Thomas, TE Austin Seferian-Jenkins, TE Benjamin Watson, DE Michael Bennett, and LB Jamie Collins. 
The Patriots finished 5th in total offense in 2018 and return most of that unit, with Gronkowski being the most glaring piece missing. At age 41, Tom Brady isn't exactly a spring chicken and how much longer can we expect 4,300 passing yards and 29 touchdowns in a season like he did last year? Bryan Hoyer is an excellent back-up in the short term, but can he steer the ship if Brady goes down with a serious injury? 
New England has one of the easiest schedules in the NFL this season with road games against the Dolphins, Ravens, Redskins, and Jets. However, New England could also coast in a division that won't challenge them and they may rest Brady down the stretch. Brady will not play at an elite level forever and I think that this could be the season that we see him decline. The best bet I see from the AFC East is the Patriots under 11 wins at +130.
AFC North
Browns: O/U 9 Wins (Over: -130, Under: +110) 
Steelers: O/U 9 Wins (Over: -110, Under: -110) 
Ravens: O/U 8.5 Wins (Over: -110, Under: -110) 
Bengals: O/U 6 Wins (Over: -130, Under: +110)
This looks like a tough division, and there doesn't seem like much value to be had in the AFC North.
I happen to fancy the Ravens, but I don't see them getting 9 wins against a schedule that includes road games against the Chiefs, Chargers, Seahawks, and Browns. I'll pass on betting either way on the Ravens until I see more out of QB Lamar Jackson, who struggled throwing the football as a rookie. 
Pittsburgh has Ben Roethlisberger along with playmakers James Connor and JuJu Smith-Schuster, but I don't see the value either way on their O/U 9 wins total. Their road games include a the Patriots, 49ers, Chargers, Browns, and Ravens, with home games against the Seahawks, Rams and Browns. I see 9 wins maximum from a team that was one of the biggest disappointments in the NFL last season, so I'll fade Pittsburgh.  
Cleveland could run the table or come crashing down under the weight of the expectations. Under a first-year head coach, it's easy to see them losing eight games with a difficult home schedule that includes games against the Titans, Rams, Seahawks, and Ravens. Tough road games with the Ravens, 49ers, Patriots, and Steelers doesn't help their chances either. 
Cleveland will certainly be one of the most fun teams to watch in 2019, but I don't want to take the over 9 wins, which is the most public team totals bet of the year. 
The Bengals have talent, but the risk isn't worth the scant -130 reward for over 6 wins. Do you trust Andy Dalton? Because I sure don't.
AFC South
Colts: O/U 9.5 Wins (Over: -140, Under: +120) 
Texans: O/U 8.5 Wins (Over: +120, Under: -140) 
Titans: O/U 8 Wins (Over: +110, Under -130) 
Jaguars: O/U 8 Wins (Over: +110, Under: -130)
This is another division I'm planning on fading. Houston has a difficult schedule including a London trip and back to back road games against the Chiefs and Colts. While I expect Deshaun Watson to be better this season after being two years removed from his ACL injury, I simply do not trust their defense enough to commit to the over. 
Indianapolis is ever improving, but they face a difficult road schedule with the Chargers, Chiefs, Titans, Steelers, and Saints. We also always need to be wary of QB Andrew Luck and his health. It's easier to see the over, but there's too much risk and not much reward at -140. 
The quarterback situation in Tennessee, with incumbent QB Marcus Mariota and newly acquired Ryan Tannehill, leaves me shaking my head. Their schedule is demanding with road games against the Browns, Falcons, Panthers, Colts, and Texans, along with home games with the Colts, Chargers, Chiefs, and Saints. My lean is under 8 wins, but the payoff isn't great at -130. 
Jacksonville is a team with one of the most challenging schedules in the NFL including consecutive divisional road games with the Colts and Titans and another road test against the Falcons. Their offense should be improved with Nick Foles in at quarterback, but I worry about their locker room dynamic if they get off to a poor start. I don't see them winning eight games and won't take the risk to find out.
AFC West
Chiefs: O/U 10.5 Wins (Over: -120, Under: +100) 
Chargers: O/U 9.5 Wins (Over: -140, Under: +120) 
Broncos: O/U 7 Wins (Over: -110, Under: -110) 
Raiders: O/U 6 Wins (Over: -110, Under: -110)
Kansas City was excellent last season and caught everyone by surprise, but it's hard to pull the trigger on their win total without knowing the status of WR Tyreek Hill. The defense should be improved, but I still project it to be a below average unit, so a fade is in order. 
Los Angeles had a great draft and will have a healthy Hunter Henry back at tight end. Their defense should be among the best in the league and I see them winning 12 games. They play a brutal schedule though, so they will have to earn it if they are to go over 9.5 wins. They have to play the Chiefs twice, with the Colts, Packers, and Vikings at home, as well as road games against the Titans and Bears. I love the over 9.5 wins, and while -140 is a lot of juice to pay, I'm willing to make the commitment because I believe in this team's talent.  
Denver has the second toughest schedule in the NFL with home games against the Bears, Chiefs, Browns, and Chargers, plus road games with the Packers, Chargers, Colts, Vikings, Chiefs, and Texans. Even with Joe Flacco, they still have serious questions at quarterback and it's really hard to see them winning 8 games and hitting the over on their win total despite having a great defense. I like the under 7 wins at -110. 
Oakland went out and traded for WR Antonio Brown among other vast improvements in personnel. However, they have a difficult schedule with home games against the Chiefs, Chargers, and Titans. Add in road games with the Vikings, Colts, Packers, Texans, Chiefs, Chargers, and the Bears in London and Oakland is an easy fade for me.
Best Bets
New England Patriots under 11 wins (+130)
Los Angeles Chargers over 9.5 wins (-140)
Denver Broncos under 7 wins (-110)