WAS
Wizards
Today, 11:40 PM
ATL
Hawks
ATL -8 O/U 237
IND
Pacers
Today, 11:40 PM
CLE
Cavaliers
IND -9 O/U 229
NOP
Pelicans
Tomorrow, 12:10 AM
MEM
Grizzlies
MEM -9.5 O/U 229.5
MIL
Bucks
Tomorrow, 12:40 AM
SAS
Spurs
MIL -7 O/U 233.5
HOU
Rockets
Tomorrow, 2:10 AM
POR
Trail Blazers
POR -14.5 O/U 238
UTA
Jazz
Tomorrow, 2:10 AM
GSW
Warriors
UTA -2 O/U 225.5
NCAA Tournament 2021 National Championship Preview: Gonzaga vs. Baylor
Can Gonzaga complete an undefeated season?
By Reed Wallach - Apr 4, 2021, 8:29pm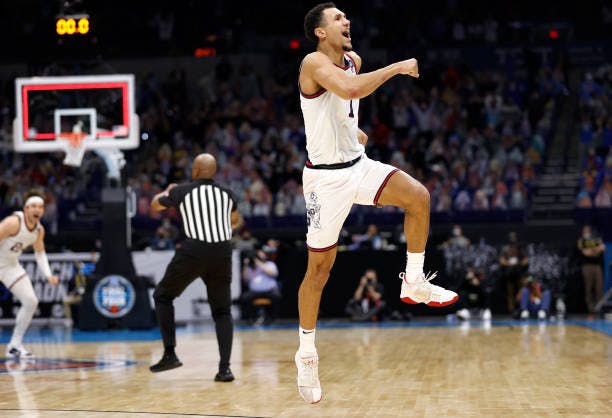 We have finally made it. The game we all wanted: Gonzaga vs. Baylor.
Simply put, these have been the two best teams this season without any real competition. 
After being robbed of a potential meeting between these teams on December 5th, we finally get what we have longed for and determine the best team in the country. 
Location: Lucas Oil Stadium, Indianapolis, Indiana
When: 9:20 PM EST
Watch: CBS
Odds courtesy of BetMGM
Sign up with BetMGM to receive a first wager risk-free bet up to $600 all tournament long!
No. 1 Gonzaga Bulldogs (-4.5, 159.5) vs. No. 1 Baylor Bears
This line was available in the market ahead of the Final Four with Gonzaga favored -5 or -5.5 depending on where you looked, but has now moved to -4.5.
This is likely due to Baylor's romp of Houston and Gonzaga's thrilling buzzer beating victory over UCLA on Saturday night. 
While the Bears have seemed to erase any concerns that had been growing after a near month long COVID-19 pause in February, Gonzaga is coming off its first single digit victory since December 2nd against West Virginia. 
We all know how great these clubs are, the two best offenses in the country with stars all over, yet I still show value to Mark Few's Bulldogs and will be playing them at -4.5. 
There may not be many significant edges in this matchup, but I believe the inflection point in this game is that Gonzaga's defense is well suited to guard Baylor's three-point reliant offense.
The Bears generate the 50th most points in the country from beyond the arc while Gonzaga funnels teams towards the rim. 
The Zags allow the 66th lowest three-point rate in the country and will do a great job of forcing the Bears to do their work from inside or take contested threes. 
On the offensive end, while the Bulldogs have deadeye shooters all over, they do their work on the interior.
All significant contributors for the Zags shoot better than 58% on two-point shots and as a team they have the best two-point offense in the country, shooting 63.9%. With Drew Timme down on the block and guards such as Jalen Suggs and Andrew Nembhard adept at finishing around the rack, I trust that the Zags will be able to run their offense. 
Yes, UCLA hung 90 on Gonzaga and nearly pulled a historic upset, but it was not due to poor defense from Gonzaga. 
I expect Gonzaga -- a 73% free throw shooting team -- to close this game out at the line and cover this spread. 
I make this line where the market was before the matchup was set at -5.5, so I see some value being generated from the public watching the Final Four with Baylor looking dominant and the Zags winning on a half court buzzer beater in spite of a n outlier shooting performance from UCLA on Saturday night.
Baylor is elite, but Gonzaga is the best team in the country and has all year. The Bulldogs are going to complete the undefeated season on Monday night with some margin to boot.
Pick: Gonzaga -4.5
Get all of BetQL's best bets for the NCAA Tournament! Dating back a full calendar year, our five-star (max-value) bets have won 61% of the time!