LIVE
GSW
Warriors
44
2nd Q
WAS
Wizards
45
GSW -2 O/U 240.5
PHX
Suns
47
2nd Q
PHI
76ers
50
PHX -3 O/U 217
OKC
Thunder
55
2nd Q
IND
Pacers
67
IND -9 O/U 231
BKN
Nets
56
2nd Q
TOR
Raptors
53
TOR -4.5 O/U 231.5
CHI
Bulls
40
2nd Q
CLE
Cavaliers
56
CHI -2 O/U 210.5
ATL
Hawks
Today, 12:10 AM
NYK
Knicks
ATL -1.5 O/U 219
UTA
Jazz
Today, 12:10 AM
HOU
Rockets
UTA -11 O/U 224
MIA
Heat
Today, 12:40 AM
SAS
Spurs
MIA -1.5 O/U 215.5
DET
Pistons
Today, 12:40 AM
DAL
Mavericks
DAL -10.5 O/U 218
DEN
Nuggets
Today, 2:10 AM
POR
Trail Blazers
DEN -1.5 O/U 230
MIN
Timberwolves
Today, 2:10 AM
SAC
Kings
SAC -4 O/U 239.5
MEM
Grizzlies
Today, 2:10 AM
LAC
Clippers
MEM -3 O/U 224.5
NASCAR Pick Sheet: Pennzoil 400
Who to bet on in this week's race
By Dan Beaver - Mar 5, 2021, 10:56pm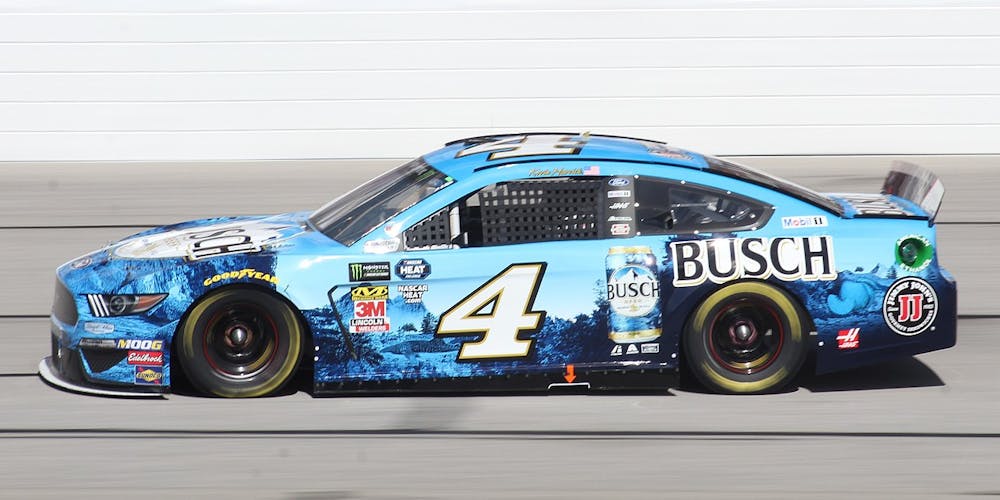 Drivers' relative strengths should have been revealed last week. The operative word in that sentence is 'should'.
There was nothing particularly fluky about the Dixie Vodka 400 at Homestead-Miami Speedway, but it certainly did not go according to plan. William Byron became the third-consecutive longshot to win in the first three races, while dark horses Michael McDowell and Ryan Newman also scored top-10s.
To put that in perspective, McDowell's best finish on a 1.5-mile last year was a 15th at Texas Motor Speedway and his average on the course type was 21.7. Newman had not earned a top-10 on an unrestricted speedway in 36 races. And yet they cruised to sixth and seventh, respectively.
Tyler Reddick, who we mentioned as a longshot option for the outright win, tried to pull a rabbit from the hat. Unfortunately, it was a 10-gallon hat instead of a top hat and the distance he needed to make up on Byron (who was listed at +3000) couldn't be overcome.
Oddsmakers had to pay big on the winning tickets. Fortunately, the line movement on Byron and the other dark horses was not significant, so there were probably comparatively few payouts that needed to be made.
Will the second-straight race on a progressively-banked 1.5-mile oval have the same kind of results? Last year, a two-lap shootout at the end of the Pennzoil 400 shuffled the order significantly and created a similarly chaotic finish. This is a good week to be cautious.
1. Kevin Harvick ***
($9,700 DraftKings | +600)
Harvick is one of two drivers to sweep the top-10 in the first three races this year. Anyone who watched only the beginning of those events would be surprised to learn that, however, because he struggled throughout much of each event and surged at the end. Harvick has a reputation for coming from behind, but in recent years, he has also dominated. This week will look like one of his better efforts and he should be in contention from the drop of the green flag. He is only the seventh-most expensive driver on DraftKings, and that makes him a solid value there.
2. Martin Truex Jr. ***
($11,100 DraftKings | +600)
Along with Harvick, Truex is one of oddsmakers' favorites this week. He was our top pick for Homestead and came close with a third-place finish. While he didn't win outright, this was a step in the right direction for a driver who is 0-for-40 in recent attempts. He's overdue a win and the 1.5-mile tracks have always been kind. Truex has two Vegas wins. The most recent came in 2019. His last nine races there produced five top-fives and only one result worse than 11th.
3. Kyle Larson ****
($9,400 DraftKings | +1000)
Oddsmakers have not yet caught up to Larson's potential and that is going to make him a good value for several more weeks. Partly, this is because of the lack of pre-race coverage necessitated by COVID-19 protocols, but the good news is that it has allowed Larson to go about his business without much drama. He was fourth last week at Homestead and has an equally impressive record at Las Vegas. His first win for Hendrick Motorsports could come any week now.
4. Joey Logano *****
($10,000 DraftKings | +800)
As the week has grown longer, our opinion of Logano has undergone a few changes. On one hand, his mediocre showing last week at Homestead in the Dixie Vodka 400 made us cautious, but he enters the weekend as the defending champion of this race. He was not particularly impressive in the early part of 2020 either, but found the right setup at the end of the Pennzoil 400. We wouldn't go big on his outright odds of +800, but we wouldn't fade him either.

5. Matt DiBenedetto **
($9,000 DraftKings | +5000)
DraftKings' numbers reflect our opinion of DiBenedetto. At $9,000 in the fantasy game, he is well above the median but with outright odds to win of +5000, the handicappers are leery of making him a favorite. There is a big upside to placing a moderately-sized bet on him, however. In last year's two-lap shootout at the end of the Pennzoil 400, he showed a lot of courage and finished second. That might have been a fluke, but he returned in the fall and repeated the feat in the South Point 400. If the string of dark horse winners continues in 2021, DiBenedetto could be the one who makes it happen.
6. Alex Bowman ***
($8,800 DraftKings | +2000)
Having watched teammate Byron win last week, Bowman is hungrier than ever. That could pay dividends at Vegas. Chase Elliott led the Chevy brigade last year, but he was not particularly strong on 1.5-milers on average. That has left the door open for the other Hendrick mates to shine. Bowman has been solid at Vegas in the last two years with results of 13th or better in all four races. He's been slightly better in the fall, however, with a sixth and fifth in the past two years.

7. Ryan Blaney **
($10,800 DraftKings | +1300)
In multi-car teams, there always seems to be one odd man out. Too often at Team Penske, that driver is Blaney. He shows a lot of promise each week, but often cannot close the deal because of a miscue in the pits or a late race mishap. He's not a great bet for the outright win most weeks for this reason, but he's been more than solid at Vegas with six top-10s and an 11th in his last eight starts there. He is a better value at +400 for a top-three, however.
8. Brad Keselowski ****
($10,300 DraftKings | +800)
Keselowski had only one victory on the 1.5-milers last year, but the same thing could be said of almost every other winner on that track type. Only Denny Hamlin has wins at Homestead and in Kansas I, and Logano with Vegas and Kansas II, have won multiples. What Kez did have on his side was remarkable consistency with 10 top-10s and a 13th in 11 races on this course type.

9. Tyler Reddick **
($7,900 DraftKings | +5000)
Reddick was almost the Cinderella of last week's NASCAR ball. And if DiBenedetto does not continue the string of dark horse contenders, Reddick is our next pick. Homestead and Vegas are not identical. The Florida track is a true oval and that helps keep the groove tight to the outside wall. Vegas is also progressively banked, and a driver who excels at seeking out and finding the right line can be successful. If Reddick is too risky for the outright win, he can be had for +1200 to finish in the top-three, or he will double your stake if he scores a top-10 at +200.
10. Denny Hamlin ****
($9,200 DraftKings | +900)
It's hard to bet against Hamlin most weeks, but we are going to at Vegas. He finished third in last fall's South Point 400, but that is one of only two top-fives dating back to 2008 on this track. In the 16 races during that span, he has an average finish of 14.3. Given how strong he will be in a couple of weeks in Phoenix, it is best to give him a week off.
Others
Kyle Busch ***
($11,400 DraftKings | +1300)
Too often Thomas Wolfe's admonition that "you can't go home again" rings true. There is nothing Busch would like better than to run well in front of his hometown crowd and in 2009 he did just that with a win. He has only four top-fives in the intervening 13 races, however, and an average finish of 13.0 since.
Chase Elliott ***
($10,600 DraftKings | +900)
Elliott was good on nearly every type of track last year and he scored an early victory in the Charlotte II race. He was not successful at Vegas, however, with a pair of 20-something results in 2020. He was worse in 2018 with two 30-something efforts.
Michael McDowell ***
($6,000 DraftKings | +12500)
It seems unlikely that McDowell's string of top-10s will continue this week in light of his +350 odds to finish that well on DK Sportsbook. Then again, he wasn't much more popular last week at Homestead and he finished sixth there. Ignore him in regards to your betting strategy, but make him a foundational pick in fantasy with a bargain basement salary cap of $6,000.
Play DFS? Be sure to get a 3-day free trial on RotoQL to check out our projections!