SOUT
Southampton
Today, 5:00 PM
TOT
Tottenham Hotspur
TOT -116 O/U 2.5
MNC
Manchester City
Today, 7:15 PM
AVL
Aston Villa
MNC -264 O/U 2.5
WBA
West Bromwich Albion
Tomorrow, 7:00 PM
LEI
Leicester City
LEI -175 O/U 2.5
EVE
Everton
Fri 4/23, 7:00 PM
ARS
Arsenal
ARS -110 O/U 2.5
NEW
Newcastle United
Sat 4/24, 11:30 AM
LIV
Liverpool
LIV -373 O/U 3
CHE
Chelsea
Sat 4/24, 4:30 PM
WHU
West Ham United
CHE -132 O/U 2.5
BHA
Brighton & Hove Albion
Sat 4/24, 7:00 PM
SHU
Sheffield United
BHA -129 O/U 2.5
BUR
Burnley
Sun 4/25, 11:00 AM
WOLV
Wolverhampton Wanderers
WOLV -102 O/U 2 & 2.5
MAN
Manchester United
Sun 4/25, 1:00 PM
LEE
Leeds United
MAN -115 O/U 3
WBA
West Bromwich Albion
Sun 4/25, 6:00 PM
AVL
Aston Villa
AVL -117 O/U 2.5
CRY
Crystal Palace
Mon 4/26, 7:00 PM
LEI
Leicester City
LEI -217 O/U 2.5
Premier League
Is This Southampton Player On The Rise?
This player looks to build off a stellar weekend
By Juan Pablo Aravena - Jul 8, 2020, 4:12pm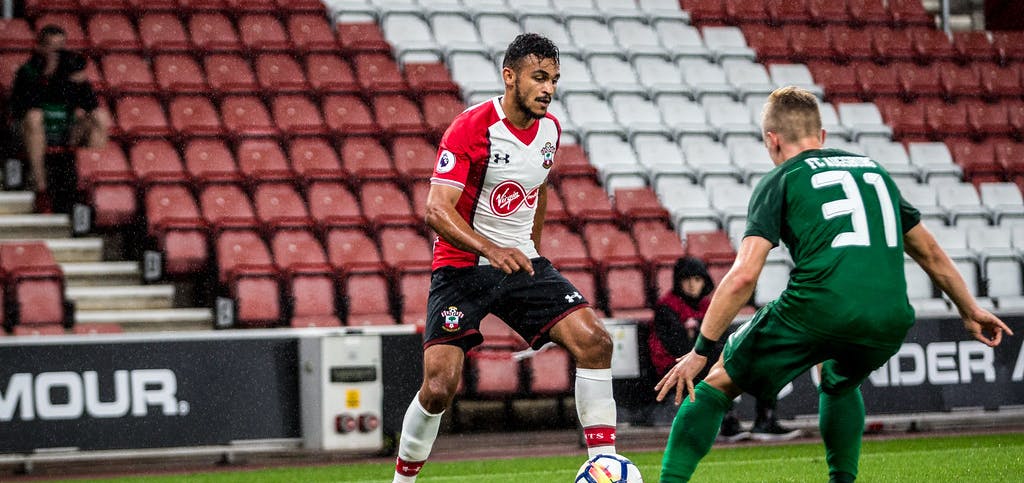 Southampton pulled an upset against Manchester City this past weekend, 1-0.
Che Adams scored his first goal of the season and his first goal as a member of Southampton.
Adams is just one year removed from a 22-goal campaign with Birmingham.
Finally Gracing The Headlines
Che Adams grabbed headlines all over Europe on Sunday, and for good reason. The 23-year-old, who hasn't had a very productive season, is a "goal of the season" candidate against Manchester City with a 40-yard lobbed shot over Ederson. It was his first goal of the campaign and Southampton pulled the upset against Manchester City thanks to that strike, earning a surprising 1-0 win that should boost their chances of avoiding relegation to the Championship.
It was Adams' first goal of the season, and it was also his first goal as a Southampton player. He has always been full of potential, but he has been relegated to a secondary role in 2019-2020. The 23-year-old forward has made 25 Premier League appearances, but only nine of those have been starts, and has logged a grand total of 819 minutes. In other words, he has played a bit more than nine complete matches based on his minutes tally. Adams only has one goal and three assists in the EPL this season.
It's hard to make a case for Adams having more playing time considering the exciting form of players such as Nathan Redmond, Shane Long, and Danny Ings, who has been one of the league's top scorers this season. With that in mind, the writing is on the wall for Adams. If the oft-injured striker wants to take the next step in his career, then he needs to leave Southampton ahead of the 2020-2021 season.
Like free money? We thought so. We read all the fine print, rated and reviewed all of these awesome offers for you. Get in on the action today by selecting your state below and take advantage of our exclusive deals!
Future For Adams
Adams is just one year removed from a 22-goal campaign for Birmingham during the 2018-2019 English Championship season. He also scored 11 times in 36 games for Sheffield United during the 2015-2016 League One campaign as a 19-year-old. With that in mind, playing in a low-tier league won't solve Adams' problems. He has paid his dues in England's second-tier and third-tier competitions. Now he needs to take a step forward and show he can handle the Premier League rigors.
What he's done at Southampton is probably not good enough to warrant him a bigger role at the club next season, although that could change if Danny Ings leaves the club. Regardless of what happens with Ings, Adams needs to do what's best for his career. He will be 24 soon and is at risk of getting stuck in his developments. He could live the same fate as other English forwards, such as Danny Welbeck and Daniel Sturridge, in recent years.
The upcoming transfer period will be key to determine Adams' future. One thing is clear, the striker showed that he can produce when given the minutes like he did against Manchester City. If he's not going to find them at the St. Mary's Stadium, then he needs to search for them elsewhere. Adams is more than ready to take the next step in his career, but Southampton just might not be the best place for him at the moment.
Find out how you can use BetQL to dominate the EPL!