CHA
Hornets
Today, 5:10 PM
WAS
Wizards
WAS -5.5 O/U 227.5
BOS
Celtics
Today, 5:10 PM
NYK
Knicks
NYK -8.5 O/U 215.5
IND
Pacers
Today, 5:10 PM
TOR
Raptors
IND -7 O/U 229.5
PHX
Suns
Today, 6:10 PM
SAS
Spurs
PHX -9.5 O/U 226
MEM
Grizzlies
Today, 7:40 PM
GSW
Warriors
GSW -5 O/U 230
HOU
Rockets
Today, 11:10 PM
ATL
Hawks
ATL -11 O/U 232
ORL
Magic
Today, 11:10 PM
PHI
76ers
PHI -8.5 O/U 222.5
CLE
Cavaliers
Today, 11:10 PM
BKN
Nets
BKN -12.5 O/U 224.5
MIA
Heat
Tomorrow, 12:10 AM
DET
Pistons
MIA -6.5 O/U 217.5
LAC
Clippers
Tomorrow, 1:10 AM
OKC
Thunder
LAC -8.5 O/U 221.5
LAL
Lakers
Tomorrow, 1:10 AM
NOP
Pelicans
LAL -10.5 O/U 223.5
MIL
Bucks
Tomorrow, 1:10 AM
CHI
Bulls
-- --
DEN
Nuggets
Tomorrow, 1:10 AM
POR
Trail Blazers
POR -8.5 O/U 230.5
UTA
Jazz
Tomorrow, 1:10 AM
SAC
Kings
UTA -11 O/U 226
DAL
Mavericks
Tomorrow, 1:10 AM
MIN
Timberwolves
DAL -7.5 O/U 230
Heisman Trophy Odds 2021: Which Quarterbacks are Early Best Bets?
2 quarterbacks are valuable bets before the season starts
By Reed Wallach - Apr 13, 2021, 6:15pm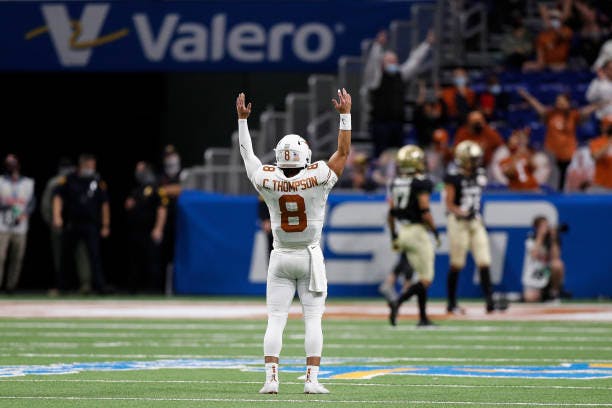 The 2021 Heisman Trophy race is sure to be a compelling one with a ton of the typical national powerhouses bringing in new players to lead them to the College Football Playoff. 
We have you covered with an early best bet but also a long shot that has value heading into the 2021-2022 college football season.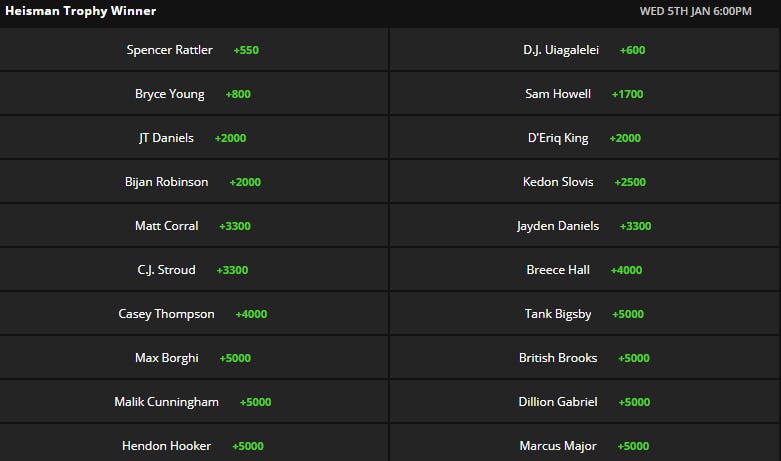 Best Bet: D.J. Uiagalelei, Clemson (+600)
Clemson is set to be a power once again in 2021. The team has the second shortest National Championship odds at +350, and brings back the fourth most returning production on the defensive side of the ball.
That's all going to be the perfect compliment to Uiagalelei, who made a strong impression in his freshman season. 
He filled in for likely No. 1 pick Trevor Lawrence nicely in two starts this season, passing for nearly 800 yards and a near win on the road against top 5 opponent Notre Dame. 
Uiagalelei has a massive arm and the ability to escape the pocket and will be on a likely College Football Playoff team. He will also have regular season showcase games to state his case for the Heisman with a neutral site matchup against Georgia and ACC contender North Carolina. 
The quarterback is a star in waiting and checks all the boxes to be a Heisman contender this season. This price can quickly shrink if Clemson's skill position players make an instant impact around Uiagalelei and the team disposes of UGA early in the year. 
Value Bet: Casey Thompson, Texas (+4000)
We saw a glimpse of Thompson's ability in the Alamo Bowl, when he carved up Colorado in the second half, completing eight of his 10 passes for 170 yards and four touchdowns. 
With the news of Sam Ehlinger declaring for the NFL Draft, this is officially Thompson's team and he will have a host of weapons such as running back Bijan Robinson -- who has his own Heisman Trophy buzz -- as well as new coach Steve Sarkisian. Sarkisian comes to Austin after being the offensive coordinator for one of the best offenses in college football history at Alabama. 
Texas may actually be back now with an innovative coach and a talented QB in Thompson. The team will get their chance to prove they are back with an early season road game against Arkansas. 
UT will get a crack at Spencer Rattler and Oklahoma at the Cotton Bowl and host Oklahoma State in Austin. A late season showdown in Ames against Iowa State will be pivotal, but the opportunity is there for Thompson to jump to the front of the Heisman race.