WAS
Wizards
Today, 11:40 PM
ATL
Hawks
ATL -8 O/U 237
IND
Pacers
Today, 11:40 PM
CLE
Cavaliers
IND -9 O/U 229
NOP
Pelicans
Tomorrow, 12:10 AM
MEM
Grizzlies
MEM -9 O/U 229
MIL
Bucks
Tomorrow, 12:40 AM
SAS
Spurs
MIL -7 O/U 233.5
HOU
Rockets
Tomorrow, 2:10 AM
POR
Trail Blazers
POR -14.5 O/U 238
UTA
Jazz
Tomorrow, 2:10 AM
GSW
Warriors
UTA -2 O/U 225.5
College Football Playoff 2022: 3 Teams to Bet Now
One favorite and two teams further down the board show value
By Reed Wallach - Apr 13, 2021, 3:21pm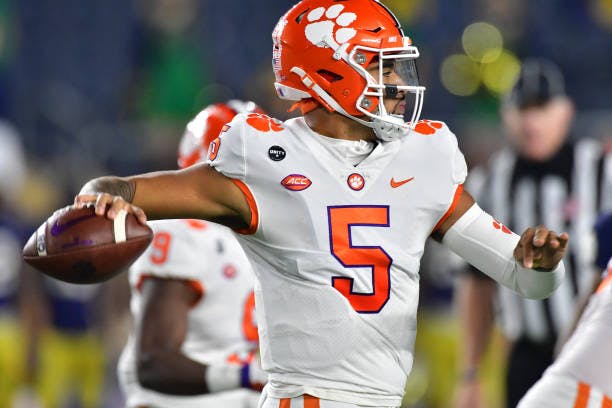 The 2021 College Football season is starting to creep up on us as spring settles in.
We at BetQL have you covered with an early outlook at teams to keep an eye on and wager on before their odds to win the 2021 College Football Playoff shrink. 
Here are three teams that are valuable to bet on now.
Clemson (+350)
Clemson is set to be an overwhelming favorite in all but one game during regular season, but a highly anticipated matchup against Georgia may be less competitive than initially thought. The Bulldogs already lost star receiver George Pickens to a torn acl during the offseason.
Don't get it twisted, though, this Clemson team is going to be a juggernaut once again and would be favored over UGA with or without Pickens. While the team is outside the top 100 in returning production on offense, according to ESPN, the Tigers got a good glimpse of what incoming starter D.J. Uiagalelei was capable of last season. 
The freshman threw for nearly 800 yards in two starts, including a narrow overtime loss at College Football Playoff qualifier Notre Dame. Uiagaleli will headline a strong offense that will have new faces, but hopefully stud receiver Justyn Ross back in the lineup after missing the entire 2020 season with a spine injury.
What's important is that the team will be inside the top five in returning production on defense. Clemson was exposed on the defensive side of the ball against Ohio State -- allowing 49 points -- and is going to benefit from a full offseason together.
A loss to Georgia would not sink Clemson's CFP bid, but this team is arguably the best team in the country, +350 could be a bargain come September.
Iowa State (+3300)
Iowa State is looking to build off of a Big 12 Championship appearance, and will keep a majority of that roster in tact.
Quarterback Brock Purdy is back and is joined in the backfield by sixth place Heisman finisher Breece Hall. Matt Campbell also gets basically the entire offensive line and a majority of the defense. This is nearly the same team that beat Oklahoma handedly in the regular season.
On the topic of OU, the Cyclones do have to go to Norman for a matchup with the Sooners (+800), but in terms of a value bet Iowa State has it. A loss to OU on the road won't sink their CFP hopes completely with the Big 12 Championship looming as a way to even the score with Spencer Rattler and co.
Buy low on this Iowa State team, who is bringing back a top 10 team that is only going to benefit from added reps in the offseason. 
Oregon (+4000)
The crux to this Oregon future is that Ohio State may be in line for some regression, especially early in the season. 
The Ducks are traveling to Columbus during the second week of the season, but the Ducks are top 10 in the nation returning production while the Buckeyes have the seventh lowest. 
If Mario Cristobal's team can pull the upset on the road, the path is clear to a CFP berth.
Oregon would have to go to Utah and Washington during the regular season, but their odds of making the College Football Play would drop significantly with that win. 
Last year's starter for much of the season Tyler Shough transferred, but the team is in capable hands at quarterback with Temple transfer Anthony Brown. Brown played well in limited time last season.
As well, the team has five star recruit Ty Thompson this season. We will see if he can take the starting job away from Brown in the spring.
With so many returning contributors I see value in grabbing the defending PAC-12 champs now ahead of an early season showdown.