What Tua Tagovailoa's Injury Means For Alabama
He underwent ankle surgery and will miss at least one game
By Daniel Mogollon - Oct 22, 2019, 4:27am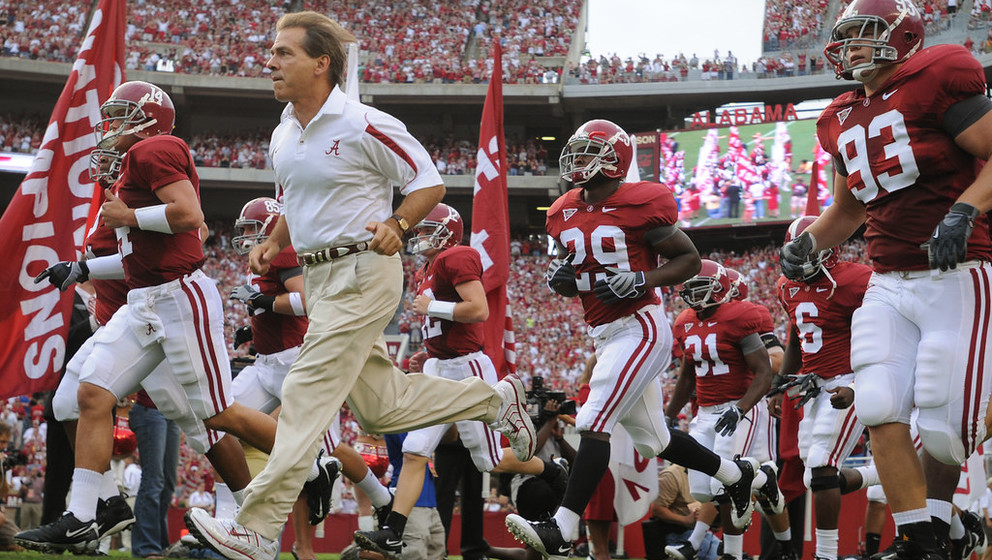 Alabama QB Tua Tagovailoa was knocked out of Tennessee game with an ankle injury that required surgery. 
Backup quarterback Mac Jones stepped in and led Alabama to a win off the bench. 
Without Tagovailoa the offense will be different, as the Crimson Tide will look to establish the run more and rely less on RPOs.
There is currently no exact timeline for Tagovailoa's return, but he's expected to return during the regular season.
Tua Tagovailoa's Injured Ankle 
With No. 1 Alabama leading SEC rival Tennessee 21-10 in the second quarter in Week 8, quarterback Tua Tagovailoa went down with an ankle injury that knocked him out of the game. As the southpaw rolled left to get outside the pocket, his ankle was rolled upon by Volunteers defensive tackle Greg Emerson on a sack. The quarterback stayed in the game briefly, as he completed a screen pass on the next play before he quickly found his way to the injury tent. He would eventually limp to the locker room, as his day was done. 
After the game, head coach Nick Saban disclosed that Tua suffered a high-ankle sprain. 
"I think he will probably not be able to play next week," Saban said to the media. "He's gonna get another MRI in the morning, and then from there we'll find out what he's gonna do from there."
While it's a similar injury to the one that knocked Tagovailoa out of last season's SEC Championship Game, it's to the opposite ankle which required surgery prior to the College Football Playoff. The quarterback had surgery Sunday morning. 
"Our physicians performed a successful tight-rope procedure on his right ankle this morning," Saban said in a statement. "This is the same injury, but the opposite ankle that Tua injured last season. Tua will miss next week's game against Arkansas, but we expect a full and speedy recovery."
The Heisman candidate has been ruled out for next week's game against Arkansas but with a bye the following week, he could only miss one game. That's good news because after their off week, Alabama will host No. 2 LSU in what could be one of the best matchups of the entire college football season.
Get your first DraftKings Sportsbook deposit matched up to $200!
Who is Mac Jones?
Stepping in for Tua, redshirt sophomore Mac Jones completed a 13-yard pass to Jaylen Waddle on his first play against the Vols. Jones would finish 6-of-11 passing for 72 yards. Alabama would punt on that drive and they missed a 41-yard field goal to end the half after Jones drove them to the Tennessee 23-yard line. The backup did lead the Tide to a touchdown drive of 76 yards on 10 plays in the third quarter to put 'Bama ahead 28-13. 
"Mac did some good things and we think Mac is capable," Saban told reporters of Jones, "so we have a lot of confidence in Mac."
Prior to Saturday's game, Jones was 14-for-21 passing for 165 yards on the season, exclusively in mop-up duty. His touchdown pass was the second of his career.
On a roster chock-full of four and five-star talents, Jones is a rare three-star recruit. Coming out of The Bolles School in Jacksonville, Florida, he was the 399th ranked player in his class (per 247Sports.com's composite rankings), the 52nd ranked player in Florida, and the No. 18 pro-style quarterback. 
Keep tabs on Public Betting info ahead of Week 9!
Time to Ground and Pound
Against Tennessee, the Crimson Tide attempted a season-low 24 passes. In their previous four games against Power 5 opponents—Duke, South Carolina, Ole Miss, and Texas A&M— Tagovailoa averaged 34.3 passes with at least 34 attempts in his first three SEC games. In the second half against the Vols, Jones attempted just five passes. 
Nonetheless, BetQL's NCAAF Model projects a large point total in this contest, well above the consensus. Find out how many projected points our algorithm shows.
The 2019 edition of the Crimson Tide lacks the vintage rushing attack we've become accustomed to over the past decade, but they showed some progress in last week's game, in part because an offensive line that has been in flux, made just their second-consecutive start as a unit. In the past two games, Landon Dickerson shifted from guard to center, with Deonte Brown taking over the starting right guard role. 
After the game, Saban credited the offensive line for doing a good job on direct runs. Expect the offensive line to come into Saturday's game motivated to carry the offense, which will result in more north-south running than we've seen all season from Alabama. More of a direct rushing attack with fewer RPO's than they run with Tagovailoa triggering the offense. 
Look for a heavy dose of junior running back Najee Harris, who had his third 100-yard game of the season against Tennessee, on a season-high 21 carries. Don't be surprised if Harris surpasses that total against Arkansas this week. 
Get a 50% deposit bonus up to $500 with your next DraftKings Sportsbook deposit!
The Tua-less Tide Still Nearly a Five-Touchdown Favorite
While there is optimism that Tagovailoa will be back for Alabama's game against LSU in three weeks, all we know for sure is that he will miss this week's game against Arkansas. If there was an SEC opponent that the Crimson Tide had to pick to play without their star quarterback it would probably be the Razorbacks, who sit in last place in the SEC West. 
Arkansas is 2-5 on the season, 0-4 in conference play, and they're coming off a 51-10 loss to Auburn at home, which is why 'Bama is a 33-point favorite even without the Heisman Trophy favorite. 
Arkansas has lost 15-straight SEC games dating back almost two years to October of 2017. The Razorbacks are so bad it's likely Alabama could run the ball on every play and still take care of business. 
Keep tabs on all the betting information you need to know on our Alabama/Arkansas game page.