BetQL Nailed These 5-Star Upsets In Week 3
Our college football model was on fire and these two plays highlighted
By Nolan Comar - Sep 16, 2019, 3:23pm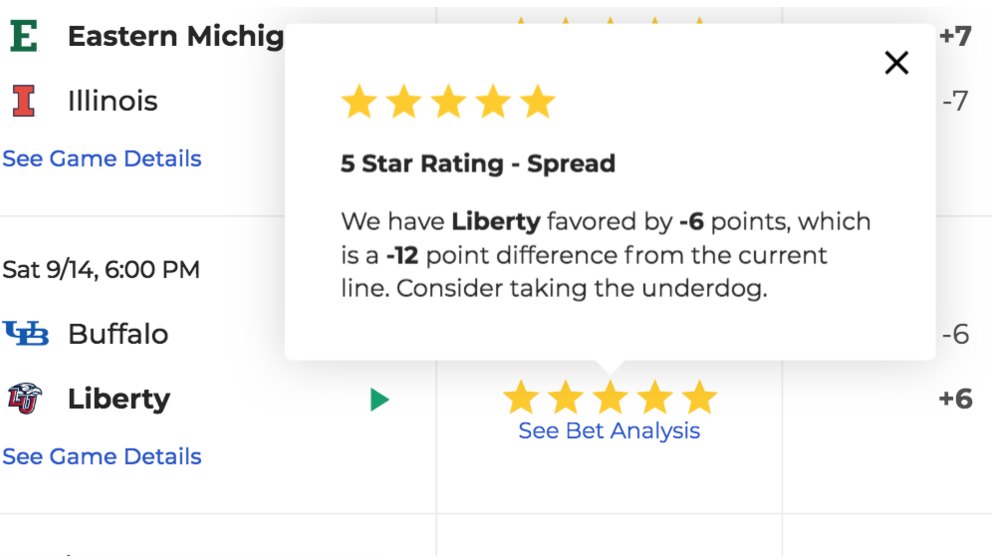 September 14, 2019
Consensus: Liberty +6
BetQL Model: Liberty -6
BetQL Rating: ★★★★★ (Liberty +6)
Final Score: Liberty 35-17
Situation Before Kickoff
The Liberty Flames entered Week 3 searching for their first win of the season. A difficult opener against an ACC opponent Syracuse and a road trip to a strong Louisiana-Lafayette team, the Flames 0-2 record was a bit misleading. 
Buffalo was coming off a poor second half against Penn State and had to travel for their second road game in as many weeks. With Liberty head coach Hugh Freeze's improving health, the Flames were ready to get the season back on track. Dating back to last season, Liberty enjoyed four out of five straight-up wins at home.
How It Played Out
After an even start that resulted in a 7-7 score a minute into the second quarter, the Flames caught fire. An unanswered 21-0 stretch put the score at 28-7 at halftime in favor of Liberty behind a strong performance from quarterback Stephen Calvert. Calvert would proceed to go 23-for-30 for 325 yards and four touchdowns to three different receivers. Two of those scores were to star receiver Antonio Gandy-Golden, who hauled in eight catches for 174 yards. 
Premium members have full access to our college football dashboards, including weekly Sharp Picks!
While the Bulls gained 373 total yards, they lacked the passing accuracy of Calvert and the Flames. Buffalo starting quarterback, Matt Myers, only completed 15-of-33 passes as the Liberty defense took away the Bulls' passing attack. By the time the Bulls crossed the endzone for a second time, it was too little too late, as Liberty had built a 35-10 lead behind Calvert. 
Impact Of BetQL's NCAA Football Model
The strength of the BetQL model could be seen on Saturday as the Flames easily covered the +6 consensus line and easily won the contest outright. The BetQL model actually had the Flames as six point favorite, not an underdog. This proved to be the right side as the game was never in doubt after the midway point of the second quarter.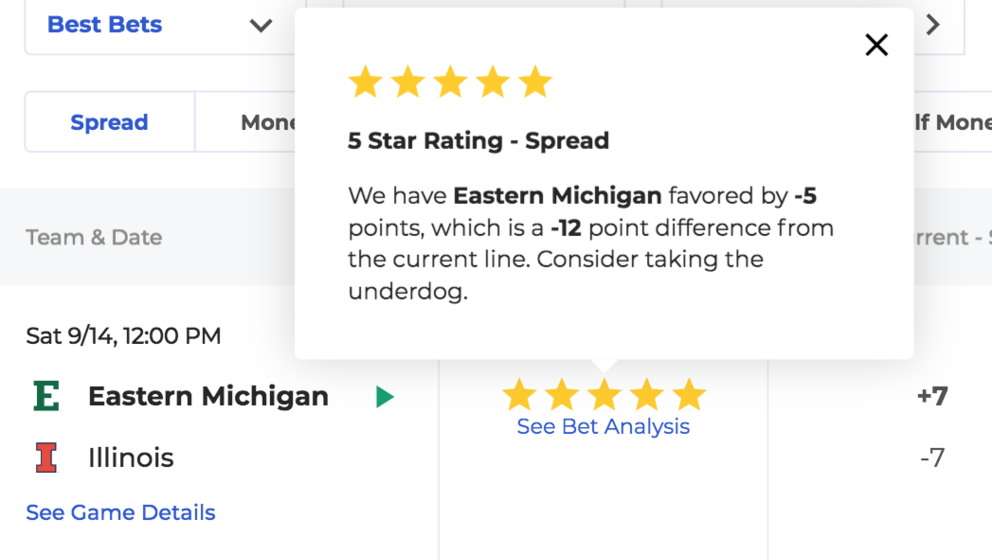 September 14, 2019
Consensus: Eastern Michigan +7
BetQL Model: Eastern Michigan -5
BetQL Rating: ★★★★★ (Eastern Michigan +7 )
Final Score: Eastern Michigan 34-31
Situation Before Kickoff
The Eastern Michigan football team took their act on the road for a third time in three weeks. After splitting road games with a win at Coastal Carolina and a hard-fought loss against SEC foe Kentucky, the Eagles rolled into Illinois looking to end the road stretch with a win. With returning senior quarterback Mike Glass III, the Eagles brought a reliable signal caller with them in search of an upset. 
A surprising start for the Illinois football program was highlighted by a recent 31-23 road win at Connecticut after a Week 1 win against Akron. However, under Lovie Smith, the Illini were only 4-14 straight-up in their previous 18 games. Perhaps a sign that they had played a bit over their heads to open the season, the Illini were out to prove things might be changing in year four under Smith. 
How It Played Out
An unexpected high-scoring affair endured on Saturday and Eastern Michigan prevailed due to a great game from Glass. He had his way with the Illinoi secondary and led the Eagles to 23 first half points to take a 23-17 lead into halftime. Overall, Glass threw for 316 yards and three touchdowns. Most importantly, he never turned the ball over while Illinois gave the ball back to the Eagles defense twice. With the game tied at 31, Glass led the Eagles on an eight play, 68 yard drive that led to the winning field goal as time expired. 
Illinois quarterback Brand Peters was sacked six times and one resulted in a lost fumble. He also completed less than 60 percent of his passes and threw an interception. The Eagles defense made timely plays, headlined by defensive back Brody Hoying, who forced two fumbles, recovered one and recorded a sack. 
Impact Of BetQL's NCAA Football Model
Another 5-star upset, another win for the BetQL model. Not only did Eastern Michigan cover the consensus line of +7, they won outright. Two underdogs that got a touchdown or more in the consensus line won straight up, just as the BetQL model forecasted. 
Ready to get on board for Week 4? Good decision. Let's do this.