LIVE
CLE
Browns
27
FINAL
JAX
Jaguars
25
CLE -7.5 O/U 48.5
MIA
Dolphins
20
FINAL
NYJ
Jets
3
MIA -7.5 O/U 46
ARI
Cardinals
17
FINAL
NE
Patriots
20
ARI -1 O/U 50.5
NYG
Giants
19
FINAL
CIN
Bengals
17
NYG -6.5 O/U 45
OAK
Raiders
6
FINAL
ATL
Falcons
43
OAK -3.5 O/U 53
TEN
Titans
45
FINAL
IND
Colts
26
IND -3 O/U 51.5
LAC
Chargers
17
FINAL
BUF
Bills
27
BUF -4.5 O/U 51
CAR
Panthers
27
FINAL
MIN
Vikings
28
MIN -3 O/U 50
SF
49ers
23
FINAL
LAR
Rams
20
LAR -5 O/U 44.5
NO
Saints
31
FINAL
DEN
Broncos
3
NO -17 O/U 36.5
KC
Chiefs
27
FINAL
TB
Buccaneers
24
KC -3.5 O/U 56
CHI
Bears
3
1st Q
GB
Packers
6
GB -8 O/U 44.5
SEA
Seahawks
Tomorrow, 1:15 AM
PHI
Eagles
SEA -6.5 O/U 48.5
BAL
Ravens
Wed 12/2, 12:10 AM
PIT
Steelers
PIT -10 O/U 41
Watch This Betting Line Ahead Of Wisconsin vs. Northwestern
Two top-20 teams meet with some major trends
By Nick Ballistreri - Nov 20, 2020, 2:12pm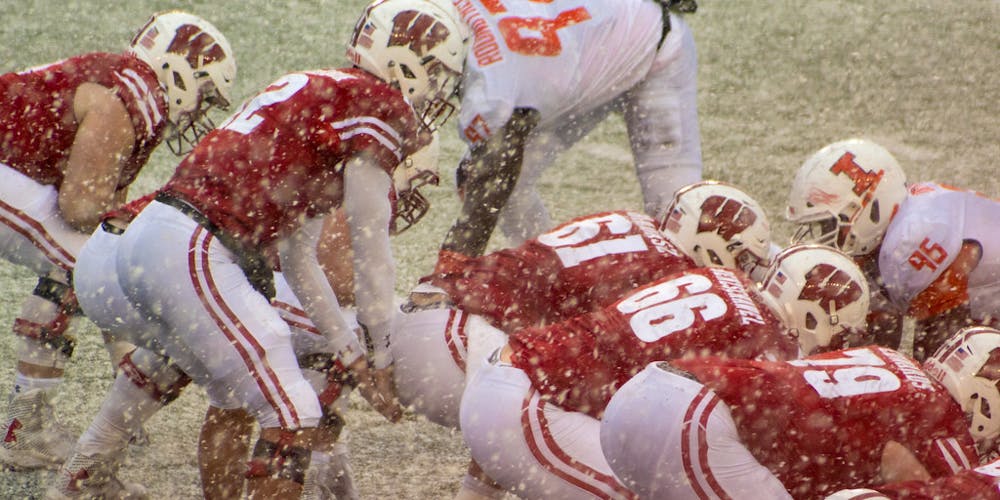 Quick-Hitters
The Northwestern Wildcats have started out hot with a 4-0 record. They're 3-0-1 ATS this season and all four contests have resulted in the under hitting.
The 2-0 Wisconsin Badgers have racked up 94 points on offense over two games. This has led to a 2-0 ATS record and the over hitting on both occasions.
Wisconsin (+700) is considered the second-favorite to win the Big Ten Conference, per DraftKings Sportsbook.
Get all of BetQL's best bets for this week's NCAAF slate! Dating back a full calendar year, our five-star (max-value) bets have won 61% of the time!
Northwestern's Consistency
This college football season has proven to be especially unpredictable to this point. With last minute cancellations, injuries, and postponements, it's been hard to get a read on certain teams. The Northwestern Wildcats have been an exception. They've exceeded expectations and enter this game with an undefeated 4-0 record. Northwestern has also gone 3-0-1 ATS this season. They've continued to prove people wrong, but Northwestern will get their toughest test of the season against a very good Wisconsin team.
The Wildcats make their money on the defensive side of the ball. They're seventh in the nation in points allowed at just 14.0 per game, and they give up just over 300 total yards per contest, a mark that's just outside of the top-10. Because of their defense, Northwestern hasn't had to put too many points up offensively, which has led to an 0-4 over/under record this season. However, that could be expected to change this week against a high-powered offense in Wisconsin.
Wisconsin's Offensive Outburst
What a performance by the Wisconsin Badgers a week ago. Entering their game against Michigan as only 7-point favorites, the Badgers laid the smackdown, winning 49-11 in a game that was never close. This pushed Wisconsin to 2-0 on the season. The 94 points of production over two games has the Badgers at 2-0 ATS with the over hitting twice (nearly on their own).
Wisconsin completely dominated every facet of the game. Entering halftime, the Badgers already held a 28-0 lead. Mind you, this game was taking place on the road in Ann Arbor, a traditionally hard place to play. That didn't matter to Wisconsin. They were the better team all night, and they never took their foot off the gas. 
Freshman quarterback Graham Mertz had another good game, throwing for 127 yards and two touchdowns. As a team, the Badgers had four players rush for over 65 yards last game. If they continue playing like this, they'll be in the conversation for a playoff berth. However, they can't overlook a very good Northwestern team that enters this game ranked 19th in the country.
Wisconsin (+700) is considered the second-favorite to win the Big Ten Conference, per DraftKings Sportsbook.
High Game Implications
Both of these teams enter this game undefeated, and they're looking for a statement win for the committee. Going on the road and beating a top-20 team would solidify Wisconsin's ranking as one of the best teams in the country. However, for Northwestern to win this game and move to 5-0, it would change the whole tune around this team, and the rest of the season would become very meaningful for the Wildcats. It's a huge game for both teams with most expecting a close battle.
Keep an eye on the over/under line (43.5), as it's currently very low.