Jamie Newman Looks to Continue Dark-Horse Heisman Campaign Against BC
The junior quarterback has led the Demon Deacons to a 4-0 record heading into this ACC battle
By Roberto Arguello - Sep 26, 2019, 5:27am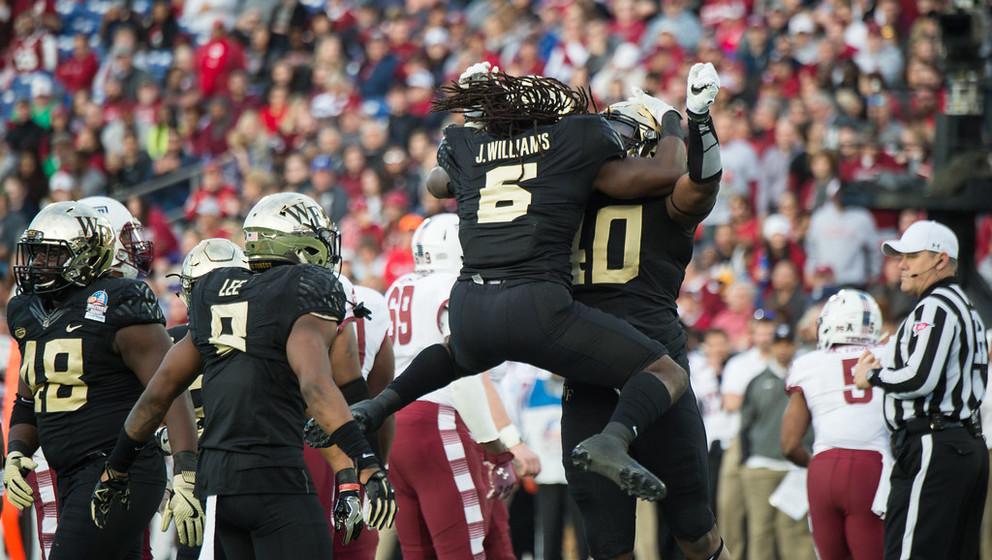 Completing 71.1% of his passes for 1,278 yards, 12 touchdowns and two interceptions (177.0 rating) while adding 160 rushing yards and three more scores, junior quarterback Jamie Newman has led Wake Forest to a 4-0 record. 
Wake Forest squares off at 3-1 Boston College this Saturday at 3:30 pm EST.
Newman has the 6th most passing yards (1,278) and is the 11th-rated passer in the country. 
Boston College leads the country in turnover margin at +9, one ahead of Alabama.
The Eagles are 6.5-point consensus underdogs, but BetQL's NCAA Football Model favors them at home.
First Four Weeks
Wake Forest finished the 2018 season 7-6, but after naming Jamie Newman the starter, the Demon Deacons finished 3-1 to end the campaign. Newman led the Demon Deacons to an upset win over NC State and a 37-34 comeback victory against Memphis where he was named the Birmingham Bowl MVP. 
The junior quarterback has taken his game to another level as the full-time starter this season with 12 touchdowns and only two interceptions through four games. His 12 passing touchdowns ranks eighth in the nation while he has the sixth-most passing yards (1,278) in the FBS. Newman's 71.1 completion percentage ranks 21st and his overall passer rating of 177.0 is 11th nationally. 
Not only has Newman led Wake Forest to a 4-0 start, but he has been clutch in their close wins over Utah State and North Carolina. In Wake Forest's back-and-forth 38-35 shootout win over Utah State and highly-touted quarterback, Jordan Love, Newman engineered the game-winning six-play, 89-yard drive capped off by a two yard touchdown pass to Kendall Hinton on fourth and goal to give the Deacs the lead for good with just over a minute remaining. 
Love DFS and want to give betting a try? Get a 50% deposit bonus up to $500 with your next deposit on DraftKings Sportsbook. Learn more!
After jumping out to a 21-0 halftime lead against North Carolina in Week 3, Wake Forest allowed 18 unanswered points and was clinging to a three-point lead after receiving the kickoff with 6:09 left to play. Newman then led a 12-play, 61-yard drive that bled five minutes off the clock. He picked up two first downs rushing the ball himself and completed his only pass attempt of the drive, a 27 yard completion to Scotty Washington on 2nd & 16 in Wake's territory. The win over North Carolina was a huge victory for Newman and Wake Forest. The Demon Deacons will begin their conference schedule on the road against Boston College this week, and they will need their emerging dark-horse Heisman candidate quarterback at his best.
Newman has been helped out by two of the best receivers in the country: Sage Surrat and Scotty Washington. Surrat and Washington each rank in the top 13 receivers in receiving yards with Surrat second in the nation with 484 receiving yards and Washington 13th with 376 yards. Surrat also ranks ninth with 7.5 receptions per game. Newman averages 319.5 yards passing each game, with 215 of those yards going to Surrat and Washington on average. Each receiver also is tied for eighth in the country with five receiving touchdowns a piece. 
If Boston College wants to win its matchup with the Demon Deacons, the Eagles must find a way to slow down Wake Forest's one-two punch on the outside while also minimizing Newman's ability to extend plays with his legs. 
Matchup Against BC's Defense 
Boston College's defense has been inconsistent through four games. In Week 1, the Eagles held Virginia Tech to just 2.3 yards per carry on 42 rushing attempts. In this ACC victory, the Eagles intercepted Hokies senior quarterback Ryan Willis three times and also forced two fumbles. The Eagles have forced 10 turnovers in just four games this season, good for fifth-most in the country. 
On the other hand, Boston College was embarrassed just two weeks ago in a 48-24 home loss against Kansas. Yes, Kansas. The Eagles had a 17-7 lead but couldn't stop Kansas' run-pass option, as their defense allowed 7.3 yards per rush and a whopping 329 rushing yards. That was just one week after Kansas lost a 12-7 game at home against Coastal Carolina. 
The Eagles bounced back last week with a 30-16 win on the road over Rutgers after rushing for 277 yards and holding Rutgers to 76 yards on the ground (2.9 yards per carry). The Eagles will return home this week for the first time since the humiliating Kansas loss with an opportunity to make a statement against undefeated Wake Forest.
The Eagles will need to force turnovers against the Demon Deacons to win this game. Expect them to force Wake Forest to beat them with someone other than Surratt and Washington. At 6'3" and 215 pounds and 6'5" and 225 pounds respectively, they are a matchup nightmare on the outside. Boston College will send safety help their way and open up room on the ground, but can running backs Cade Carney and Kenneth Walker III and Newman take advantage against a normally stingy Boston College run defense?
Track the line movement for every single game on the Week 5 college football slate!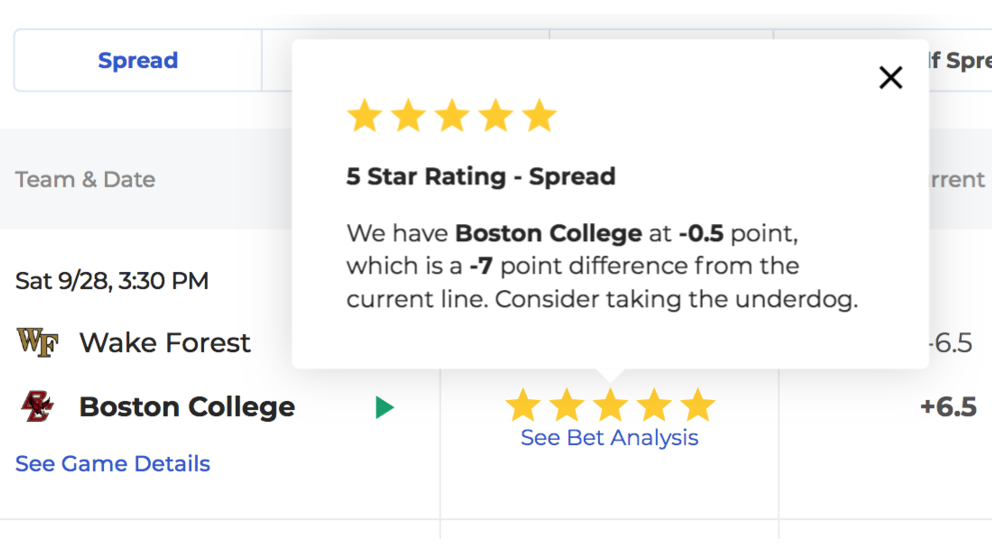 What BetQL's NCAAF Model Shows 
Consensus Spread: BC +6.5
BetQL Model: BC -0.5 (★★★★★)
Consensus Moneyline: BC +195
BetQL Model: BC -103 (★★★★★)
Consensus 1H Spread: BC +4
BetQL Model: BC -1 (★★★★★)
Consensus 1H Moneyline: BC +160
BetQL Model: BC -113 (★★★★★)
Wake Forest is the only unranked 4-0 Power Five school in the country, and they are unproven on the road this year. The Demon Deacons' only road win this season came against the winless Rice Owls in Week 2. Last season, Boston College beat Wake Forest in Winston-Salem 41-34 behind quarterback Anthony Brown's career day. Brown took advantage of Wake Forest's safeties creeping into the box to stuff AJ Dillon on the run by throwing the ball over their heads for a career high 304 yards passing and five touchdowns. However, Newman sat while Sam Hartman started at quarterback and completed just 20 of 45 passes. Will Jamie Newman be the difference maker in this year's matchup?
Despite the consensus line spotting Boston College 6.5 points (+195 moneyline), BetQL's Model projects Boston College as half-point favorites (-103 Moneyline) and therefore to upset Newman and the Demon Deacons. AJ Dillon rushed for 185 yards with an average of 5.6 yards per carry last year against Wake Forest despite often seeing eight Demon Deacons in the box. Expect Boston College to try and establish the run with Dillon, but if Wake Forest makes Brown win the game himself, he is more than capable. 
Expect the Eagles to do what they do best: win the turnover battle. Boston College has forced ten turnovers this season and had more takeaways than their opponents each week this season. The Eagles have the best turnover margin in the country at +9, one ahead of Alabama. 
Our model likes the Eagles to win this game at home by playing solid defense and taking care of the ball on offense with Dillon and Brown, who has yet to throw an interception this season.