No. 23 Wake Forest Should Thrive Against ACC Foe NC State
Quarterback Jamie Newman and his offense have been one of the nation's top units this season
By Roberto Arguello - Oct 31, 2019, 2:11pm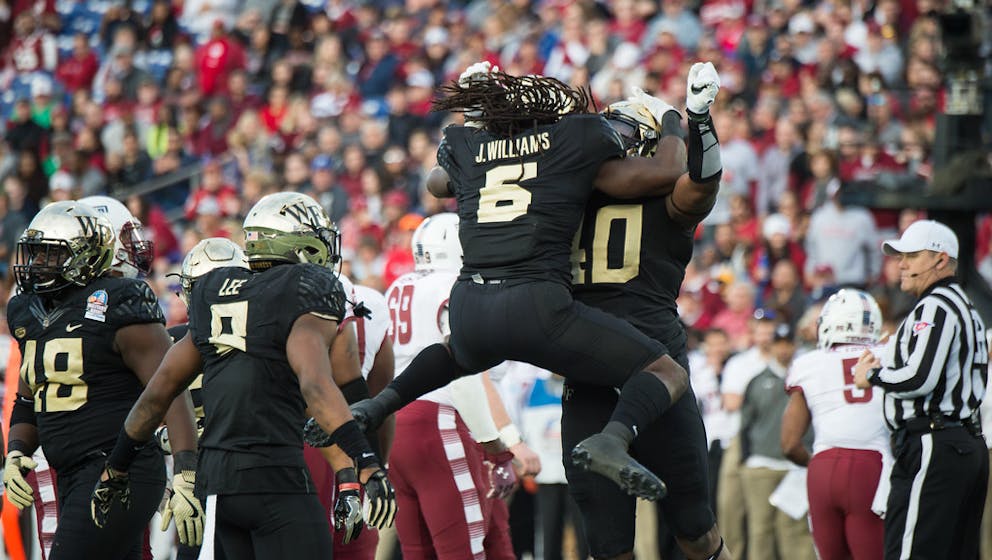 The NC State Wolfpack (4-3, 1-2 ACC) travel to Winston-Salem to face the No. 23 ranked Wake Forest Demon Deacons (6-1, 2-1 ACC) in Week 10.
Under coach Dave Doeren, NC State is 9 - 23 vs. good offensive teams (who score 31 or more points/game). Wake Forest averages 37.1 points per game. 
Wake Forest's dominant receiving duo of Sage Surratt and Scotty Washington is the best in the ACC, and by far the best that NC State has seen all season. 
NC State's redshirt freshman Devin Leary will make his first career start at quarterback at Wake Forest. He is the Wolfpack's third different quarterback to start in eight weeks. 
Wake Forest's offense has been a top ten unit in converting third downs while NC State ranks outside the top 100 third down offenses. 
The ACC Showdown
The NC State Wolfpack (4-3, 1-2 ACC) travel to Winston-Salem to face the 23rd ranked Wake Forest Demon Deacons (6-1, 2-1 ACC) at noon ET this Saturday on ESPN. The Demon Deacons have emerged as the second-best team in the ACC through seven weeks behind the stellar quarterback play of Jamie Newman. With the exception of Wake Forest's November 16th trip to Clemson, Newman and the Demon Deacons should be favored in each of their remaining games and are the ACC's only hope to get a second team in a New Year's Six bowl. 
The 6'4", 230-pound junior from Graham, North Carolina has thrown for 1,772 yards and 17 touchdowns with a 67.5 completion percentage for a 160.7 rating this season. He has also been a force in the read option game as he has 275 yards rushing and three rushing touchdowns through six games. Newman injured his left (non-throwing) shoulder in Wake Forest's lone loss of the season on October 12th against Louisville and missed the following game against Florida State on October 19th, a 22-20 win. Following a bye last week, Newman is listed as a co-starter at quarterback this week with sophomore Sam Hartman. 
Hartman started the first nine games of 2018 before the Demon Deacons pivoted to Newman at quarterback. Wake Forest went 4-5 during that span. This season, Hartman has completed 30 of 53 passes (56.6 completion percentage) for 480 yards, two touchdowns, no interceptions and a rating of 145.1. Even with Newman's status up in the air, our Bet QL model favors Wake Forest -7.5 as a two-star bet against the Wolfpack along with Over 60.5 (two-star). Our model favors the Demon Deacons for three reasons:
Find out what ★★★★★ bets are in BetQL's Model for Week 10!
Wake Forest's Dominant Receiver Duo
Regardless of the starting quarterback for Wake Forest, the Demon Deacons will have an advantage on the outside with the physical receiver duo of Sage Surratt and Scotty Washington. Surratt, a 6'3", 215-pound sophomore, leads the team with 881 receiving yards this season -- good for fifth in the country. His nine receiving touchdowns are also fifth in the nation while his 125.9 receiving yards per game lead all Power Five receivers. His partner in crime Scotty Washington has also been a force this season. The senior is even bigger than Surrat, standing 6'5" and 225 pounds. His seven receiving touchdowns are 18th most in college football while his 74.7 receiving yards per game rank 42nd. 
Even with Jamie Newman sidelined for the previous game against Florida State, Surratt and Washington combined for 10 receptions and 195 receiving yards. The dominant receiver duo has combined to receive 200 or more receiving yards in five of Wake Forest's seven games, and they have combined to receive at least 125 yards in all seven games. This duo is by far the best in the ACC and the most talented receiving duo that NC State has faced all year. Whether Newman or Hartman gets the start at quarterback, Surratt and Washington will have a busy afternoon against the Wolfpack. 
Get a 50% deposit bonus up to $500 with your next DraftKings Sportsbook deposit!
NC State's Quarterback Struggles
Since three-year starter Ryan Finley was drafted in the fourth round by the Bengals in the 2019 NFL Draft (he will get his first start next week against the Ravens after Cincinnati's bye this week), the Wolfpack have yet to find consistent quarterback play. NC State quarterbacks have combined to complete just 55.7 percent of their passes while throwing for 1,807 yards, nine touchdowns and four interceptions through seven games. 
This week, redshirt freshman Devin Leary will get his first career start -- he is the first redshirt freshman to start at quarterback for NC State since Russell Wilson in 2008. Matthew McKay and Bailey Hockman, who started the first five and the last two games respectively, are listed as co-backups. According to 247 Sports, Leary was the 16th ranked (four-star) pro-style quarterback in his class. 
The 6'2", 212-pound Leary is 20-of-41 through the air for 336 yards, three touchdowns and no interceptions this season. Leary relieved Hockman against Boston College after Hockman threw a pick six to give the Eagles a 7-0 lead. After Leary led the Wolfpack to a field goal on his first drive as quarterback, the NC State defense allowed scoring drives on six of their next seven defensive possessions, five of which went for touchdowns. Leary threw for three touchdowns in the game, but all of them came after the game was out of reach when Boston College went up 31-3. 
Although the Wake Forest defense has been poor against the pass (the Demon Deacons are 106th in the nation with 257.6 pass yards per game allowed), Leary will have the tall task of hanging with the seventh-ranked Wake Forest passing offense. While the Wake Forest offense has scored at least 22 points in all of their games, the NC State offense has done so just twice, and the Wolfpack are still looking for their first 30 plus point outing against a Power Five team this weekend. Lear will try to take advantage of the loss of Justin Strnad, Wake Forest's best defensive player, who is out for the season after suffering a torn bicep against Louisville. 
Track line movement, public betting data, utilize sharp picks and view bets bets from our algorithm every week of the college football season!
Third Down Conversion Issues
So far in 2019, the Wolfpack have struggled on third downs. The NC State offense ranks 112th with just a 33.9 percent conversion rate. On the other hand, the Wake Forest third down defense is the 16th-best unit in the country as they have allowed opposing offenses to convert just 30.5 percent of their third downs. The Wake Forest offense has been even better as they are converting 50 percent of their third downs, which is good for ninth-best in the FBS. If the Wolfpack want to pull the upset in Winston-Salem, they will need to reverse these trends with their freshman quarterback making his first start. 
What BetQL's Model Says 
Wake Forest (-7.5) is listed as the best bet in BetQL's NCAA Football Model, as is the -290 Demon Deacons moneyline.