UMass Is An Appealing Home Underdog Bet In Week 10
The Minutemen may be 1-7, but should be able to hang with Liberty more than the spread indicates
By Daniel Mogollon - Oct 31, 2019, 2:03pm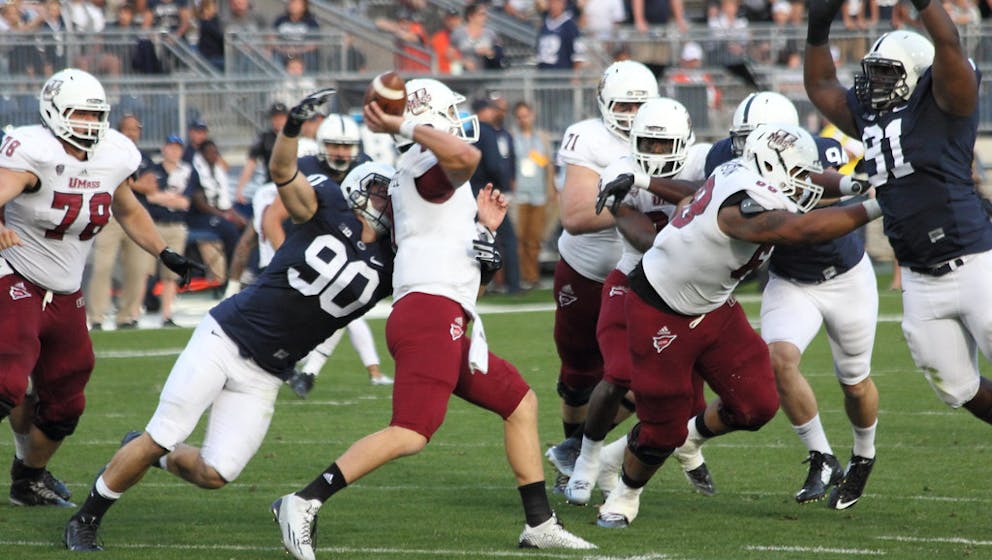 The UMass Minutemen (1-7) host the Liberty Flames (5-3) in Week 10. 
UMass has gone 1-7 ATS and the over has gone 6-2 in their games, while Liberty has gone 3-5 ATS and the over has gone 1-5-2.
Last year, the Minutemen went into Liberty and beat the Flames 62-59 in triple overtime. 
The Flames' pass defense (13.3 yards per completion allowed) is vulnerable to an improved UMass aerial attack. 
Running back Bilal Ally (5.7 YPC) is primed for a big day against Liberty's 113th-ranked run defense.
Showdown Of Newly-Formed FBS Programs
In a battle of former FCS teams turned FBS Independents, the Liberty Flames visit the underdog UMass Minutemen. The Minutemen lost to local rival UConn last week 56-35 to drop to 1-7 on the season. The Flames didn't fare much better a week ago, as they were upset by lowly Rutgers to snap their five-game winning streak, as Hugh Freeze's team fell to 5-3.
Their disparity in record is why UMass is getting 23.5 points on Saturday, a point spread that is simply too big and has BetQL's NCAA Football Model going with the Minutemen as the best bet in this matchup.
Hosting Liberty is probably UMass's last best chance at grabbing their second win of the season, as they look to repeat last year's triple overtime thriller which saw the Minutemen come out on top, 62-59.  
Find out what ★★★★★ bets are in BetQL's Model for Week 10!
Brito's Back
After missing three games due to injury, UMass quarterback Andrew Brito made his return to the starting lineup last week against UConn and threw for 239 yards and two touchdowns. While he started out rusty, Brito improved as the game went on. 
Coach Walt Bell talked about how Brito gave his team a chance to win, as he moved the ball well. Brito became the first Minuteman quarterback to throw for 200 yards this season and the 35 points they scored was their second-highest total of 2019. 
UMass looked to push the ball down the field and Brito connected on four passes of 20-plus yards. That's the most effective they've been this season with the deep ball. They have some speed on the perimeter with freshman receiver Jermaine Johnson as one the team's fastest players. Look for Brito to attack the Liberty secondary on Saturday. 
Liberty is 76th in the country in pass defense, right behind the UConn team that UMass faced last week. The Flames allow 13.28 yards per completion, which is among the worst in the country. They allowed Johnny Langan of Rutgers to throw for a career-high 192 yards last week. While that may not sound like much, consider Langan had thrown for 212 yards in his first three starts combined. 
Get a 50% deposit bonus up to $500 with your next DraftKings Sportsbook deposit!
Minutemen Found Their Running Game
For the first time this season, UMass gave the opponent a heavy dose of junior running back Bilal Ally and coach Bell was rewarded against the Huskies. On a season-high 25 carries, Ally ran all over the UConn D for 159 yards and two touchdowns.
The Jacksonville native is their best playmaker and he needs the football. Ally leads UMass with 628 rushing yards and his 5.7 yards per carry average is very impressive. Last week was his second two-score game of the season, as he's crossed the goal line six times in 2019. Ally has rushed the ball 15-plus times in three games, with two of them producing the Minutemen's two highest point totals of the season. 
If the offensive line gets some push, which they did at times last week, Ally should have a big game against the Flames. Ground and pound is the recipe to moving the ball on Liberty. They've allowed 82 first downs on the ground this season and are ranked 113th against the run (207.4 yards per game), including 271 yards last week to a Rutgers team that came in averaging just 110.3 rushing yards per game. 
Track line movement, public betting data, utilize sharp picks and view bets bets from our algorithm every week of the college football season!
Rodgers The Returner 
One of UMass's most explosive players is cornerback Isaiah Rodgers, who will make an impact on defense, as well as special teams.
In his career, Rodgers has accumulated a whopping 1,923 yards on kick returns with a healthy average of 25.0 yards per return. This season, he's been even better as he's averaging 28.4 yards per kick return with a long of 87. 
Rodgers is already over 1,000 all-purpose yards. In addition to his 880 kick return yards, the senior has 90 punt return yards (10 yards per return) and 58 yards on interception returns. Rodgers has picked off four passes this season including one returned for a touchdown to give him 11 picks (30 pass breakups) in his stellar career. He's the only player in program history with three interceptions returned for a touchdown. 
When these teams played last season, Liberty quarterback Stephen Calvert was intercepted four times, including once by Rodgers. 
What BetQL's Model Says
BetQL's NCAA Football Model lists UMass (+23.5) as the best bet with an overwhelming amount of value attached to the wager. While the algorithm still suggests that Liberty will win the game, the consensus spread is about a touchdown too high, according to our data points.