Tua Tagovailoa Should Be Heisman Favorite
If he stays healthy, he should put up mind-blowing numbers this season
By Matt Reed - Aug 23, 2019, 7:17pm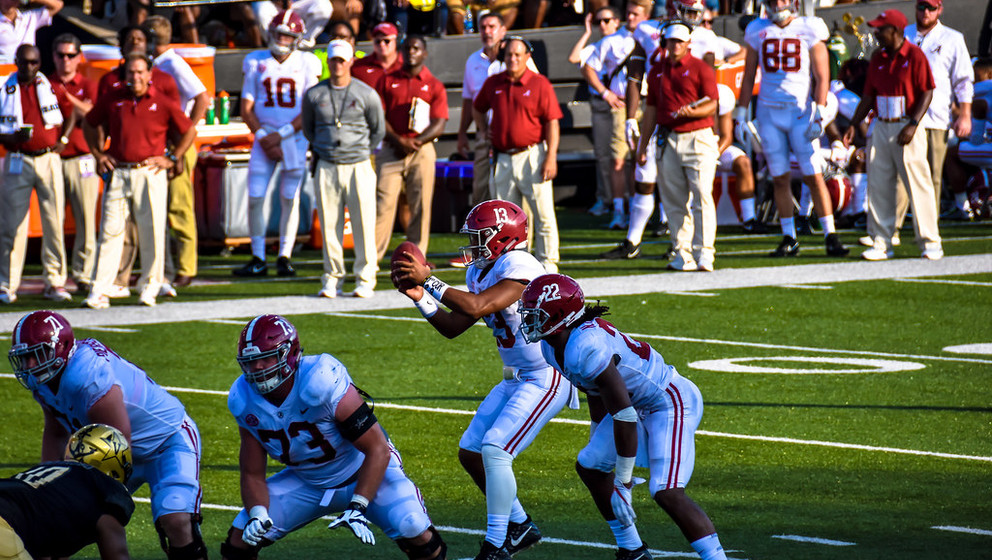 ● The Alabama QB has +250 odds to win the 2019 Heisman Trophy
● Tagovailoa is one of 8 returning Alabama offensive starters 
● Alabama's schedule creates an opportunity for Tua to dominate all season long
When it comes to elite college football programs, Alabama and Clemson have proven to be a rung above everyone else for quite some time. This season, the two giants will surely be in the mix once again in the National Championship race, and largely so because of the two quarterbacks under center.
Tua Tagovailoa, now in his third season at Alabama, will lead the Crimson Tide for his second full campaign. In each of his last two seasons, Tagovailoa and Alabama have lost a combined two games, however, one came last season against Trevor Lawrence and Clemson.
Meanwhile, Lawrence is coming off a tremendous freshman campaign for the Tigers, which included a National Championship victory. 
The blonde-haired gun-slinger now holds +188 odds to win the Heisman Trophy in 2019, while Tagovailoa checks in at +250.
Here's a closer look at why Tagovailoa should be the favorite to win this year's Heisman Trophy, as the Alabama quarterback likely prepares for his last season before heading to the NFL.
Tua's Elite Numbers
If both quarterbacks were eligible for next year's NFL Draft, they would probably go first and second overall simply because of how developed they are in comparison to the rest of the quarterback field. 
There are a lot of aspects that ultimately decide whether or not a Heisman candidate will make the leap into the exclusive college football club. Statistics aren't the only factor that drives the decision-making process, but in this case, it will likely play a huge role. 
Tagovailoa finished in the top 5 of essentially every important statistic in 2018, including touchdowns (43), interceptions (6) and quarterback rating (199.5). His 69.0 percent completion percentage helped make the Crimson Tide one of the most dangerous aerial attacks in college football. They scored 35 points or more in 12 different contests last season.
The Crimson Tide quarterback's single-season mark of 43 touchdowns in 2018 gave Tagovailoa the Alabama record, which was previously held by AJ McCarron. Tagovailoa needs 24 passing touchdowns in 2019 to break to all-time Crimson Tide record, which he should be able to complete with ease.
Meanwhile, Lawrence passed for 30 touchdowns in Clemson's perfect 15-0 season, which resulted in the national title. Clemson won 13 of their contests by 20 or more points, which allowed head coach Dabo Swinney to remove Lawrence before the conclusion of the games many times. 
Although Lawrence is incredibly gifted, his 8.3 yards per passing attempt was nearly three yards less than Tagovailoa last season. Tagovailoa also threw for nearly 700 more yards. 
Heisman Factors
Barring something completely unforeseen, both Alabama and Clemson will be playing in the College Football Playoff this season. However, the Heisman Trophy will be decided well before the two teams potentially meet in the final four. 
Tagovailoa and Alabama won't face a daunting schedule in 2019, and unless Saban's team suffers a shocking upset between now and December, the Crimson Tide should be 12-0 before a potential date in the SEC Championship. 
That will likely also be the case for Lawrence and Clemson, who shouldn't be tested in the ACC this season. Of Clemson's opponents, the Tigers only face one preseason top 25 team in 2019, which could come into play when considering Lawrence's output (and playing time in blowout situations). 
Alabama will likely have four potential top 25 opponents, including LSU, Auburn, Texas A&M and Georgia (if the teams meet in the SEC Championship).
Another big factor this season could be the returning starters for both teams. Clemson will surely score lots of points on offense, but after losing five defensive starters in the 2019 NFL Draft, the Tigers will need to rely on many different faces to compete in games.
Meanwhile, Tagovailoa is one of eight offensive starters returning this season to Alabama, who will boast one of the nation's top offensives yet again.
Although Lawrence came out on top last season in the National Championship Game, and certainly has the capability to do so again in 2019, Tagovailoa should be the Heisman favorite despite his +250 odds.
Note: The advice above represents the writer's personal view and does not reflect or represent BetQL's stance or interest in any way.