Syracuse Is Appealing Home Underdog Option Against Pitt
The Orange will look to earn a victory over their ACC rival
By Dan Karpuc - Oct 17, 2019, 3:45pm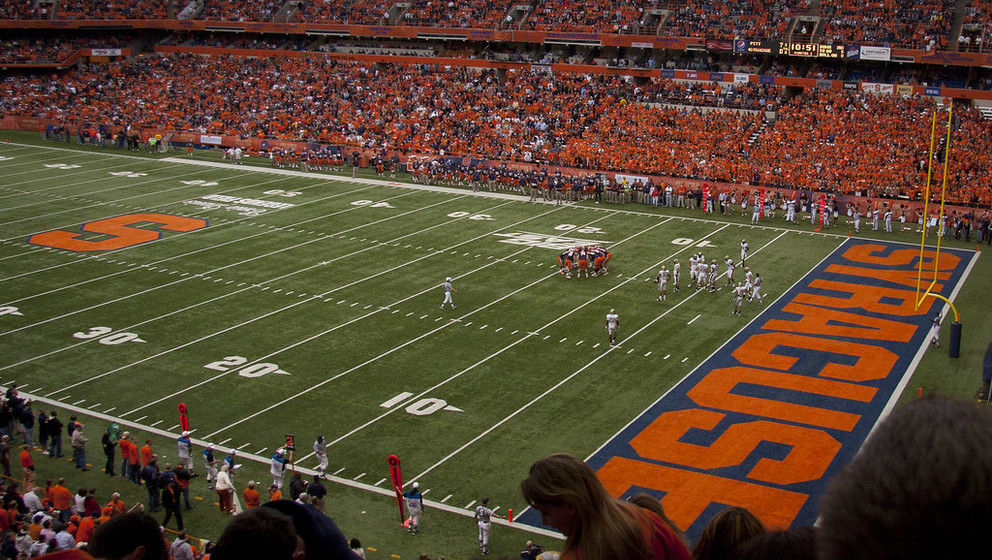 Pitt vs. Syracuse (+3.5)
Friday, October 18th 7:00pm EST 
Pittsburgh (4-2, 1-1 ACC) travels to take on Syracuse (3-3, 0-2 ACC) in a Week 8 Friday night matchup. 
Pittsburgh is 2-4 ATS and the over has gone 2-4 in their games while Pitt is 4-2 ATS and the over has gone 2-4 in their contests. 
In the seven meetings between these teams since 2012, Pitt has gone 5-2, but five contests have been decided by a touchdown or less. Last year, Pitt won 44-37 in overtime and the Panthers have won three-straight against the Orange by three points or fewer.
Syracuse is 9-2 on turf over the last two years and quarterback Tommy Devito ranks third in the ACC with 1,534 passing yards and has thrown 12 touchdowns so far. The Panthers defense has shown an aggressive style of blitzing and has proficiency against the run, so Devito's play will likely determine the outcome of the game.
BetQL's NCAA Football Model lists Syracuse (+3.5) and Syracuse's moneyline (+145) as ★★★★★ bets and the over 25.5 first half total as a ★★★★ bet. 
A Legit Passing Attack
After six games, Syracuse's redshirt sophomore Tommy Devito ranks third in the ACC with 1,534 passing yards and has thrown 12 touchdowns and five interceptions. Junior wideout Trishton Jackson is his top target and has six touchdowns and 499 receiving yards. Sophomore receiver Taj Harris (18 catches for 306 yards and a touchdown) will likely be heavily utilized in this matchup. 
Pittsburgh plays a quarters defense, but has an aggressive, blitz-heavy scheme, as indicated by the fact that they rank second in the FBS with 27 sacks. Meanwhile, Syracuse's offensive line has struggled to keep Devito upright, as he has been sacked an ACC-high 26 times so far. Limiting the pressure on him will likely be the key to success for 'Cuse.
Further, Pitt has been great against the rush and ranks 16th nationally, allowing just 97.0 yards on the ground per game. That means that running backs Moe Neal and Abdul Adams will most likely struggle to get much going on the ground, but Neal's ability as a pass-catcher could certainly come into play (20 receptions for 207 yards). Since Devito will be tested by an aggressive front seven, Neal will likely be targeted in the flat quite a bit. Screen passes should also be effective against a reckless form of defense like Pitt's. 
Get your first DraftKings Sportsbook deposit matched up to $200!
More Ways For Syracuse To Capitalize
After being ejected for targeting in the fourth quarter last week against Duke, standout sophomore safety Paris Ford will have to sit out in the first half this week against Syracuse. There's no telling how his loss will affect Pitt's defense in the first two quarters, but his void is certainly not a positive for Pitt. 
Further, Panthers kicker Alex Kessman is just 6-for-12 on field goals this season, which certainly doesn't create confidence in the kicking game. That could lead to more fourth-down attempts and less scoring opportunities overall. 
To add, four of Pitt's five starting offensive linemen from last season have graduated. While the Panthers have allowed 12 sacks so far (seventh in the ACC), Syracuse's defense has had 20 sacks of their own this season and should feed off of the energy of their home crowd. 
Expect Syracuse to take care of business and to earn a victory against their rival this week. As a home underdog, there's significant upside in placing a bet on the Orange. 
Find out what other ★★★★★ bets are in BetQL's Model for Week 8! The season is flying by, but you can still get in the action!