NCAAF
Stunning UCLA Comeback Highlights Week 4 Model Review
The Bruins erased a 32-point second-half deficit to stun Washington State in front of their home crowd
By Matt Reed - Sep 22, 2019, 6:27pm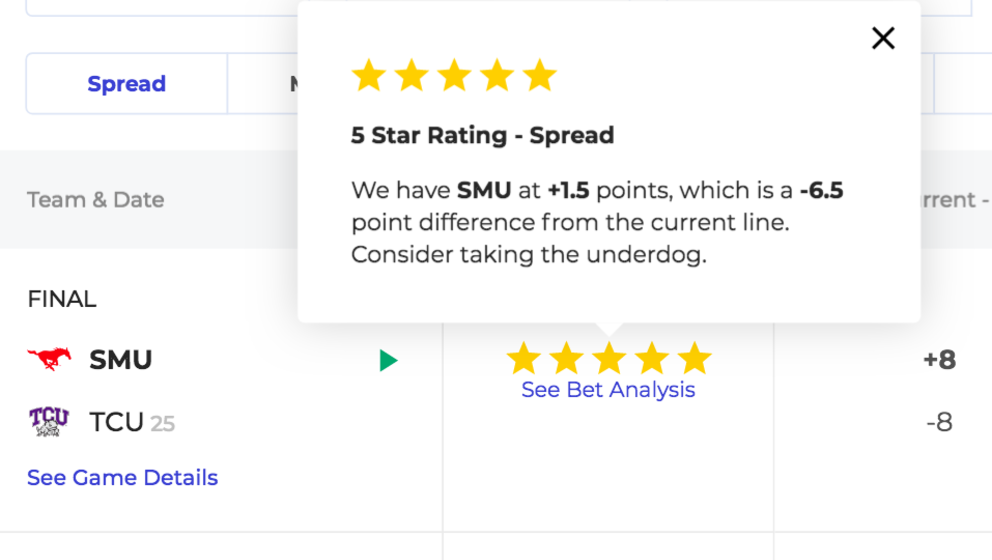 Saturday, September 21
BetQL Rating: ★★★★★ SMU +8 
Outcome: SMU won 41-38
SMU kept its perfect start to the season in tact on Saturday with an impressive road win at TCU. The Mustangs were led by quarterback Shane Buechele, who threw for 288 yards and two touchdowns in the victory. 
Meanwhile, TCU battled back in the second half after scoring 21 points, but it wasn't enough to top the Mustangs. Quarterback Max Duggan threw for three touchdowns. However, TCU's defense, which has typically proven to be stout, gave up 31 points before halftime.
Saturday, September 21
BetQL Rating: ★★★★★ (NM State +4)
Outcome: New Mexico won 55-52
The in-state rivals battled until the very end in their latest encounter, and New Mexico State kept the game close throughout despite falling to 0-4 on the season. Quarterback Josh Adkins accounted for six touchdowns on the day (three passing and three rushing).
The Lobos moved to 2-1 in 2019 despite a late push from the Aggies, and quarterback Tevaka Tuioti played a huge role in his team's night, throwing for 355 yards and three touchdowns. The Aggies were surely pleased to get back on the winning side of things after a disappointing loss to Notre Dame in Week 3.
Get a 50% deposit bonus up to $500 with your next DraftKings Sportsbook deposit!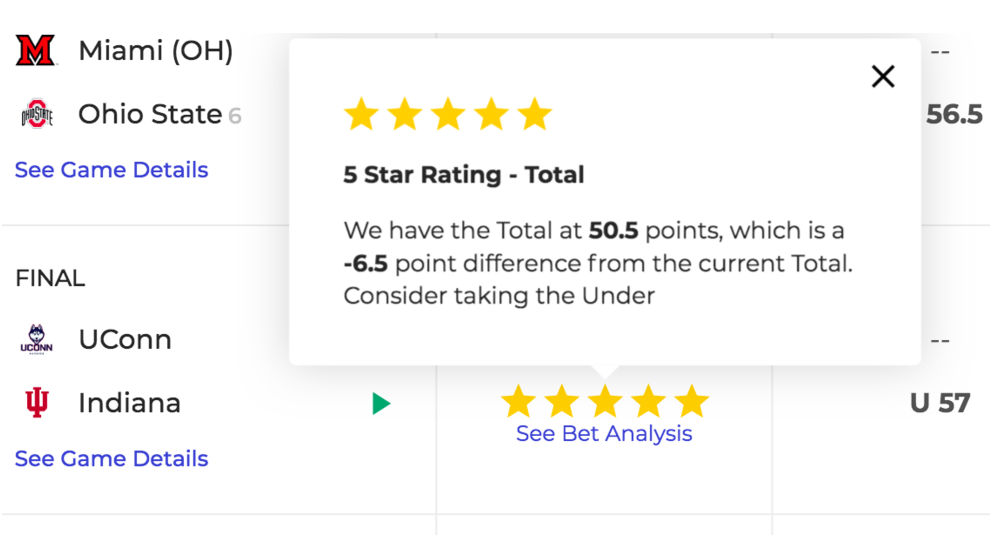 Saturday, September 21
BetQL Rating: ★★★★★ Under 57 Point Total
Outcome: Indiana won 38-3
The Hoosiers improved to 3-1 on the season with a blowout win over UConn. Indiana held their opposition to under 200 yards of total offense, while quarterback Peyton Ramsey passed for three touchdowns en route to the victory.
UConn quarterback Jack Zergiotis passed for just 90 yards and also threw an interception in a rough outing for the Huskies, who fell to 1-2 on the year. Despite only trailing 7-3 at the end of the first quarter, the Huskies wouldn't score again after their opening field goal and the game finished well below the high total.
Saturday, September 21
BetQL Rating: ★★★★★ (WVU -200 Moneyline)
Outcome: West Virginia won 29-24
The Mountaineers were paced by their rushing attack on Saturday, which featured three rushing touchdowns from Kennedy McKoy and Martell Pettaway in a combined effort. West Virginia picked up its third win of the year, with the Mountaineers' lone defeat coming to Missouri.
Meanwhile, Kansas lost its second home game of the season, after previously falling to Coastal in Week 2. The Jayhawks received a strong performance from quarterback Carter Stanley, whose three touchdown passes paced the hosts. However, that wasn't enough to come out on top.
Wondering what teams are being bet on or where the money's going? View NCAA Football Public Betting data every week! 
Saturday, September 21
BetQL Rating: ★★★★★ Over 29 Point 1st Half Total
Outcome: Boston College won 30-16 (30 1st Half Points)
The Eagles took over in the second half, outscoring Rutgers 13-3 after the halftime break. The teams combined for 30 points in the first half, just enough to hit the over. Running back AJ Dillon rushed for 150 yards and two touchdowns on the afternoon, which paced Boston College to their third win of the 2019 season.
Meanwhile, Rutgers fell to 1-2 on the year despite Artur Sitkowski throwing for over 300 yards in the defeat. Defense continues to be the team's main concern, allowing 30 points in back-to-back outings.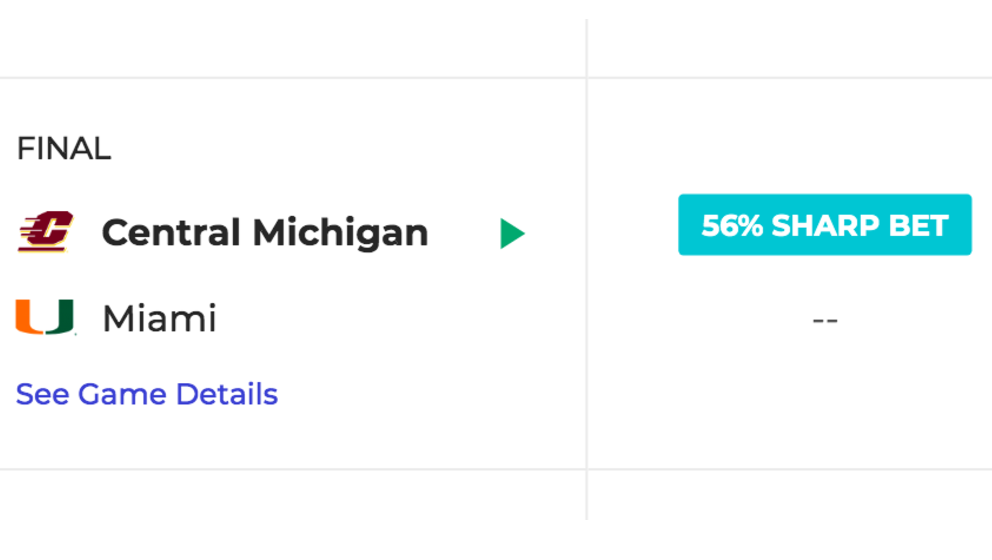 Saturday, September 21
BetQL Rating: 56% Sharp Bet (Central Michigan +30.5)  
Outcome: Miami won 17-12
Central Michigan came out very slow on Saturday, scoring just two points in the first half. However, the Chippewas battled back admirably and covered the 30.5-point spread with ease on the road. Quarterback David Moore rushed for his team's lone touchdown in the fourth quarter, but it wasn't enough to complete a comeback.
Meanwhile, Miami improved to 2-2 on the season after opening the year with back-to-back losses against Florida and North Carolina. Quarterback Jarren Williams passed for 250 yards and a touchdown, which paced the Hurricanes offense.
Review all Week 4 College Football Best Bets! 
Saturday, September 21
BetQL Rating: ★★★★ First-Half Moneyline (Michigan State -270)  
Outcome: Michigan State won 31-10
Brian Lewerke paced the Spartans on the road with three touchdown passes, improving Michigan State's record to 3-1 on the year. The Spartans held their opposition to just 10 points on Saturday, which is something the team's defense has already done on three occasions in 2019.
Northwestern struggled to find any sort of passing rhythm in the game, with quarterbacks Hunter Johnson and Aidan Smith combining for three interceptions against the Spartans. The loss is Northwestern's second of the season, as the Wildcats fell to 1-2.
Saturday, September 21
BetQL Rating: ★★★★ Moneyline (Kent State -435)  
Outcome: Kent State won 62-20
The Golden Flashes led 24-7 at halftime, and yet Kent State wasn't nearly done putting on an offensive show against Bowling Green. Kent State has three different quarterbacks throw at least one touchdown pass on the day, including Dustin Crum's three touchdowns. Crum went 26 for 31 through the air, missing just five throws all game.
Meanwhile, Bowling Green fell to 1-3 after their third consecutive defeat on Saturday. Quarterback Grant Loy was the lone bright spot for the Falcons, who passed and ran for a touchdown apiece in the 42-point defeat.
Saturday, September 21
BetQL Rating: ★★★★ Moneyline (Coastal Carolina -800)  
Outcome: Coastal Carolina won 62-28
An all-around impressive outing saw Coastal Carolina improve to 3-1 on the 2019 season. The Chanticleers received two 100-yard rushing performances in the game from Bryce Carpenter and Torrance Marable, with the latter also scoring two touchdowns in the process.
Meanwhile, Massachusetts continues its miserable start as the Minutemen fell to 0-4 on Saturday. In four games this season, the Minutemen have allowed 207 points, roughly 51.8 points per outing.
Saturday, September 21
BetQL Rating: ★★★★ First-Half Moneyline (Tulsa-190)  
Outcome: Tulsa won 24-21
Quarterback Sean Chambers was largely ineffective through the air, but the dual-threat signal-caller made up for it with 83 rushing yards and two touchdowns on the ground. However, a slow start from the Cowboys prevented Wyoming from completing a comeback after scoring just seven points through the first three quarters.
Tulsa earned their second win of the season on Saturday after a solid showing from quarterback Zach Smith, who passed for 350 yards and two touchdowns. The Golden Hurricane have alternated wins and losses so far in 2019, and will aim for a second-consecutive victory next week against a difficult SMU side.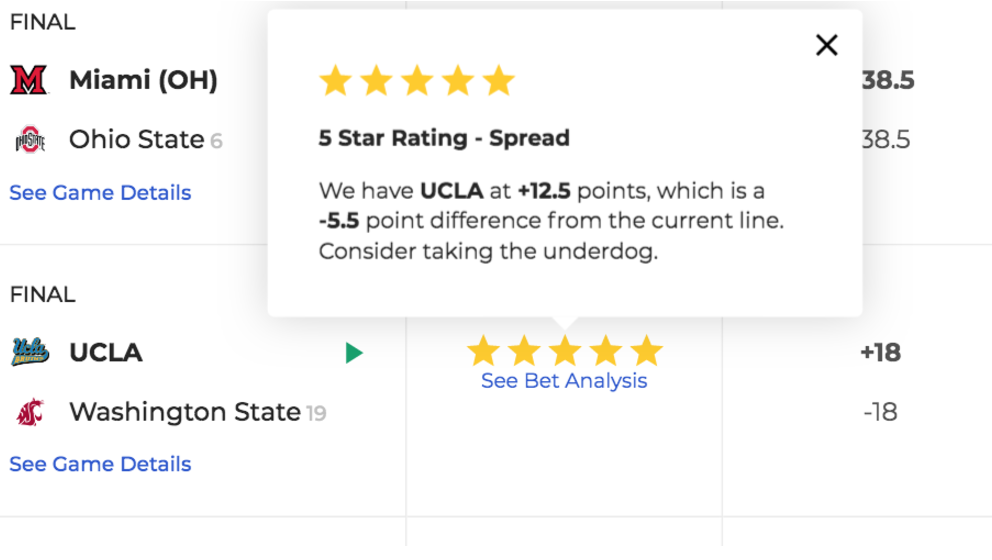 BetQL Rating: UCLA +18
Outcome: UCLA won 67-63 
In what might go down as the best college football game of the entire season, UCLA erased a 32-point second-half deficit to stun the Cougars in front of their home crowd. Dorian Thompson-Robinson went 25-for-38 passing for 507 yards, five passing touchdowns and an interception and rushed for another 57 yards and two more scores while Demetric Felton led the Bruins in receiving with 150 yards and two touchdowns. 
In the loss, Anthony Gordon went a ridiculous 41-for-61 for 570 yards, nine touchdowns and two interceptions while Max Borghi ran for 123 yards and Easop Winston Jr. caught 10 passes for 114 yards and four touchdowns. It was must-watch television on the Pac 12 After Dark telecast.