Stanford Looks To Reverse Unprecedented Struggles Against Oregon State
Until last week, coach David Shaw's program had never lost three games in a row during his tenure
By Travis Pulver - Sep 26, 2019, 6:23am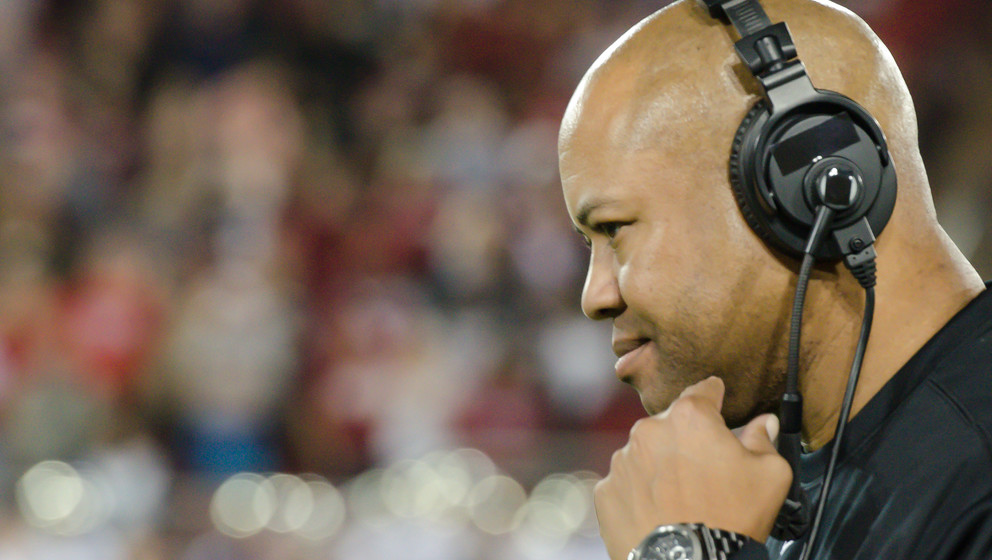 Stanford has dominated the series in recent years, winning the last nine meetings against Oregon State.
Oregon State last beat Stanford back in 2009 in Corvallis, 38-28.
Stanford is 0-2 on the road this season; Oregon State is 1-1 at home.
Stanford is 1-3 ATS while Oregon State is 2-1.
The Stanford Cardinal have been one of the best teams in college football for years. This has certainly been true since David Shaw took over as head coach in 2011. Since then, they have finished the season ranked inside the top 25 in six of eight seasons, won 10-plus games five times, and won less than nine only once (2014 when they went 8-5).
After finishing with a 9-4 record last season, the voters thought enough of the Cardinal to make them the No. 23 ranked team in the country entering the 2019 season. But after getting the season off to a good start with a win over Northwestern (17-7), they have dropped their last three (at USC, at UCF and vs. Oregon).
The last time they got off to a 1-3 start was back in Jim Harbaugh's first season as the head coach and Shaw's as the offensive coordinator in 2007. This is the first time the Cardinal have lost three in a row under Shaw. If they can't get things turned around, they may miss out on bowl season for the first time in a decade.     
Can they get things on track before it is too late?
View all Week 5 College Football Best Bets! 
Offensive Struggles 
Under Shaw, the Stanford offense has been run dominant with just enough of a passing game to keep defenses honest. But the offense has also always had a stud running back like Christian McCaffrey or Bryce Love. Cameron Scarlett isn't bad (70 carries for 321 yards and a touchdown); his average per carry of 4.6 yards is respectable.
But he isn't enough. Between Scarlett and the rest of the Cardinal running backs, Stanford has one of the worst rushing attacks in the nation (109th at 115.0 yards per game).
Without a running game to protect it, the passing game is struggling (205.8 yards/game; 121st in the nation in passing efficiency). Senior quarterback K.J. Costello is having the worst season of his career, so far. He has yet to pass for more than 200 yards in a game and is completing just 56.4 percent of his passes.
Defensive Struggles 
Along with a strong running game and an efficient passing attack, David Shaw's teams have been known for having tough defenses. From a yardage allowed standpoint, they are not performing differently in comparison to recent years.
So far, they are giving up 391.8 yards a game. In the last two seasons, the Cardinal allowed over 400 yards per game. But the big difference is in the points allowed. For the last four seasons, Stanford has given up right around 22 points a game.
Through four games this season, they are allowing 29.5 points per contest.
The unit only returned five starters and three of their top seven tacklers, so there are a bunch of new players who have to learn how to get the job done. With the offense not being very productive this season, the job has been made that much tougher.
Track the line movement for every single game on the Week 5 college football slate! 
Matchup Against OSU 
Unlike Stanford, Oregon State has been much more productive on offense this season.  They come into the game with the 29th-best overall offense in the country (476.3 total yards per game) that is generating 229.3 yards a game on the ground (29th) and another 247.0 in the passing game (65th), and it is paying off.
They are putting up over 36 points a game.
Oregon State's offensive line has allowed just two sacks and the Beavers do have two of the better running backs in the Pac-12 in Jermar Jefferson (5.7 yards per carry) and Artavis Pierce (8.2 yards per carry). 
Statistically speaking, Stanford's front seven has been decent against the run. But they have only faced a dismal Northwestern team and three of the best passing attacks in the nation. If the other teams don't run the ball much, of course, they're going to look good against the run. 
But against Oregon State's dynamic duo, they are going to struggle. As soon as they start to load the box to stop the run, Jake Luton will pick apart the secondary.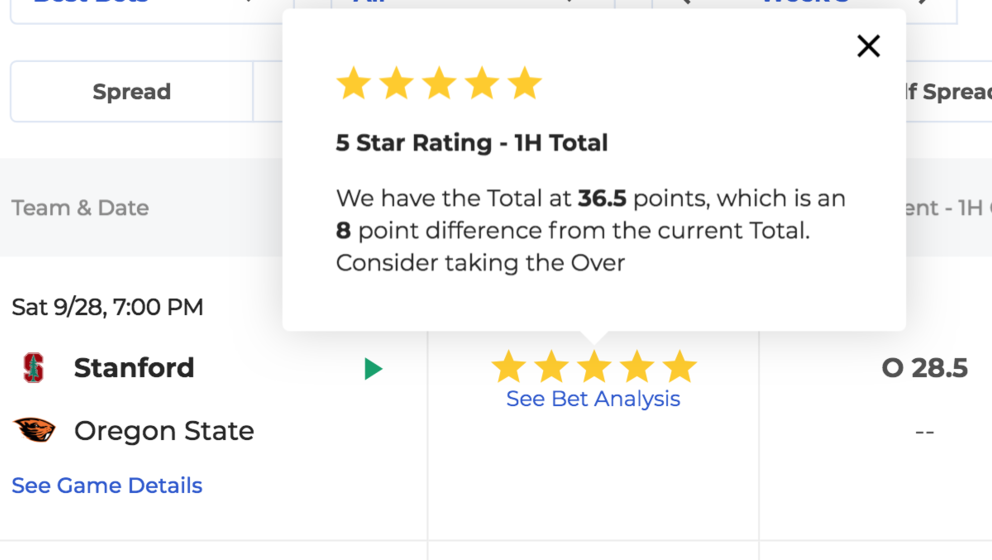 What BetQL's Model Says
Consensus Spread: OSU +4
BetQL Model: OSU -0.5 (★★★)
Consensus Moneyline: OSU +160
BetQL Model: OSU -103 (★★★★)
Consensus total: 57.5
BetQL Model: 61 (★★★)
Consensus 1H Spread: OSU +2
BetQL Model: OSU -1.5 (★★★★)
Consensus 1H Moneyline: OSU +130
BetQL Model: OSU -126 (★★★★)
Consensus 1H Total: 28.5
BetQL Model: 36.5 (★★★★★)
While Stanford may be in desperate need of a win, according to our model, they are not going to get it. With neither defense being particularly strong, you can count on some points being scored, especially early, where our model projects 36.5 points by halftime. But in the end, Oregon State's dominant run game is going to rule the day and make it four losses in a row for Stanford.