SMU Upsets TCU, Moves to 4-0 for First Time Since 1984
Despite TCU's recent dominance, BetQL's NCAA Football Model was all over SMU in this matchup
By Jonathan Willis - Sep 22, 2019, 6:11pm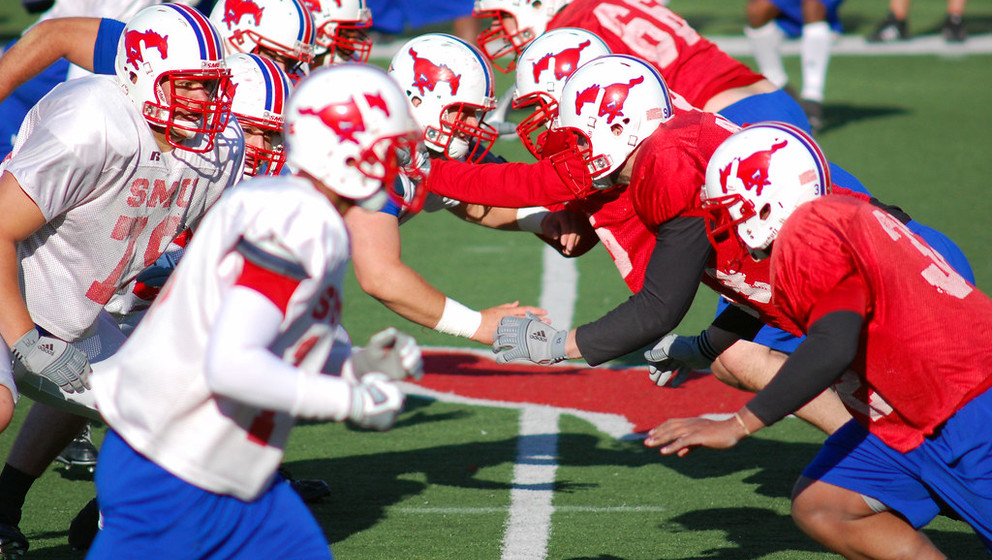 #25 TCU was an eight-point favorite over SMU to win the Iron Skillet.
The Mustangs pulled off the upset, taking down the Horned Frogs 41-38. 
This was SMU's first win in this rivalry since 2011.
Sonny Dykes has SMU out to a 4-0 start for the first time since 1984.
Situation Leading Up to Kickoff
Coming into Saturday afternoon's game, SMU had not defeated rival TCU in eight years. The Horned Frogs were on a seven-game winning streak over the Mustangs (their longest in the history of the series), and they had won 17 of the last 19 games between these two schools. TCU had been dominating the rivalry so thoroughly that the Horned Frogs' smallest margin of victory over the last six years was a 19-point win over the Mustangs in 2015, and their average margin of victory over that stretch was a whopping 31 points.
SMU was off to a 3-0 start in the team's second year under head coach Sonny Dykes with solid non-conference wins over Arkansas State, North Texas, and Texas State ahead of yesterday's showdown with TCU. The Horned Frogs were 2-0 and ranked No. 25 in the nation, but BetQL's NCAA Football Model listed SMU (+8) as a five-star play.
Review every one of our model's Best Bets from Week 4!
What Happened
The Mustangs jumped out to a 15-0 lead on TCU on Saturday, and they never looked back in a 41-38 win over the Horned Frogs. SMU never trailed in the game and the Mustangs drove down the field to score every time TCU brought the game within one possession.
Former Texas quarterback Shane Buechele continued his strong start to the season by completing 23-of-34 passes for 288 yards with two touchdowns and one interception in the victory. Buechele has now completed 66.7 percent of his passes for 1,159 yards with seven touchdowns and four interceptions on the year. 
SMU's defense gave up more points against TCU than against any other opponent this season, but the Mustangs rose to the occasion multiple times to preserve the win. They forced three TCU turnovers and held quarterback Max Duggan in check throughout the game. Duggan completed just 44.4 percent of his passes and averaged 5.2 yards per attempt.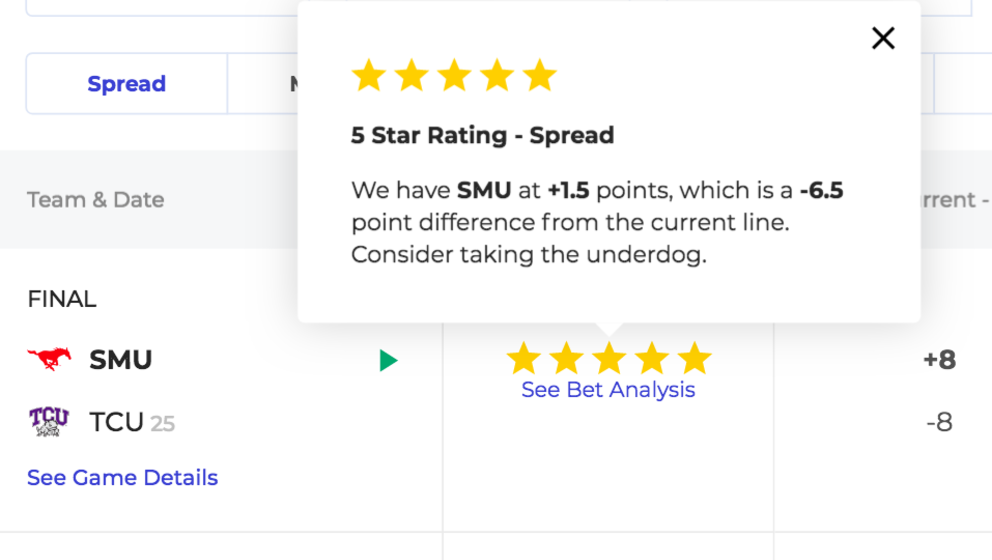 Using BetQL
Our premium subscribers cashed in on SMU's victory since BetQL's model listed the Mustangs as a five-star bet. SMU's offense continues to be one of the best in the Group of Five under Sonny Dykes, and the Mustangs are averaging 43.5 points per game through their first four games. 
Moving Forward
SMU kicks off conference play next week by traveling to Tampa to take on the South Florida Bulls. South Florida is not off to a great start under Charlie Strong this season and have a 1-2 record. They have lost eight-straight games against FBS opponents, so SMU is expected to be a road favorite in Tampa.
The Horned Frogs start conference play next week as well, facing the resurgent Kansas Jayhawks. Kansas is no longer a Big 12 doormat under Les Miles, and the Jayhawks nearly knocked off West Virginia on Saturday. The Jayhawks shocked TCU 27-26 in Lawrence last year, notching their first conference win since beating Texas 24-21 in November 2016.