Sharp Bettors Were All Over This Week 4 Pick
Despite the fact that 43 percent of total bets were wagered on this team, nearly all the money was placed on them
By Roberto Arguello - Sep 24, 2019, 12:40pm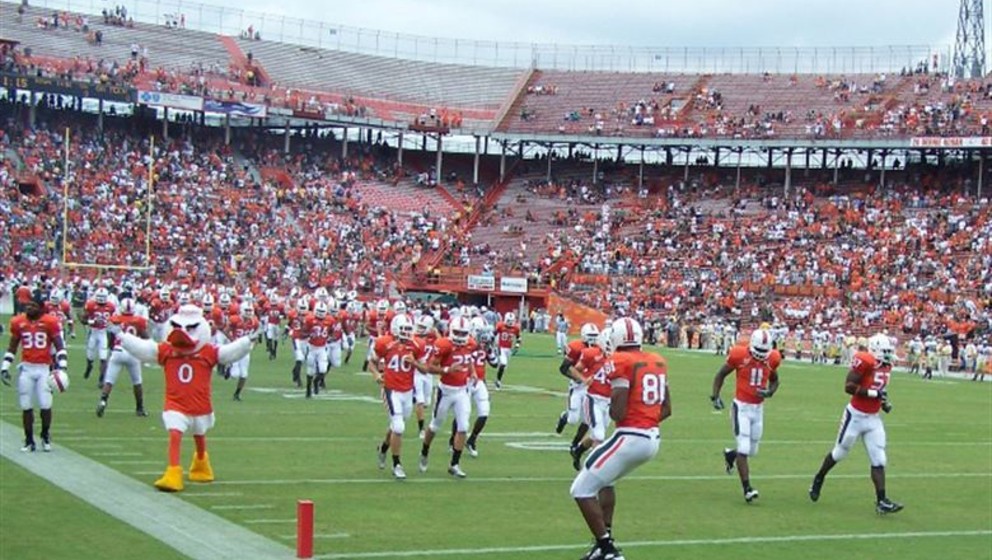 A "sharp percentage" is calculated by subtracting the total ticket percentage of a particular wager from the total money percentage.
Central Michigan (+30.5) had the highest sharp percentage on the entire slate against Miami (FL) (56 percent: 99 percent of the money and 43 percent of the tickets).
Miami won the game 17-12 , rushed for just 51 yards on 34 carries against the Chippewas and Central Michigan easily covered, making sharp bettors very happy in the process.
Game Summary
The Miami Hurricanes played their worst game of the season and needed a last possession takeaway to hold off the Central Michigan Chippewas 17-12.
Miami started the game on defense and forced a Central Michigan three and out. Hurricanes quarterback Jarren Williams had 65 passing yards as he led Miami on an eight-play, 85-yard drive capped off by a Deejay Dallas one yard touchdown run on fourth and goal. After Miami forced another three and out on defense, the offense stalled on the Central Michigan 23-yard line and failed to convert on fourth down and three. 
Miami may have played aggressive because their kicker, Bubba Baxa, had missed a field goal in each of their first three games this season. After the second drive, Miami's offense stagnated as the Hurricanes picked up just one more first down in the first half. Two other first half Hurricane drives ended in a safety and a fumble lost. Central Michigan's offense failed to pick up any momentum themselves, and the Chippewas trailed the Hurricanes 7-2 at halftime.
View all Week 5 College Football Best Bets!
Miami scored on the first possession of the second half then traded field goals to take a 17-5 lead with 11 minutes left in the fourth quarter. The Chippewas returned the following kickoff 45 yards before going on a 17 play, 65 yard touchdown drive. The Hurricanes aided the Chippewas with two automatic first downs after penalties on fourth and goal and second and goal to help extend the drive. The Hurricanes got one first down on the following possession before punting back to Central Michigan with 39 seconds remaining with the ball on the Chippewas five yard line. Chippewas quarterback David Moore completed just one pass for 24 yards before being intercepted at the Miami 44 to seal the win for Miami. 
Improving Chippewas 
Following a 1-11 season in 2018, first year head coach Jim McElwain's Chippewas are exceeding expectations. They already had doubled last season's win total with victories against Albany and Akron and sharps jumped on them against an under-achieving Miami team. 
The Chippewas nearly defeated one of the most talented teams in the country in a Miami team that battled a top ten opponent toe-to-toe in week zero's marquee 24-20 loss against Florida. Five different defensive linemen have recorded a sack for the Chippewas this year. Defensive lineman Sean Adesanya leads the team with four sacks while also recording one interception and a forced fumble. Look for the Chippewas to upset some teams in the Mid-American Conference this season if they can find improved quarterback play. David Moore has a 50 percent season completion percentage and went 23-for-50 for 217 yards, no touchdowns and one interception against Miami. 
Get a 50% deposit bonus up to $500 with your next DraftKings Sportsbook deposit!
Disappointing Hurricanes
The Hurricanes were more than four-touchdown favorites yet failed to establish themselves at the line of scrimmage on offense as they couldn't consistently run the ball or execute on third downs. The Hurricanes defense held the Chippewas to just 1.1 yards per rush, but the Miami offense only rushed for 1.5 yards per carry itself. The Hurricanes struggled mightily on third down finishing just 1-for-10 while the Chippewas were 6-for-18 on third downs. After getting upset in Week 2 against North Carolina, the Hurricanes disappointed against a Central Michigan team they were expected to blow out, just as Wisconsin did 61-0 in Week 2. The Hurricanes will have plenty of time to make adjustments as they have a bye week before hosting Virginia Tech and Virginia in Weeks 6 and 7.
Perhaps Miami was looking forward to an easy matchup but its offensive line failed to execute once again. After sharps saw Florida dominate Miami for 10 sacks in week zero and North Carolina upset them with the help of four sacks the following week, the Hurricanes allowed four Central Michigan sacks on Saturday. Miami was sloppy all around with 13 penalties for 93 yards. This helped the Chippewas gain more first downs (21 to 16) then the Hurricanes. 
While the Hurricanes rushed for just 51 yards, the defense held its own as they forced three turnovers and allowed 1.1 yards per carry. The Miami special teams came through consistently as punter Louis Hedley averaged 48 yards per boot and pinned Central Michigan inside their five yard line with 39 seconds remaining. The Hurricanes have a talented roster and a physical defense, but until the offensive line shows some consistency, they will struggle to run the ball in the ACC and blow teams out of lesser talent. 
Use the Sharp Picks Dashboard on BetQL to monitor every game the sharps favor and make smarter bets!