The Sad Truth About USC Football
After enjoying years of success, the program is in the midst of a downward spiral
By Daniel Mogollon - Sep 29, 2019, 10:00pm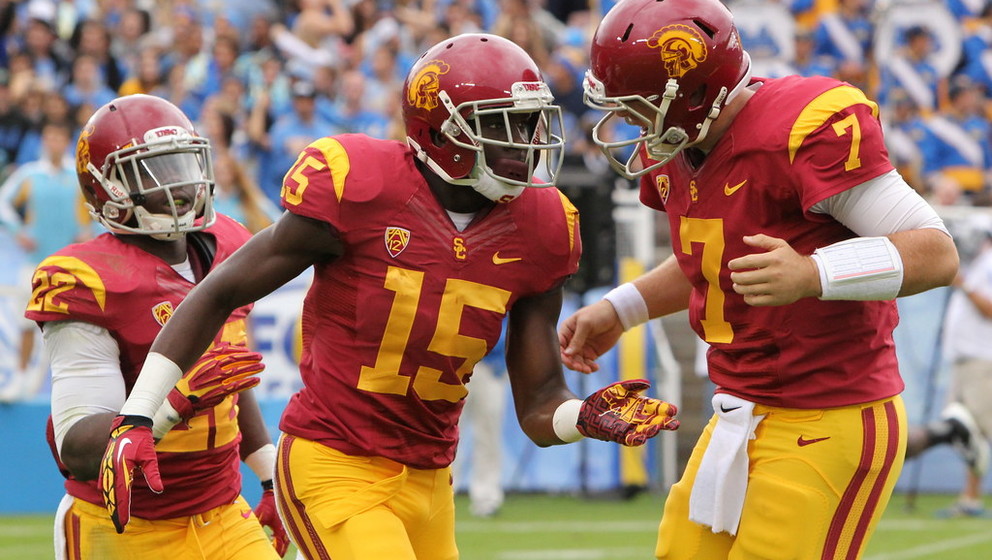 USC has won just one Pac-12 title in the past decade. 
Two road losses have Trojans headed towards another down season. 
USC's offense has turned the ball over 13 times, including nine interceptions.  
Their young defense has made plenty of mistakes, as expected.
The Trojans' next six opponents all have just one loss each.
USC No Longer the Pac-12's Premier Program
Since college football is celebrating its 150th season, ESPN ranked the top 150 teams in the history of college football and among them were three teams from the Pete Carroll era, including the 2004 USC Trojans, who were voted as the No. 2 team of all time. Unfortunately for USC fans, Carroll and standouts like Reggie Bush and Matt Leinart are long gone. 
Oh, how the mighty have fallen. 
During a seven-year stretch from 2002-2008, the Men of Troy either won the Pac-12 title outright or shared the conference championship each season. They finished in the top four of both polls all seven of those years, including a pair of No. 1 finishes in the AP Poll. Since then, Southern Cal has won just one Pac-12 title over the past ten seasons. 
With NCAA probation looming, Carroll left USC for the NFL and a series of ill-advised coaching hires resulted in mid-season firings of Lane Kiffin and Steve Sarkisian. 
The Trojans are coming off a 5-7 campaign under current head coach Clay Helton, their first losing season since 2000 which was Paul Hackett's final year in SoCal. Helton is the first USC coach to survive a losing year since Larry Smith in the early 1990's, but after the Trojans lost at Washington on Saturday to fall to 3-2, one has to wonder: will he make it through the entire season or suffer the same fate as his predecessors?
Get a 50% deposit bonus up to $500 with your next DraftKings Sportsbook deposit!
Another Up & Down Season
USC began the year with a win over Fresno State but did not leave the opener unblemished as starting quarterback JT Daniels suffered a season-ending injury. Enter surprise backup, true freshman Kedon Slovis, who beat out Jack Sears and Matt Fink for the No. 2 job. In his first career start, Slovis shredded Stanford for 377 yards and three touchdowns. However, in retrospect, that result may have been more about the Cardinal, as they allowed 45 points the following week to UCF. 
In his first road start, Slovis threw three costly interceptions in an overtime loss at BYU with the resignation of athletic director Lynn Swann earlier in the week as the backdrop. They bounced back with an upset over Utah, but for the second time this season, the Trojans lost a quarterback to injury. Fink came off the bench to throw for 351 yards and three touchdowns, as senior wide out Michael Pittman Jr. put on a show with 10 receptions for 232 yards and a score. 
The good vibes with Fink didn't last long. Just like Slovis, Fink was intercepted three times on the road, as USC dropped Saturday's game 28-14 to the Washington Huskies. It's safe to say SoCal's Air Raid failed to take off in Seattle in a loss that dropped the 3-2 Trojans out of the Top 25. 
A Turnover Prone Offense
Quarterback injuries have defined their 2019 season, as has inconsistent play from the position. Slovis has been the most productive signal caller for the Trojans with an impressive 77.9 completion percentage and 9.5 yards per pass, however he's only thrown five touchdowns to four interceptions. The three USC quarterbacks have combined for 10 touchdown passes and nine interceptions. 
They expect to have Slovis back for their next game, who is believed to be a good fit for offensive coordinator Graham Harrell's Air Raid offense, but there will be growing pains with a true freshman triggering the attack. 
The strength of the offense is their receiving corps, led by the aforementioned Pittman, who already has 501 receiving yards on his 35 receptions. Junior Tyler Vaughns (31 receptions, 414 yards) gives them another potential 1,000-yard receiver and speedy sophomore Amon-Ra St. Brown rounds out arguably the best trio in the Pac-12. 
The offensive line has four new starters this season and has had its issues against the bigger fronts they've faced, although USC's 6.4 yards per carry and 212 rushing yards against Washington was a positive sign. 
Whatever talent edge the Trojans have, it's neutralized by their penchant for giving away the football. USC went into Saturday tied for 124th in the nation (out of 130) with 10 turnovers for a minus-five turnover margin (118th). They left Seattle with 13 turnovers on the season and a minus-seven turnover margin, a recipe for failure.
View Public Betting info for Week 6 of the college football season!
Youth On Defense Has Led To Big Plays
The Trojans have a very young defense, one that often has as many as eight or nine underclassmen on the field at the same time. Defensive end Christian Rector is the only senior who sees much of the field. The secondary is especially green with a two-deep (including the nickel back) that featured four sophomores and five freshmen for the Washington game. This group is also asked to do a lot, because defensive coordinator Clancy Pendergast likes to employ man coverage with his cornerbacks, often without any help. 
The biggest problem for USC's defense is their inability to limit big plays. Highlighted by an 89-yard touchdown run by Washington running back Salvon Ahmed, the Huskies had four plays of 20-plus yards on Saturday. The Trojans have now allowed 22 plays of at least 20 yards, which leaves them in the bottom half of defenses around the country. 
There are too many missed tackles, blown assignments, and defenders out of position. Pendergast has talked about the need to cut down on runs of 10-plus yards and passes over 20 yards. But can they?
A Tough Road Ahead
Looking ahead to the remaining seven games on USC's schedule, things don't get much easier for Helton and company.  
After a bye week, USC is back on the road against No. 10 Notre Dame. It's one of four remaining road games on the schedule, as in addition to South Bend, the Trojans have to travel to Colorado, Arizona State, and California. Under Helton, they're just 10-12 on the road and 2-6 in their past eight road games. 
The Irish are also one of two ranked teams left on the schedule (Oregon is ranked No. 13), while Cal and Arizona State sit just outside the Top 25. USC's next six opponents all have winning records with just one loss each. They all have a better record than Southern Cal and could give the Trojans trouble. Their only "easy" game is against UCLA in a rivalry contest and the Bruins beat them last season.
While Notre Dame is clearly USC's toughest opponent, their defense could be vulnerable to the passing of Oregon's Justin Herbert (potential top-10 pick) and Colorado's Steven Montez (especially if he has Laviska Shenault Jr. back), while Arizona's Khalil Tate, Arizona State's Jayden Daniels, and UCLA's Dorian Thompson-Robinson are dual-threats who could take advantage of an undisciplined defense. 
The odds are things will get worse before they get better in Southern Cal. Right now, their program is broken.