Aerial Attack Should Lead Lead Oregon State To Victory Over Stanford
The Cardinal have been embarrassed through the air over the last three weeks
By Roberto Arguello - Sep 26, 2019, 6:10am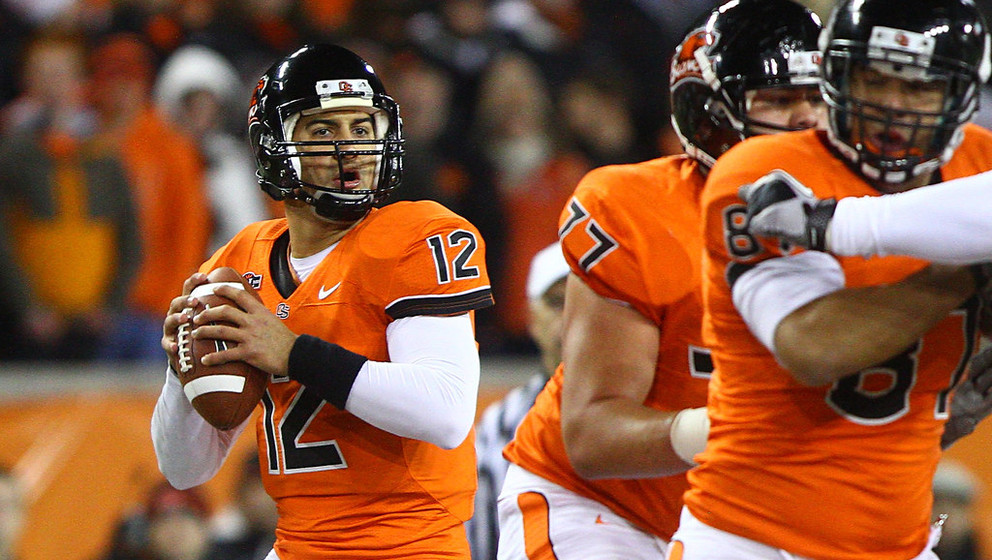 Stanford has allowed quarterbacks to complete 79.3% of their pass attempts over the last three weeks. 
Oregon State quarterback Jake Luton has eight touchdown passes and zero interceptions while getting sacked just twice.
Oregon State has not scored fewer than 28 points in any game this year while Stanford has not scored more than 27 in any game. 
Stanford tight end Colby Parkinson had a career game against Oregon State last year with 6 receptions for 166 yards and 4 touchdowns.
BetQL's Model lists OSU as the favorite in this matchup despite their consensus designation as an underdog.
Stanford Secondary Issues
After a strong defensive showing in Week 1 against Northwestern, Stanford's defense has struggled against opposing quarterbacks in the Cardinal's three consecutive losses against USC, UCF and Oregon. The quarterbacks for these three teams combined to complete 69-of-87 passes (79.3 percent) with ten touchdown passes and zero interceptions. 
The Cardinal were exposed in the secondary against USC, as cornerback Obi Eboh and former walk-on safety J.J. Parson could not match the speed of USC's receivers. 2018 All American cornerback Paulson Adebo gambled on a few routes, but could not come up with any interceptions, although he did not allow any huge gains over his head. 
However, UCF capitalized on Adebo's aggressiveness by running some double moves which went for touchdowns after he bit on pump fakes. Stanford's corners and safeties not named Adebo continued to struggle to tackle and cover against the speed of the Knights after a rough week at USC. The Cardinal have replaced Eboh in the starting unit with true freshman Kyu Blu Kelly at cornerback and true freshman Jonathan McGill has also crept into the rotation at safety, making his first appearance on the depth chart this week. 
View all Week 5 College Football Best Bets! 
Reinforcements are waiting in the wings of the Cardinal secondary as safeties Staurt Head and Ethan Bonner along with cornerback Treyjohn Butler are all questionable to make their season debuts this week after suffering injuries in training camp.
Last week against Oregon, the defensive line showed up and held the Ducks to just 2.0 yards per carry while recording four sacks and seven tackles for loss. The Ducks couldn't beat the Cardinal with elite speed, as their top three receivers were all out with injuries, but miscommunications in the secondary gifted the Ducks a few touchdowns, which was insurmountable as the Stanford offense failed to produce after KJ Costello injured his right thumb early in the game. 
Oregon's Justin Herbert didn't have his most explosive game, but once again the Cardinal defense failed to force a turnover in a loss. In Stanford's 12 regular season games last year, the Cardinal won all eight games where they forced a turnover and lost all four in which they did not. In the last three weeks, Stanford's defense has not forced a turnover when the games were within reach (USC fumbled on a kickoff when the return man ran into his blocker and UCF fumbled with less than two minutes to play up 25 points). The defensive line showed up last week, but they will need to force turnovers from the Beaver offense, especially since the offense is struggling recently. 
Struggling Stanford Offense
Stanford's once-vaunted power rushing offense is averaging just 3.7 yards per carry, tied for 98th in the nation. Cameron Scarlett isn't the freak athlete that Christian McCaffrey and Bryce Love were the past four seasons, but he has done a nice job gaining 4.6 yards per carry while also being a threat to catch screens and check downs despite an inexperienced offensive line in front of him. 
The Cardinal have been decimated by injuries on the offensive line this year, most notably losing possible 2020 first-round pick Walker Little for the season with a knee injury. Stanford has started four different offensive line units in four games and will likely start its fifth in five games. Left guard Devery Hamilton is doubtful to play this week while right tackle Foster Sarell is questionable. With the Cardinal abandoning extra offensive linemen in run formations this season due to depth concerns, it will be important for Costello to get the offense going through the air in more shotgun-heavy formations. 
Track the line movement for every single game on the Week 5 college football slate! 
After losing their top three receivers from last season, the Cardinal have struggled to get separation on the outside. Receiver JJ Arcega-Whiteside was a deep threat and one of the best red zone weapons in the country, tight end Kaden Smith could block on the end of the line and get tough yards over the middle and receiver Trenton Irwin ran crisp routes and had catches in 40 consecutive games before missing Stanford's final few games of 2018 with an injury. 
The Cardinal have not found a deep threat to stretch opposing defenses this season as they have zero receptions of 30 or more yards. The player many people expected to take over for the big-bodied Arcega-Whiteside, Simi Fehoko, has struggled mightily to get separation and has just one catch for 21 yards this year. Michael Wilson has impressed for the Cardinal as a true sophomore at receiver with two touchdowns and several physical contested catches, but all other Cardinal pass catchers have combined for one touchdown, a Connor Wedington screen pass against USC. 
Colby Parkinson was touted as the next great Stanford tight end as a five star coming out of high school and was high on many 2020 draft boards coming into the season, but he has not shown that he can be a reliable target on third downs nor a capable blocker on the end of the line. The Cardinal consistently use Parkinson as an oversized slot receiver while playing Scooter Harrington and/or Tucker Fisk as traditional tight ends at the end of the line. Teams have begun to catch on as Oregon locked in on Parkinson, but Costello continued to target him 12 times despite the fact that Parkinson has only hauled in just six catches. 
After having consistent players that could block and make third down conversions over the middle such as Austin Hooper, Levine Toilolo, Dalton Schultz, Zach Ertz and Smith, the Cardinal have just two completions to traditional tight ends Harrington and Fisk for a combined 13 yards through four games. Tight End U isn't what it once was for the Cardinal, but Parkinson had a career game last year against Oregon State with 166 yards receiving and four touchdowns on six catches. He will need to step up again for the Cardinal to get their first PAC 12 victory this season. 
OSU's Weapons
Oregon State's offense is led by sixth year 6'7" senior quarterback Jake Luton. Luton played well in the first game of the season against the Beavers' toughest opponent to date, Oklahoma State. Luton completed just 54.8 percent of his passes, but he did so for 251 yards, three touchdowns and no interceptions. Luton has seen his play level up as his offensive line has taken a huge step forward this season. Luton has been sacked just twice, and as a result of a cleaner pocket, he has thrown eight touchdown passes and zero interceptions through three games. 
Love DFS and want to give betting a try? Get a 50% deposit bonus up to $500 with your next deposit on DraftKings Sportsbook. Learn more!
The Beavers put up a respectable 36 points against Oklahoma State as running back Jermar Jefferson averaged 5.4 yards per carry for 87 yards in Week 1. Jesserson put up a bigger performance in Week 2 with 183 yards and a touchdown on 5.9 yards per carry. He missed the Beavers' Week 3 trouncing of Cal Poly, snapping a six-game losing streak for Oregon State, but he had the bye week to recover last weekend and likely will play against Stanford. 
He will be an integral part of Oregon State's rushing offense which ranks 11th in the country with 6.1 rush yards per attempt and 29th with 229.3 rushing yards per game. In more limited action this season, Artavis Pierce has also impressed in limited action averaging 8.2 yards per carry with two touchdowns this season.
Oregon State's biggest weapon offense is 6'4" 209 pound star receiver Isaiah Hodgins. Hodgins ranks eighth in the nation with 115.7 receiving yards per game. He is also tied for seventh in the country with five receiving touchdowns despite the Beavers playing in only three games instead of four in the first four weeks of the season. Look for the Beavers to target Hodgins heavily, especially when he is not covered by Adebo.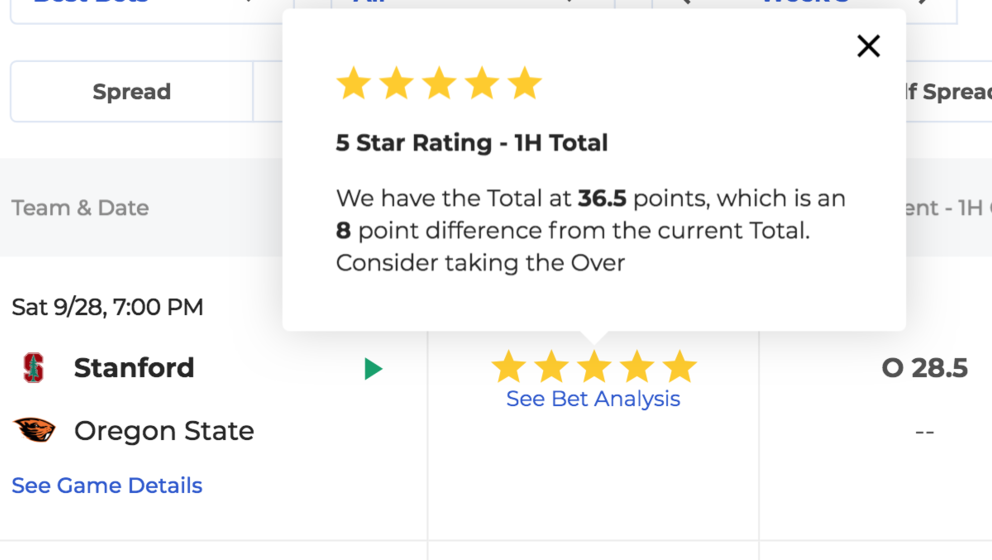 What BetQL's Model Says
Consensus Spread: OSU +4
BetQL Model: OSU -0.5 (★★★)
Consensus Moneyline: OSU +160
BetQL Model: OSU -103 (★★★★)
Consensus total: 57.5
BetQL Model: 61 (★★★)
Consensus 1H Spread: OSU +2
BetQL Model: OSU -1.5 (★★★★)
Consensus 1H Moneyline: OSU +130
BetQL Model: OSU -126 (★★★★)
Consensus 1H Total: 28.5
BetQL Model: 36.5 (★★★★★)
Oregon State has not scored fewer than 28 points in any game this year while Stanford has not scored more than 27 in any game. The consensus line has the Beavers as four-point home underdogs (+160 moneyline) for the ballgame and two point underdogs for the first half (+130 first half moneyline) while setting the over/under at 57.5 for the game and 28.5 for the first half. 
BetQL's Model predicts an upset victory for the Beavers as they are projected to win by a half point. The model lists Oregon State on the moneyline at -103 and a 4-star bet this week. The model also projects 61 total points and has the Over as a 3-star bet this week. It also favors Oregon State by 1.5 points in the first half (-126 moneyline) and projects the first half total at 36.5, giving the first half over a 5-star rating. 
Stanford's defenses led by coordinator Lance Anderson have not handled spread offenses well over the last few seasons. The last three weeks have been brutal, and the Beavers have plenty of exposed weaknesses in the Stanford secondary to attack. The Cardinal have been decimated by injuries, notably along the offensive line, at linebacker and at safety. Expect the Beavers to spread out the Cardinal and take advantage of matchups in the Stanford secondary. 
Converted safety Kendall Williamson has been brutalized by opposing offenses during the last three games and should be targeted heavily again in Corvallis. The Cardinal haven't been able to stick with the run after falling behind in the last few games, but they will have enough success in this closer ball game to finally score more than 30 points against a much less talented team than any of USC, UCF and Oregon. This one will likely go down to the wire, and our model gives the advantage to the Oregon State, whose offense is tied for the fewest turnovers in the country with just one.