Opening Line Analysis: NCAA Football Week 4
Expect movement on these opening lines before kickoff on Saturday
By Dan Karpuc - Sep 17, 2019, 2:27am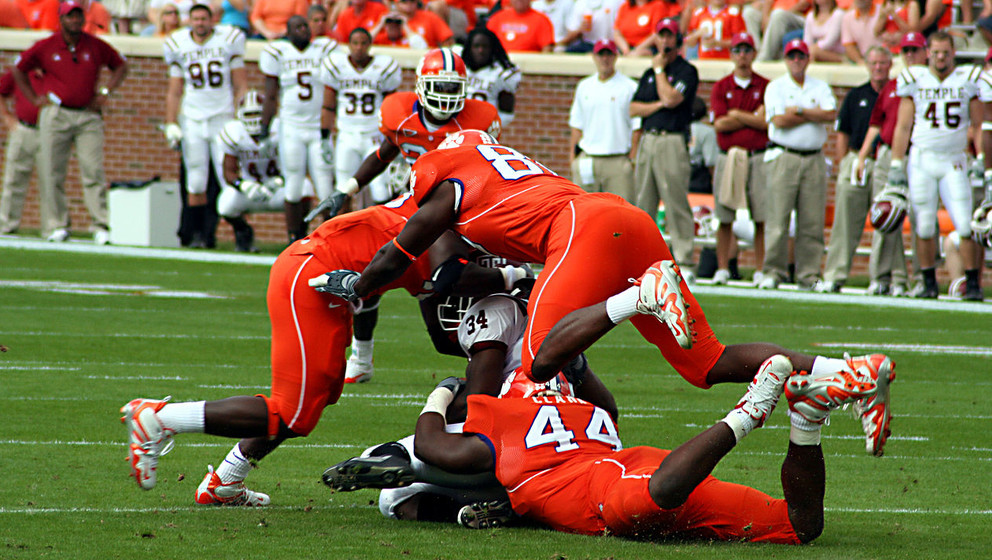 Most of the opening lines for Week 4 of the college football season are out, so let's take a look at some intriguing situations.
Saturday, 7:30pm EST
Analysis: Charlotte (2-1) has put up some impressive point totals this season, scoring 49, 41 and 52 in the first three weeks respectively. However, they played Gardner-Webb, Appalachian State and UMass. Clemson (3-0) is on a completely different level, has far superior linemen on both sides of the ball and should completely control this contest. This game opened with the largest spread on the entire D-I slate, but due to Charlotte's ability to put points on the board, it'll be fascinating to see if the line moves in their favor leading up to kickoff. 
Note: Our 4 and 5-star College Football Best Bets hit 63% in Week 3, including Ohio State (-17.5) over Indiana and Pitt (+17) over Penn State covering the spread.
Saturday, 12:00pm EST
Analysis: After allowing 23 points to South Carolina last week, expect Nick Saban to light a fire under the Alabama (3-0) defense against Southern Miss (2-1). With a 39-point spread, the 60.5 point opening total might be a bit too high. Expect it to move down before kickoff, especially due to the blowout potential and likelihood that Tua Tagovailoa won't have to play a full game.
Note: Our College Football Model has gone 23-16 in SEC Over/Unders this season.
Saturday, 12:00pm EST
Analysis: This early line is indicative of the uncertain status of Rutgers (1-1) quarterback McLane Carter, who suffered a concussion in last week's 30-0 loss to Iowa. The Boston College (2-1) defense has allowed eight touchdown passes through their first three games, but ranks 2nd in NCAA D-I programs in interceptions (six). Carter, a transfer from Texas Tech, is the type of dangerous gunslinger that Rutgers is rarely able to feature at quarterback, so a ruling on his status could swing this line significantly. Keep an eye on it, as positive word on his status could result in a major immediate edge before the lines move (especially since Rutgers is playing this game at home and BC allowed Kansas to put up 48 points against them in last week's loss). 
Note: BetQL's College Football Model has gone a perfect 12-0 in overall Rutgers bets this season. 
Saturday, 4:00pm EST
Analysis: Through their first three games, Mississippi State (2-1) has completed 47 passes for 563 passing yards as a team (88th in NCAA). However, their 672 rushing yards ranks 29th while their eight rushing touchdowns rank 23rd. Their unwillingness to pass the football was largely due to the loss of their starting quarterback Tommy Stevens, who missed the last two games with a shoulder injury. He's day-to-day and could suit up in this contest, which would likely affect the line. Meanwhile, Kentucky (2-1) is coming off a hard-fought loss to Florida and opened as a 7-point road underdog. Since their starting quarterback Terry Wilson (knee) is out for the season, they will turn to Sawyer Smith, who had a decent showing against the Gators last week. Word on Stevens' availability will likely have an impact on this line, so be on the lookout!
Note: BetQL's College Football Model has gone 3-0 on spread bets involving Mississippi State this season. 
Saturday, 12:00pm EST
Analysis: Ole Miss (2-1) has had a confusing start to the year, losing 15-10 to Memphis in the opening week, beating Arkansas 31-17 in Week 2 and then taking care of D-I Subdivision opponent Southeastern Louisiana 40-29 last week. Meanwhile, #23 Cal (3-0) is nationally-ranked and already has a top-25 road victory (in Week 2 at Washington). If last week was an indication, Ole Miss' defense could have some major red flags for Cal to exploit, so expect the line to swing, perhaps in favor of the visiting Golden Bears, as the week progresses. 
Note: BetQL's College Football Model has gone 12-3 on Ole Miss bets this season.
Get full access to this week's Best Bets in our College Football Model!