Oklahoma State Poised To Dominate Oregon State
The unranked Cowboys are indecisive about their QB, but the Beavers couldn't stop anyone last season
By Matt Reed - Aug 28, 2019, 6:33pm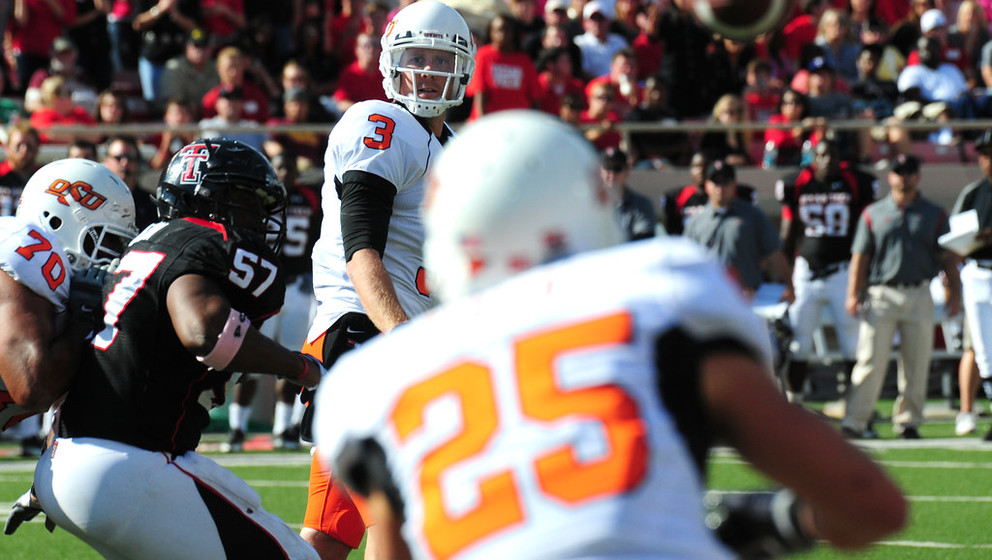 Friday, August 30th, 10:30pm EST
BetQL Rating: 3-Star Spread - Oklahoma State
Oklahoma State will feature a QB tandem, as graduate transfer Dru Brown and redshirt freshman Spencer Sanders will split the reps under center.
Oregon State went 2-10 last season and lost nine different games by 15 points or more. They've gone 9-39 over their last four seasons.
Oklahoma State
Via DraftKings, the Cowboys enter 2019 with +1600 odds to win the Big 12, which is tied for fifth among teams in the conference. Oklahoma State is coming off a seven-win season, including a Liberty Bowl win over Missouri. They scored 35 or more points on nine occasions, but the team's defense also allowed more than 30 points nine times.
Mike Gundy's team has proven to be one of the most potent offenses in the country during his tenure as head coach and his program returns seven offensive starters. However, quarterback Taylor Cornelius left after his senior season, creating an opening for graduate transfer Dru Brown and redshirt freshman Spencer Sanders to fill. Brown transferred to Oklahoma State following a tremendous two-year stint at Hawaii. There, he threw for 5,723 yards, which ranks sixth in school history. Despite the success at his previous school, Gundy has indicated that both quarterbacks will play in this game.
Oregon State
Jake Luton returns at quarterback for Oregon State in 2019 following the program's 2-10 campaign. Luton threw for 10 touchdowns to four interceptions in eight starts last season. He is one of seven offensive starters to return for the Beavers, while nine defensive starters will be coming back for head coach Jonathan Smith. 
The Beavers are predicted to finish last in the Pac-12 this season, as Oregon State has +25000 odds to win the conference, per DraftKings. Oregon State allowed 35 points or more in 10 different contests last season, even conceding 45-plus points six times. That includes the time they allowed 77 points in their 2018 opener at Ohio State. The Beavers scored just 23.7 points per game at home last season, while allowing 43 points per contest to their opponents on the same field.
What Does The BetQL Dashboard Say? 
Oklahoma State is a 3-star bet according to BetQL's model. Our algorithm has Oklahoma State as 22-point favorites, while Vegas lists the Cowboys as 14-point favorites.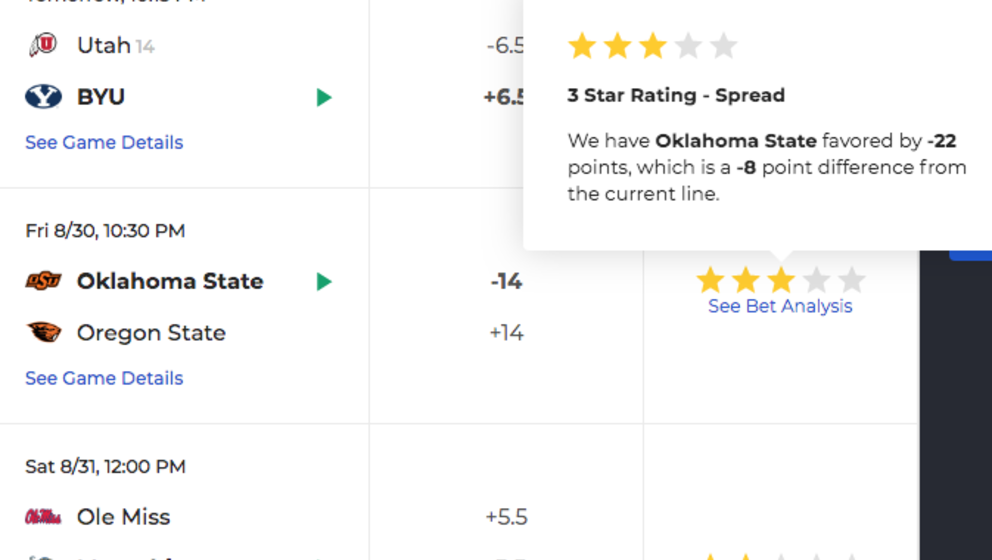 The Cowboys opened at -16.5, but have since slid, perhaps due to the uncertainty at quarterback. 
BetQL's premium members can view line movement data for the entire slate. Multiple teams have seen large swings already! Find out who! 
Trends
2019 marks the first time these two programs have ever met in college football, but everything is pointing in Oklahoma State's favor in this one.
The Beavers went 2-10 last season, and won just one game in Pac-12 play. Additionally, Oregon State lost nine games by 15 points or more. They've gone 9-39 over the last four seasons.
Oklahoma State hasn't lost its opening game since 2014 when Jameis Winston and No. 1 ranked Florida State took them down in a close 37-31 contest. 
Gundy and the Cowboys are 35-20 in non-conference games since he took over at Oklahoma State. Meanwhile, Gundy is 67-45 when his team enters a matchup as a favorite.