NCAAF
Notre Dame Might Not Massacre Bowling Green
There are some concerning factors working against Notre Dame as 45.5-point favorites
By Dan Karpuc - Oct 3, 2019, 12:42am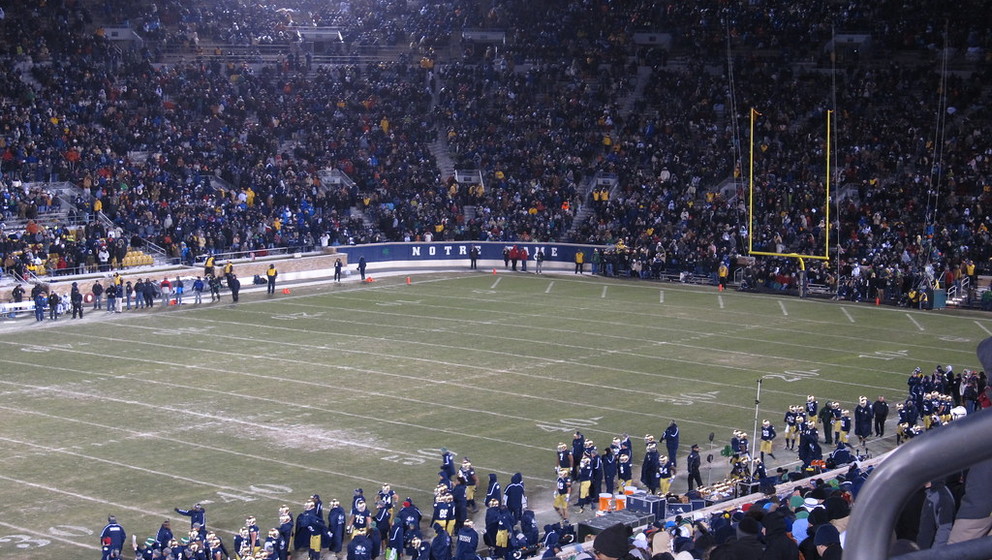 Bowling Green at Notre Dame (-45.5)
Saturday October 5th, 2019
Notre Dame Stadium, 3:30pm EST
The algorithm lists Bowling Green (+29) as a ★ ★ ★ ★ ★ first-half bet. 
#9 Notre Dame (3-1) is 3-1 ATS and two of their four games have gone over the total. 
Bowling Green (1-3) is 1-3 ATS and one of the four games have gone over the total. 
The model labels under the 61-point total and under the 35.5 first-half total as ★ ★ ★ bets.
Former Notre Dame defensive coordinator Brian VanGorder is the defensive coordinator at Bowling Green, which adds an interesting storyline to the mix since he was fired by Brian Kelly in 2016. 
Bowling Green's Offense Against Notre Dame's Defense
After a 46-3 opening-week massacre of FCS Morgan State in front of their home crowd, Bowling Green has been outscored 149-27 over their last three games to fall to 1-3 on the year. They were simply no match for Kansas State (52-0), LA Tech (35-7) or Kent State (62-20). 
Senior quarterback Darius Wade has completed 57.9 percent of his passes for 664 yards, three touchdowns and three interceptions through four games. Junior wideout Quintin Morris has been his clear top target, hauling in 16 catches for 218 yards and a pair of touchdowns. No other receiver has posted within 100 yards of Morris' output and no other receiver has recorded double-digit catches. As a result, Morris will undoubtedly be a main focus of Notre Dame's defense, as will senior running back Davon Jones, who has rushed for 205 yards and a touchdown on 4.8 yards per carry. 
BetQL's NCAA Football Model lists many★★★★ and ★★★★★ bets this week. The algorithm has gone 22-3-1 across all Independent moneylines (88%, 24.23 average return). Find out who the model likes!
All in all, Bowling Green will be outmatched at every position on the field, but they're gigantic 45.5-point underdogs. The question is whether or not they'll do enough to stay within 45 points of Notre Dame. On the surface, getting blown out by 42 against Kent State and 52 against Kansas State makes that seem like a long shot, but that outcome might be more realistic than it seems. 
One of the major storylines surrounding this game is the relationship between Bowling Green defensive coordinator Brian VanGorder and Notre Dame's head coach Brian Kelly. Kelly fired VanGorder just four games into the 2016 season, but VanGorder's son remained playing for Kelly until he graduated the following year. Although the Falcons have been awful defensively so far, their multiple-scheme looks might be enough to halt some Notre Dame drives earlier than expected, especially since VanGorder most likely has a large section of Notre Dame's playbook engrained in his mind. 
Notre Dame's Offense against Bowling Green's Defense
After taking care of Louisville 35-17 in their season opener, Notre Dame dominated New Mexico 66-14 in Week 2. Up next was a close 23-17 loss to then-No. 3 Georgia followed by a solid 35-20 victory over No. 23 Virginia last week. 
Senior quarterback Ian Book is off to a solid start for the Fighting Irish and has amassed 993 passing yards, eight touchdowns and two interceptions as well as 134 yards and two more scores on the ground. He has spread the ball around, but senior wideout Chase Claypool (21 catches for 286 yards, two touchdowns) and junior tight end Cole Kmet (13 catches for 173 yards, touchdown) have been his two main targets. Overall, seven different Notre Dame players have caught touchdown passes, which is a testament to their team-first style of play. 
Running back Tony Jones Jr. broke out with a 24-carry, 148-yard, three-touchdown performance against Virginia last week, which improved his team-leading yard mark (279) and rushing touchdown mark (four). Interestingly, beyond him, no other Notre Dame running back has over 32 rushing yards, while backups C'Bo Flemister (30 yards on 1.9 yards per carry) and Jahmir Smith (32 yards on 2.9 yards per carry) have struggled badly. That could change in this matchup, as Notre Dame should dominate the trenches on both sides of the ball, but it's worth mentioning. 
BetQL's NCAA Football Model went 12-10-1 on ★★★★★ Week 5 bets (3.95 avg return). Access all Week 6 picks!
There are a few more concerning aspects of this game working against the Fighting Irish.
Notre Dame is 16-for-50 (.320) on third downs this season. That ranks 114th out of 130 FBS teams. That's partly due to the fact that they played a couple tough defenses, but isn't exactly a positive sign. Further, they've allowed a 90 percent scoring rate in the red zone (9-for-10) this season. That percentage ranks 108th. 
Finally, a matchup against their rival USC looms next week. As seen many times in situations like this, elite programs tend to look ahead and forget about the lesser opponents that stand in their path. With such a steep spread, that mindset could be disastrous.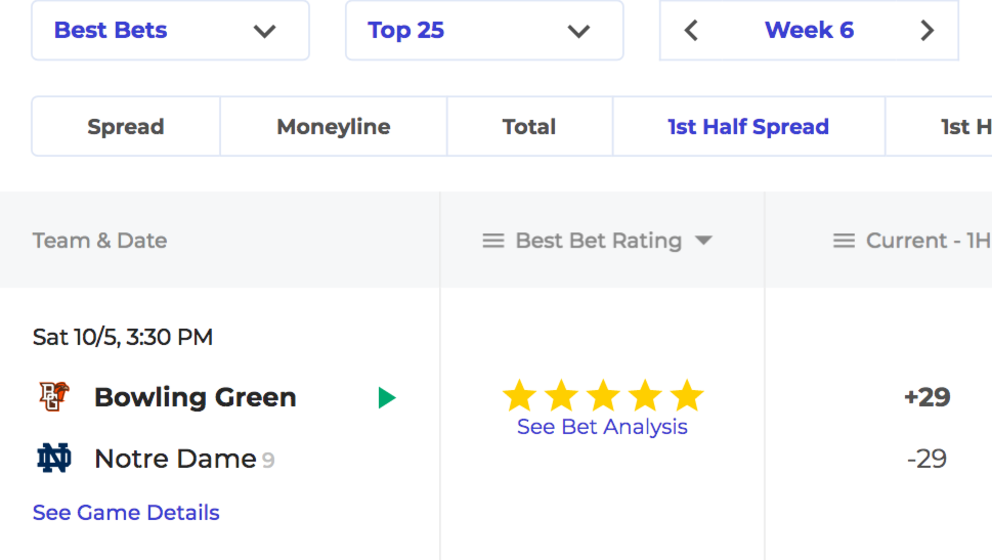 What BetQL's Model Says 
BetQL's NCAA Football Model lists Bowling Green (+45.5) as ★ ★ bet against Notre Dame in Week 5. 
The algorithm lists Bowling Green (+29) as a ★ ★ ★ ★ ★ first-half bet. 
The model labels under the 61-point total and under the 35.5 first-half total as ★ ★ ★ bets. 
Summary: The algorithm views Notre Dame as a massive favorite, but suggests that Bowling Green will hang within four touchdowns by the halftime whistle and stay within 45 points of the Fighting Irish when the final whistle blows. Further, the model thinks the game will stay below the 35.5 first-half total 61-point game total.