BetQL's NCAAF Model Was On Fire In Week 6!
These are just some of the five-star bets that hit
By Daniel Mogollon - Oct 7, 2019, 4:22pm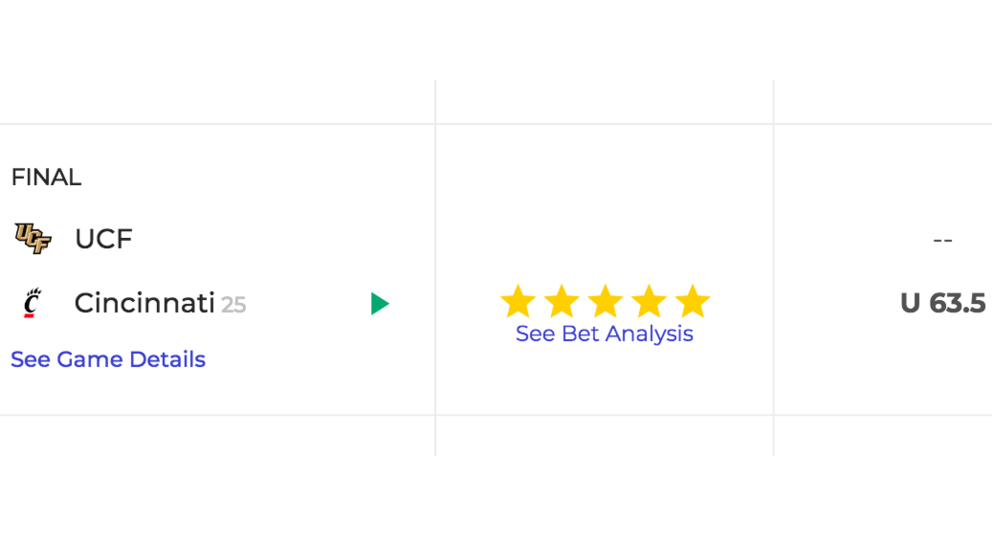 UCF at Cincinnati 
Friday, October 4
BetQL Rating: Under 63.5 ★★★★★
Outcome: Cincinnati won 27-24 
As a home dog, the Cincinnati Bearcats came to play on Friday and appear to be the team to beat in the American Athletic Conference. Junior running back Michael Warren II ran for a season-high 133 yards, while an opportunistic defense created four turnovers, including a 16-yard interception return for touchdown by cornerback Ahmad Gardner to put the 'Cats ahead 20-16. 
After winning 25-straight regular season games, the Central Florida Knights have now dropped two of their past three, including their last two on the road. Freshman quarterback Dillon Gabriel came into this game with 14 touchdown passes to two interceptions, but threw three very costly interceptions against Cincy. BetQL's NCAA Football model listed under the 63.5 point total as a ★★★★★ bet, and the output fell well short. 
BetQL's NCAAF Model went 79-45 (63.7% win, +7.35 avg return) across all ★★★ (and better) bets in Week 6. View the algorithm's Best Bets for Week 7!
Cal at Oregon 
Saturday, October 5
BetQL Rating: Cal +21.5 ★★★★★
Outcome: Oregon won 17-7
These Pac-12 rivals played a physical, low-scoring game, that looked more like old-school Big Ten football. The highly-favored Oregon Ducks were shutout in the first half, but managed to get things going after halftime, as they scored 17-straight points to win their fourth-consecutive game. Cyrus Habibi-Likio gave them the lead with a one-yard plunge and quarterback Justin Herbert gave the Ducks some cushion with his fourth-quarter scoring strike. 
Despite playing with backup quarterback Devon Modster, Cal was able to keep this game close. He went 17-of-34 passing with one touchdown to two interceptions. The Golden Bears started the season 4-1 thanks to a strong defense and it was that defense that kept the came close. BetQL's algorithm listed Cal +21.5 as a ★★★★★ bet, and they easily covered. 
Western Michigan at Toledo
Saturday, October 5
BetQL Rating: Toledo (-1.5), Toledo (-120), Under 73.5 ★★★★★
Outcome: Toledo won 31-24 
The Toledo Rockets jumped out ahead in this MAC clash when quarterback Mitchell Guadagni connected on a 38-yard touchdown pass to Bryce Mitchell. The game wasn't even 10 minutes old when he found Devin Maddox for a 14-0 lead, which Toledo would never relinquish. The quarterback would run two into the end zone later, as Guadagni accounted for all four of Toledo's touchdowns. 
Quarterback Jon Wassink of Western Michigan had a pair of touchdown passes of his own, however he was inefficient for most of the game. Wassink threw for 303 yards, but averaged just 5.9 yards per pass and 1.8 yards per run. The Toledo defense made the Broncos work hard for every yard and BetQL's Model was three-for-three with ★★★★★ plays in this game alone.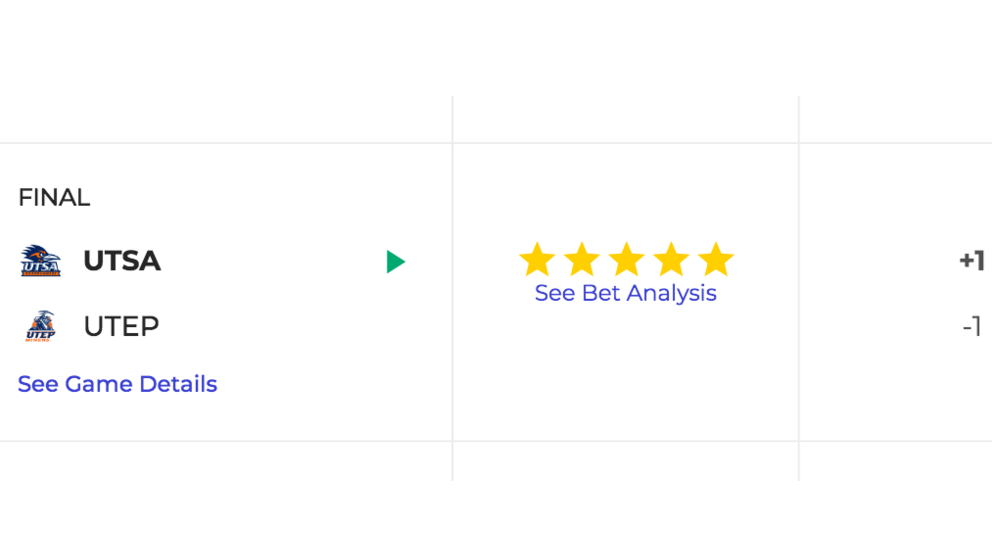 UTSA at UTEP 
Saturday, October 5
BetQL Rating: UTSA +1 ★★★★★
Outcome: UTSA won 26-16
Playing against their in-state rival, the UTSA Roadrunners snapped their three-game losing streak behind one of Saturday's strongest rushing performances. Quarterback Lowell Narcisse threw for just 46 yards and 3.3 yards per pass, however he added 115 yards on the ground, as he accounted for two scores. Running back Sincere McCormick was even more electrifying, as the freshman picked up yards in chunks (8.6 yards per carry) on his way to 189 yards. In total, the Roadrunners raced for 320 yards on the ground. 
The UTEP Miners found it tough to chip away running and passing, as they averaged just 5.8 yards per pass and 3.3 yards per run. They tried to establish the run but even with 30 rushes, the Miners were held below 100 yards rushing. Forced to defend 48 runs by UTSA, the UTEP defense broke for good when they allowed a 51-yard scoring scamper to seal the game for the Roadrunners and another win for BetQL's NCAA Football Model. 
BetQL's NCAAF Model has gone 106-81-6 (56.7% win, +7.71 avg return) across all ★★★★★ bets this year. Find out how many are on this week's slate!
San Diego State at Colorado St.
Saturday, October 5
BetQL Rating: Under 48 Point Total  ★★★★★ 
Outcome: San Diego State won 24-10 
Both teams struggled offensively, as San Diego State picked up their first conference win of the season. The Aztecs only managed 14 first downs, 238 yards, 91 rushing yards, and 2.1 yards per carry. But the defense was ferocious, as they created four turnovers with nine defenders playing a role in their 11 tackles for loss, four of which were sacks. Cornerback Luq Barcoo had three interceptions in the win. 
Colorado State's defense had 12 tackles for loss, including four sacks. Unfortunately for the Rams, the offense was a no-show as they dropped their fifth game of the season. State's offense was downright impotent as they posted 12 first downs, 235 yards, 25 rushing yards, and 0.7 yards per carry. They didn't find the end zone until there was 5:55 remaining, as BetQL's NCAA Football Model correctly predicted a low-scoring affair. 
Vanderbilt at Ole Miss 
Saturday, October 5
BetQL Rating: Under 64.5 Point Total  ★★★★★ 
Outcome: Ole Miss won 31-6
The Ole Miss Rebels took a modest 10-6 lead into the locker room before they came out strong with two long touchdown runs of over 75 yards early in the third quarter. In fact, all four of their touchdowns came on the ground and the shortest came from 24 yards out. The Rebels rushed for a whopping 413 yards, so it didn't matter that the offense managed just 99 passing yards.
The Ole Miss defense also made their lack of a passing attack irrelevant, as the Rebels kept Vanderbilt from scoring in the second half. The Commodores managed a mere two field goals in the second quarter for their only points on Saturday. Vandy is last in the SEC East with an 0-3 conference record, as they managed just 264 yards (62 rushing). There wasn't much offense to be found in Oxford as just 37 points were scored (well under the total), just as BetQL's NCAA Football Model predicted. 
North Carolina at Georgia Tech 
Saturday, October 5
BetQL Rating: Over 47 Point Total  ★★★★★
Outcome: North Carolina won 38-22 
Looking to continue their momentum after their near-upset of Clemson, North Carolina took control of the game with 14 second-quarter points on a pair of touchdown pass by quarterback Sam Howell. The freshman passer wasn't done, as he connected on two more scoring strikes in the second half to finish with 376 yards and four touchdown passes to four different receivers. Running back Javonte Williams gave the Tar Heels a balanced offense with 144 rushing yards. 
Georgia Tech started out slow but they came alive in the second half, when they scored all 22 of their points. James Graham, also a freshman quarterback, settled down and connected on two touchdown passes to give him three on the season. A second-half offensive explosion put the total way over the mark of 47, another winner for BetQL's NCAA Football Model. 
Rice at UAB 
Saturday, October 5
BetQL Rating: Rice +6.5 1H Spread ★★★★★
Outcome: UAB won 35-30, UAB led 21-20 at halftime
The UAB Blazers would eventually pull away to beat the Rice Owls by more than two touchdowns but it was just a one-point game at the half. Quarterback Tyler Johnston III had a strong game with 282 yards and three touchdowns to give him 11 touchdown passes on the season, to match last year's total. 
Rice was able to stay in the game thanks to three first-half scoring drives of 75 yards. Running back Aston Walter got the scoring started for the Owls with his 64-yard scoring scamper, before redshirt freshman quarterback Wiley Green connected on two touchdown passes to cap off their long scoring drives. Rice was 0-5 coming into the season and remains winless, but hungry for a win they kept it close for 30 minutes, yet another sharp pick by BetQL's NCAA Football Model.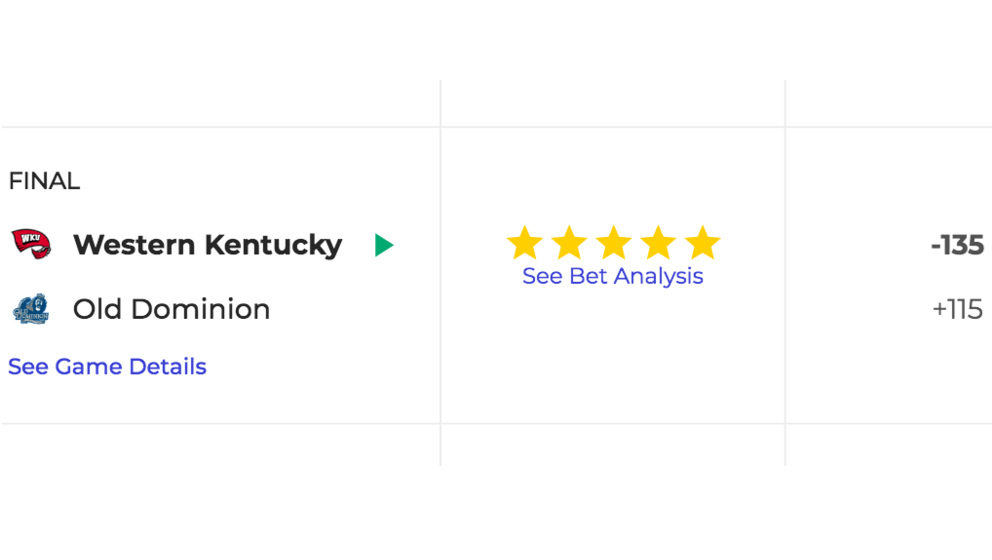 Western Kentucky at Old Dominion 
Saturday, October 5
BetQL Rating: Western Kentucky 1H moneyline (-135) ★★★★★
Outcome: Western Kentucky won 20-3, led 10-3 at halftime
Western Kentucky came in with a 2-2 record but both of their losses came in out of conference play. Looking for their third Conference USA win, WKU started out slow but got things going in the second quarter, when they put up 10 points. Quarterback Ty Storey was crisp in the second quarter as he completed 10-of-11 passes for 75 yards to help set up the first half's only touchdown, a one-yard plunge by Gaej Walker to give them the lead. 
It was Old Dominion's fourth-straight loss, as quarterback Stone Smartt had trouble getting going. In the first half, Smartt was 2-of-6 passing with an interception. They tried to establish the run, but that wasn't working either as they managed just 31 rushing yards on 20 carries. A total of 59 yards by the Monarchs made BetQL's NCAA Football Model a winner by backing WKU.  
Liberty at New Mexico St. 
Saturday, October 5
BetQL Rating: Under 32 1H Total ★★★★★
Outcome: Liberty won 20-13, Liberty led 10-0 at halftime
Liberty scored the decisive touchdown when running back Joshua Mack broke a 13-13 tie with just over six minutes remaining in the game. Neither team managed to muster much offense in the first half. It took nearly the full 30 minutes until either offense crossed the goal line when Zac Foutz caught a touchdown pass from Stephen Calvert with 22 seconds left in the second quarterback to give the Flames a 10-0 edge. 
New Mexico State moved the ball in the first quarter but their first two drives ended in interceptions by Josh Adkins. Their offense bogged down in the second quarter, as the Aggies managed just 27 yards on 15 plays: five rushing (nine carries) and 22 through the air. New Mexico State was held scoreless heading into halftime as it was a low-scoring first two quarters, just as BetQL's algorithm predicted it would be.