NCAAF
2020 National Championship Game Preview: LSU vs. Clemson
Neither team has lost a game, but there are some trends and stats to consider before placing your bets
By Dan Karpuc - Jan 5, 2020, 11:12pm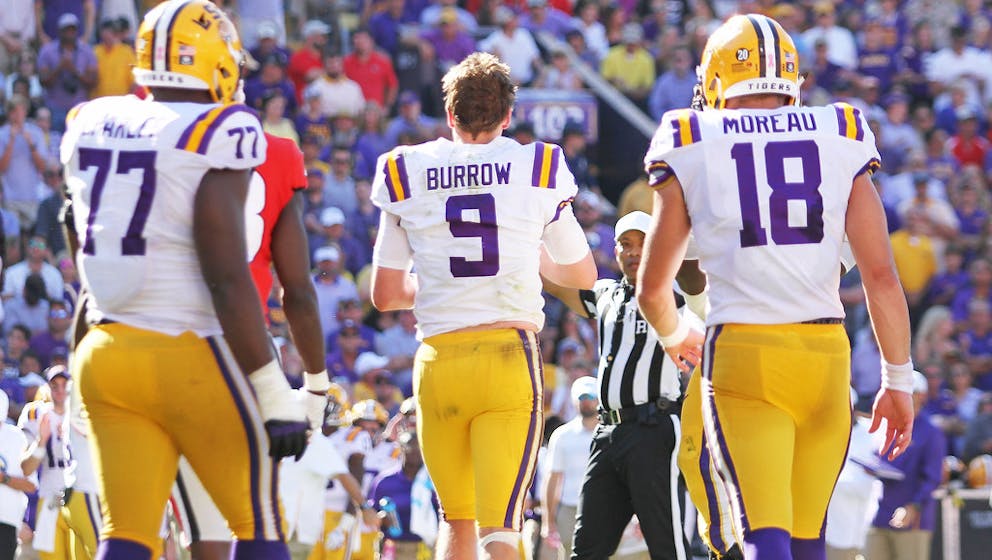 LSU (14-0) vs. Clemson (14-0)
Monday 1/13/20, 8:00pm EST
VIEW LIVE ODDS, TRENDS, BEST BETS & SHARP PICKS!
The Clemson University Tigers (14-0) will take on the Louisiana State University Tigers (14-0) in the 2020 College Football Playoff National Championship Game on Monday 1/13 at 8:00pm EST. The game will be played at the Mercedes Benz Superdome. 
CLICK HERE to take advantage of exclusive sportsbook offers!
LSU has gone 9-4-1 against the spread this season and is on a three-game cover streak. Clemson has also been a quality weekly target for college football bettors, as they've gone 11-3 against the spread and they've covered five-straight times. Clemson will attempt to defend their national championship.
The OVER has gone 9-5 in LSU's games and The UNDER has gone 8-6 in Clemson's games this season.
LSU is coming off a 63-28 Peach Bowl victory over Oklahoma while Clemson got past Ohio State 29-23 in the Fiesta Bowl. Keep reading for our 2020 College Football Playoff National Championship Game preview and prediction!
CLEMSON
If Clemson wins this game, they will clearly surpass Alabama to become college football's top overall program. They've gone 29-0 straight-up since the start of last season and have gone 69-4 with two national championships over their last four-plus seasons. After getting off to a somewhat slow (by their standards) start to this season (with a 14-point win over Texas A&M in their second game and with a one-point road victory against North Carolina in their fifth contest), Dabo Swinney's team turned things around. Since the start of October (nine games), Clemson has outscored their opponents 444-101. It's safe to say that their near-upset lit a spark under them. The Tigers have covered their last five spreads, including in their 29-23 victory over the Ohio State Buckeyes in the Fiesta Bowl. They've also covered in eight of their last nine games (the only time they didn't, they were 48.5-point favorites against Wofford and won by 45). Therefore, they've been a bit of a delight to bettors.
Heading into this game, Clemson ranks 4th out of 130 FBS teams in scoring offense (43.5 points per game) and 1st in scoring defense (11.5 points allowed per contest). In all, they were perhaps the most dominant team in the entire FBS throughout the season and even if their opponents included just one program that ranked in the AP Top 10 at the time of their matchup, those are still numbers to be proud of. They were absolutely dominant on both sides of the ball, as also conveyed by the following first and third down statistics. Clemson amassed 370 first downs (3rd) and limited their opponents to just 189 (1st). Further, they have converted 46.5 percent of their third downs (17th) and have limited their opponents to a 31.0 third-down conversion rate (11th). Although the quality of their opponents certainly played a role, the Tigers own a +16 turnover margin: 30 takeaways and 14 giveaways (T-5th).
CLICK HERE to see how sharp bettors are approaching this game!
To add, Clemson's defense has allowed just 151.5 passing yards per contest (1st), recorded 19 interceptions (3rd) and ranks 1st in team passing defense efficiency (96.32). Those numbers were mainly obtained against much-lesser opponents, but it's still important to note their dominance against opposing passing attacks due to the elite and historic nature of Joe Burrow and LSU's aerial assault. Clemson has performed well in the rushing game (on both sides of the ball), rushing for 246.1 yards per contest (12th) and have surrendered 112.6 rushing yards per game (16th). Their offensive line has paved the way for one of the nation's elite rushing attacks, led by Travis Etienne, while their defensive line has plugged holes with ease, making life very difficult for opposing running backs.
Quarterback Trevor Lawrence amassed 3,471 passing yards (18th), 36 passing touchdowns (5th), has completed 67.6 percent of his passes (10th), ranks 5th in points responsible for (266) and ranks 6th in passing efficiency. While the focus and spotlight has been on his Heisman-winning opponent, Lawrence rebounded from a slow start to the year and has still never lost as a starting collegiate quarterback. That's important to remember. He will likely have to shine in this matchup (and take care of the football) for Clemson to have a shot in this matchup. Wide receiver Tee Higgins caught 13 touchdown passes (T-7th) with 1,115 receiving yards (24th). Look for Higgins to be very busy as Lawrence's top target. Especially if Clemson plays from behind, Higgins' big-play ability could come in very handy. But, the bread and butter of Clemson's offense will be in the running attack. Etienne compiled 1,536 rushing yards (7th) on an insane 8.0 yards per carry (1st) with 18 rushing touchdowns (T-9th) and 22 total touchdowns (6th). You read that correctly. The dude averaged 8.0 yards per rush. Clemson will undoubtedly look to establish the run with Etienne, who has very rarely seen large workloads this season in an effort to save him for this moment. In all, Clemson is a very complete team and will be looking to prove that they shouldn't be the underdog in this matchup.
Read our entire Clemson profile, including more trends, stats and analysis!
LSU
Although Burrow has already won the Heisman and LSU has gone 14-0, this historic season will be considered a complete loss in the state of Louisiana if the Bayou Bengals don't come through with one more W. Considering the fact that they've already beaten six different AP Top-10 opponents, they're an attractive option for bettors in this game. (For comparison, Clemson faced their first Top-10 opponent when they beat Ohio State in the Fiesta Bowl.) LSU has been an absolute juggernaut on offense, as evidenced by the fact that they've put up 50-plus points in four of their last five contests and 63-plus points on three different occasions (most recently in the 63-28 victory over Oklahoma). Further, they're on a dominant three-game cover streak in which they've beat down Texas A&M, Georgia and OU by a combined score of 150-45.
LSU ranks 1st out of 130 FBS programs in offensive scoring (48.9 points per game) and 29th in defensive scoring (21.6 points allowed per contest). Based on the overwhelming strength of their schedule, those numbers are impressive and explain why they're in this position. Like Clemson, their first and third down offensive numbers have been elite. LSU amassed 389 first downs (2nd), which ranks right ahead of Clemson. However, LSU has allowed the opponents to pick up 260 first downs (58th) while Clemson ranked 1st in that regard (189). It will be essential for LSU's defense to limit Clemson's ability to continue drives or else they'll run the risk of losing the time of possession battle. Since Etienne and Clemson's rushing offense have the ability to dominate any opponent, that would keep the ball out of Burrow's hands, which is certainly what LSU doesn't want to happen. LSU has converted 51.5 percent of their third downs (4th) and has allowed their opponents to convert just 30.7 of their third down attempts (T-9th). Therefore, they've been dominant on that clutch down on both sides of the ball. LSU's overall +9 turnover margin (T-16th) is made up of 21 turnovers created and 12 giveaways. While it doesn't compare to Clemson's, it is still remarkable considering the quality of the teams on their schedule.
Wondering which team public bettors are leaning towards? CLICK HERE!
One of the most fascinating aspects of this game revolves around the matchup between LSU's offense and Clemson's defense, both of which are arguably the best in the nation. Consider this: LSU's offense has had 102 different 20-plus scrimmage yard plays this season (2nd). Meanwhile, Clemson's defense limited opponents to just 35 plays of 20-plus scrimmage yards (T-1st). The unit that is able to outlast and out-match the other will likely be the deciding factor.
While there's a lot to like about Clemson's offense, LSU's has been even more deadly. Burrow has completed 77.6% of his passes (1st) for 5,208 passing yards (2nd), 55 passing touchdowns (1st) and also ranked 1st by a wide margin in passing efficiency (204.6). He has been personally responsible for 25.4 points per game (1st). He's passed the test against quality opponents already this season and there's no reason to assume that the presumed No. 1 pick in the 2020 NFL Draft will have any major issues executing, even against a fearsome Clemson unit. Running back Clyde Edwards-Helaire has accumulated 16 rushing touchdowns (9th) and has picked up 1,305 total yards on the ground (17th). He emerged from an early-season committee and is the clear go-to back for Ed Orgeron's team. It's also worth noting that he was recently banged up, but is now practicing with no limitations and should be ready to go. Quite incredibly, Burrow's two top targets rank 2nd and 3rd in the FBS, respectively, in receiving yards. Ja'Marr Chase (1,559) and Justin Jefferson (1,434) have amassed 36 total receiving touchdowns (18 each). They both rank 1st in the scoring department at the moment. Since Clemson's top-ranked passing defense has allowed just 151.5 passing yards per contest, both Chase and Jefferson will be challenged. 
Read our entire LSU profile, including more trends, stats and analysis!
PREDICTION
Based on the elite nature of both programs and the tight spread, it's easy to see multiple scenarios in which either spread, moneyline or total bet hits. Will Clemson defend their national championship with another victory or will LSU get over the hump and finish out their historic season with style? CLICK HERE to check out the best bet against the spread, on the moneyline and on the total for this matchup!