NCAAF
LSU Tigers: Trends, Facts, Advanced Stats
What you need to know about LSU heading into the National Championship Game
By Dan Karpuc - Jan 2, 2020, 4:36pm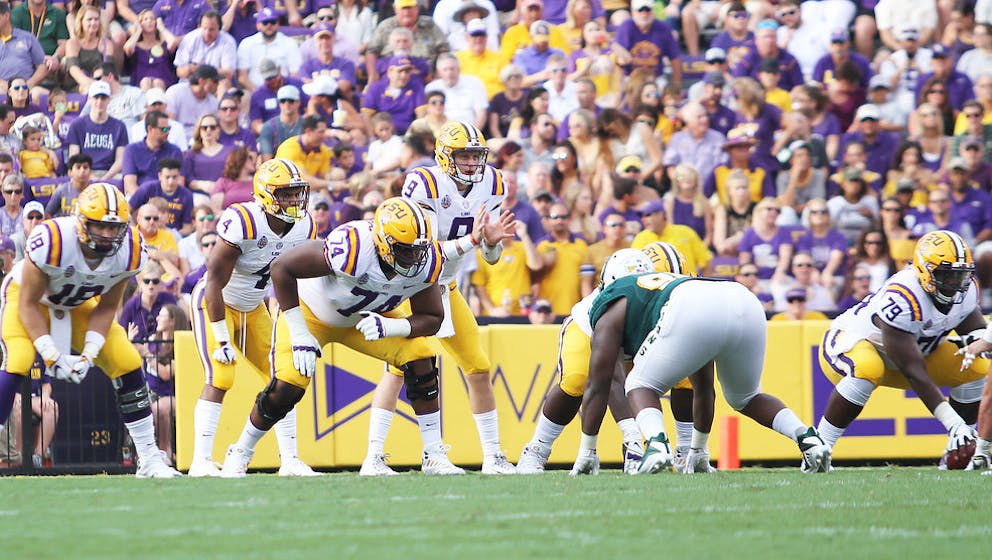 THE SITUATION
The Clemson University Tigers (14-0) will take on the Louisiana State University Tigers (14-0) in the National Championship Game on Monday 1/13 at 8:00pm EST. The game will be played at the Mercedes Benz Superdome. 
TRENDS
LSU has gone 9-4-1 against the spread this season and is on a three-game cover streak (beating down Texas A&M, Georgia and Oklahoma by a combined 150-45 score). On the year, LSU has beaten six different AP Top 10 opponents. Meanwhile, Clemson has squared off against just three ranked opponents, and just one in the Top 10 (Ohio State in their last game). 
The OVER has gone 9-5 in LSU's games and the Tigers have scored 50-plus points in four of their last five contests. Due to the explosive nature of their offense, they've been able to put up some crooked numbers all year long, which has helped the over percentage. LSU put up 63-plus points in three different games (most recently in a 63-28 victory over Oklahoma). 
CLICK HERE to take advantage of exclusive sportsbook offers!
In their last 14 games against offenses that average 8.0 or more passing yards per attempt, LSU has gone 13-1 against the spread. Clemson averages 8.7. 
LSU has won four of their last five bowl games outright, including their Peach Bowl victory over the Sooners. 
STATISTICAL RANKINGS (TEAM)
LSU ranks 1st out of 130 FBS programs in offensive scoring (48.9 points per game) and 29th in defensive scoring (21.6 points allowed per contest). Based on the overwhelming strength of their schedule, those numbers explain why they're in this position. 
The Tigers have converted 51.5 percent of their third downs (4th) and have allowed their opponents to convert just 30.7 of their third down attempts (T-9th). Therefore, they've been dominant on these clutch downs on both sides of the ball. 
LSU amassed 389 first downs (2nd), which ranks right ahead of Clemson. However, LSU allowed the opponents to pick up 260 first downs (58th) while Clemson ranked 1st in that regard (189). It will be essential for LSU's defense to limit Clemson's ability to continue drives or else they'll run the risk of losing the time of possession battle since Travis Etienne and Clemson's rushing offense has the ability to dominate any opponent, which would keep the ball out of Joe Burrow's hands.
LSU's defense surrendered 221.9 passing touchdowns (56th), but picked off 17 passes as a unit (T-5th). 
CLICK HERE to see how sharp bettors are approaching this game!
Unlike Clemson, who has converted 87.7% of their red zone opportunities (46th), LSU was the deadliest offense in the red zone, ranking 1st with an insane 97.1 scoring percentage (68 scores in 70 opportunities). They also led the FBS in red zone passing touchdowns (31) and scored touchdowns on 55 of their 68 scoring plays. If they get inside Clemson's 20 yard line, expect them to score.
LSU's rushing offense ranks slightly above-average (60th - 167.0 yards per game), and they've surrendered 118.0 rushing yards per game to opposing offenses (20th). Burrow and LSU's passing attack has made up the difference and based on their game scripts, opposing teams have found themselves throwing the ball in catch-up mode, so it's important not to read too much into these numbers.
The Tigers have recorded 2.5 sacks per game (T-40th) and 6.3 tackles for loss per contest (T-46th). 
LSU's +9 turnover margin (T-16th) is made up of 21 turnovers created and 12 giveaways. 
LSU's offense has had 102 different 20-plus scrimmage yard plays this season (2nd). Clemson's defense limited opponents to 35 plays of 20-plus scrimmage yards (T-1st). The battle between LSU's offense and Clemson's defense will be fascinating based on how elite both groups are.
STATISTICAL RANKINGS (PLAYERS)
Heisman quarterback Joe Burrow has completed 77.6% of his passes (1st) for 5,208 passing yards (2nd), 55 passing touchdowns (1st) and also ranked 1st by a wide margin in passing efficiency (204.6). He has been personally responsible for 25.4 points per game (1st). He's passed the test against six Top-10 opponents already this season and there's no reason to assume that the presumed No. 1 pick in the 2020 NFL Draft will have any issues executing, even against a fearsome Clemson unit.
Running back Clyde Edwards-Helaire has accumulated 16 rushing touchdowns (9th) and has picked up 1,305 total yards on the ground (17th). He emerged from an early-season committee and is the clear go-to back for Ed Orgeron's team. It's also worth noting that he was recently banged up, but is now practicing with no limitations and should be ready to go.
Quite incredibly, Burrow's two top targets rank 2nd and 3rd, respectively, in receiving yards. Ja'Marr Chase (1,559) and Justin Jefferson (1,434) have amassed 36 total receiving touchdowns (18 each). They both rank 1st in the scoring department at the moment. Since Clemson's top-ranked passing defense has allowed just 151.5 passing yards per contest, both Chase and Jefferson will be challenged. 
CLICK HERE to check out the best bet against the spread, on the moneyline and on the total for this matchup!