ATL
Falcons
Fri 10/30, 12:20 AM
CAR
Panthers
CAR -2.5 O/U 49
IND
Colts
Sun 11/1, 6:00 PM
DET
Lions
IND -2.5 O/U 50
TEN
Titans
Sun 11/1, 6:00 PM
CIN
Bengals
TEN -5.5 O/U 54.5
PIT
Steelers
Sun 11/1, 6:00 PM
BAL
Ravens
BAL -3.5 O/U 46.5
NYJ
Jets
Sun 11/1, 6:00 PM
KC
Chiefs
KC -19.5 O/U 48.5
NE
Patriots
Sun 11/1, 6:00 PM
BUF
Bills
BUF -3.5 O/U 44
LAR
Rams
Sun 11/1, 6:00 PM
MIA
Dolphins
LAR -4 O/U 46.5
MIN
Vikings
Sun 11/1, 6:00 PM
GB
Packers
GB -6.5 O/U 54.5
OAK
Raiders
Sun 11/1, 6:00 PM
CLE
Browns
CLE -2.5 O/U 54
LAC
Chargers
Sun 11/1, 9:05 PM
DEN
Broncos
LAC -3 O/U 44
SF
49ers
Sun 11/1, 9:25 PM
SEA
Seahawks
SEA -3 O/U 54
NO
Saints
Sun 11/1, 9:25 PM
CHI
Bears
NO -4 O/U 45
DAL
Cowboys
Mon 11/2, 1:20 AM
PHI
Eagles
PHI -7.5 O/U 43.5
TB
Buccaneers
Tue 11/3, 1:15 AM
NYG
Giants
TB -10.5 O/U 47
Kentucky vs. Auburn Week 4 Preview
Auburn (-305) is favored by 7.5 points over Kentucky (+245) with the over/under set at 49.5 total points
By Bryan Zarpentine - Sep 23, 2020, 3:06am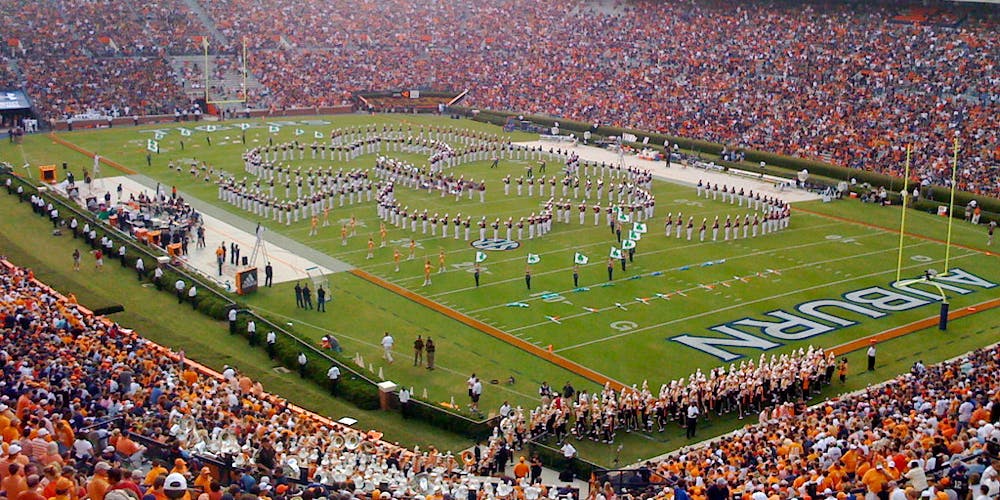 Quick-Hitters
The SEC kicks off the 2020 season with a bang, as a matchup between the No. 23 Kentucky Wildcats and the No. 8 Auburn Tigers is here.
Sophomore quarterback Bo Nix will need to be at the top of his game to give Auburn a fighting chance while Kentucky quarterback Terry Wilson Jr. returns from injury.
Get all of BetQL's best bets for this week's NCAAF slate! Dating back a full calendar year, our five-star (max-value) bets have won 61% of the time!
Kentucky Resurgence
It's been a while since there was this much preseason hype for Kentucky football. The Wildcats are just two years removed from a 10-3 season and a top-15 ranking. There was a slight step backwards in 2019 with the Cats finishing 8-5. However, Mark Stoops has led Kentucky to four-straight bowl games and has more depth than he's ever had heading into the 2020 season.
On offense, the biggest question is whether Terry Wilson Jr. can get back on track after he was sidelined by an injury early in the 2019 season. Also, the Wildcats won't have the services of Lynn Bowden, who was their top playmaker last season and ultimately became the quarterback after Wilson was injured. On the bright side, senior running back Asim Rose should help provide a stable running game with the aid of a veteran offensive line, helping to ease the pressure off of Wilson.
It's on the defensive side of the ball where the Wildcats are confident they can match up against other SEC teams. The Kentucky defense returns a majority of their starters from last year and has no shortage of depth. Quinton Bohanna will anchor a strong defensive line while Jamar Watson could be one of the SEC's best linebackers in 2020. Even a young secondary that had their ups and downs in 2019 should be better, especially with LSU transfer Kelvin Joseph joining the starting lineup.
Inconsistencies At QB
As usual, Auburn begins the season with hopes of winning the SEC West, a feat they last accomplished in 2017. While last year's 9-4 record looks somewhat modest, three of those four losses came against top-10 teams and all came by single-digit margins. That includes a 23-20 loss against National Champion LSU. The Tigers will look to build off that and leapfrog their SEC West brethren.
Much of Auburn's season will hinge on the development of sophomore quarterback Bo Nix. While he was impressive at times, Nix was overwhelmed by elite defenses. During losses to Florida and LSU, he completed just 42.0 percent of his passes. On the other hand, he led the Tigers to wins over Oregon and Alabama, so he's capable of performing in big games. Plus, you won't find a better receiving trio in the SEC than Seth Williams, Anthony Schwartz, and Eli Stove.
Meanwhile, there aren't too many pressing questions on the Auburn defense despite losing Marlon Davidson and Derrick Brown to the NFL. The Tigers have enough depth along the defensive line and first-team All-SEC performer K.J. Britt at linebacker. The only question mark could be the secondary, which isn't short on experience, but doesn't have anyone who has proven to be an impact playmaker.
Setting The Stage
Since this is the season-opener for both teams, there are a few unanswered questions on both sides. The biggest wild card in the game is probably Nix. If he can take his game to another level, he has the talent around him for Auburn to do damage against the Kentucky defense. If he has an average performance, the Wildcats are poised to keep this game close and give themselves a chance in the fourth quarter.