NCAAF
Evaluating Heisman Odds Heading Into Week 9
Breaking down DraftKings odds for college football's highest individual honor
By BetQL - Oct 24, 2019, 1:27am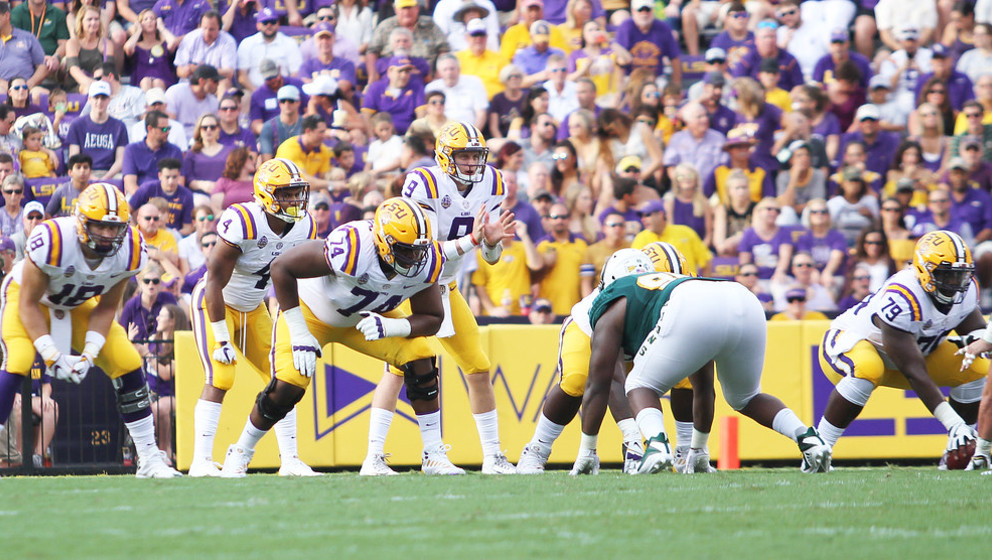 Alabama QB Tua Tagovailoa (+150) injured his ankle and will miss at least one game.
LSU QB Joe Burrow (+150) joins Tua as the co-favorite, as he leads the nation with his 29 touchdown passes and 79.5 completion percentage. 
Oklahoma QB Jalen Hurts (+220) accounted for five touchdowns on a combined 27 rushes and passes attempted, as it took him just 17 attempts to over 300 yards passing. 
Ohio State QB Justin Fields (+1,000) threw four touchdown passes but was unable to gain any ground even with Tua's injury. 
Wisconsin RB Jonathan Taylor (+2,000) had a costly fumble as the Badgers lost their first game of the season in the biggest upset of 2019.
Tua Tagovailoa 
(+150) 
2,166 yards, 27 TDs, 2 INTs, 74.7%, 11.2 YPP, 212.4 Rating
30 rush yards, 2 rush TDs (7 Games Played)
The story of Week 8 in college football was the high-ankle injury suffered by Tua Tagovailoa against Tennessee on Saturday. Midway through the second quarter, Volunteers defender Greg Emerson rolled on Tua's ankle in the process of bringing the quarterback down for a sack. Tagovailoa stayed in for one more snap before he was removed for the remainder of the game and he underwent surgery on Sunday morning. Before the injury, the quarterback attempted 12 passes, none of which hit the ground. One was intercepted by Tennessee, just Tua's second pick of the season. The 11 completed passes (91.7 percent) went for 155 yards (12.9 yards per pass). 
Despite the injury, Tagovailoa's price remains at +150 to win the Heisman Trophy. He will miss this week's contest against Arkansas, so Alabama will go at least two games without Tua adding to his touchdown total. The Tide have an open week after they play the Razorbacks and before they host No. 2 LSU in Tuscaloosa. In a statement released by Nick Saban on Sunday, the head coach revealed that his quarterback had a "tight-rope procedure on his right ankle" (surgery) and that they expect a "full and speedy recovery." But there's no guarantee Tagovailoa will make it back for the Tigers in three weeks (he made it back for the CFB Playoffs after having the same procedure done to his left ankle in four-weeks time) or how effective he will be. 
The Crimson Tide are still expected to handle Arkansas with ease on Saturday. Bama opened as 33-point favorites and BetQL's NCAAF Model favors Alabama despite the huge spread. Find out how much our algorithm loves the bet!
Joe Burrow 
(+150) 
2,484 yards, 29 TDs, 3 INTs, 79.4%, 11.4 YPP, 216.2 Rating
94 rush yards, 2 rush TDs (7 Games Played)
Burrow has put in a lot of quality work through seven games, which has him as a co-favorite with Tagovailoa to win the Heisman Trophy. Nonetheless, there is a lot more work to do, as LSU will host Auburn this Saturday, a nice test against a top-10 foe before the Tigers visit No. 1 Alabama. In light of Tagovailoa's injury, one can make the case that it's Burrow's award to lose and that LSU is the team to beat in the SEC. How they handle that spotlight against Auburn will be critical to Burrow's chances. 
Jalen Hurts 
(+220) 
2,074 yards, 20 TDs, 3 INTs, 74.0%, 13.5 YPP, 226.1 Rating
705 rush yards, 10 rush TDs (7 Games Played)
Oklahoma's remaining schedule features two ranked teams in No. 23 Iowa State and No. 14 Baylor, who they will play in consecutive weeks in November, as well as better defenses than you think. That starts with this week's opponent, Kansas State. The Wildcats have a top-20 defense and lead the Big 12 in points allowed (18.7 PPG). K-State has been very good at defending the pass, ranked fifth nationally in pass defense (152.5 YPG), tenth in pass efficiency defense (105.88), and second in third-down defense (23.9 percent). This game could be sneaky tough for Hurts. 
Get a 50% deposit bonus up to $500 with your next DraftKings Sportsbook deposit!
Justin Fields 
(+1,000)
1,492 yards, 22 TDs, 1 INT, 70.7%, 9.2 YPP, 190.2 Rating
291 rush yards, 8 rush TDs (7 Games Played)
Ohio State's contest versus Wisconsin in Week 9 was supposed to be a showcase game for Fields, however with the Badgers losing to lowly Illinois on Saturday, the matchup simply won't carry the same cache. It was slated to be a top-10 tussle against an undefeated team with the nation's top-ranked defense. It's still a chance to show what Fields can do against one of the better teams in college football, but it won't be the major feather in his cap we thought it could be a week ago, as the Badgers dropped seven spots to No. 13 in the AP Poll. 
Jonathan Taylor 
(+2,000) 
957 rushing yards, 6.1 YPC, 15 rushing TDs
16 receptions, 138 receiving yards, 4 receiving TDs (7 Games Played)
On 28 carries, Jonathan Taylor rushed for 132 yards and a touchdown, his sixth 100-yard game of the season. However, nothing about Wisconsin's result against Illinois went as expected, as the previously undefeated Badgers were upset by the Illini 24-23. A fumble by Taylor as Wisconsin was driving helped keep Illinois in the game. In addition to the fumble and the upset, Taylor really wasn't that impressive. For the second-straight week and the third time in the past four games, the running back averaged below five yards per carry, the same amount of games he was held below that mark in the previous 17 games. As a freshman, he was held below five yards per carry just twice and three times all of last season. Just as important was Wisconsin's loss, as the Badgers were dropped out of the top 10. Going from +900 to +2,000, Taylor is all but out of the Heisman race. 
The good news for Taylor is that he can get back on the saddle this coming Saturday, as Wisconsin takes on No. 3 Ohio State in Columbus. The Buckeyes are the class of the Big Ten, have the No. 10 rushing defense in the country (92.7 YPG), and are fourth in yards per carry allowed (2.2 YPC). If Taylor can lead the Badgers to an upset win over OSU with a monster game (200-plus rushing yards), he could move up the Heisman candidate totem pole. That's a nearly impossible task, but that's were Taylor's Heisman chances are at this point. 
Find out what ★★★★★ bets are in BetQL's Model for Week 9! The season is flying by, but you can still get in the action!