ATL
Falcons
Fri 10/30, 12:20 AM
CAR
Panthers
CAR -3 O/U 49
IND
Colts
Sun 11/1, 6:00 PM
DET
Lions
IND -2.5 O/U 50
TEN
Titans
Sun 11/1, 6:00 PM
CIN
Bengals
TEN -5.5 O/U 54.5
PIT
Steelers
Sun 11/1, 6:00 PM
BAL
Ravens
BAL -3.5 O/U 46.5
NYJ
Jets
Sun 11/1, 6:00 PM
KC
Chiefs
KC -19.5 O/U 48.5
NE
Patriots
Sun 11/1, 6:00 PM
BUF
Bills
BUF -3.5 O/U 43.5
LAR
Rams
Sun 11/1, 6:00 PM
MIA
Dolphins
LAR -4 O/U 46.5
MIN
Vikings
Sun 11/1, 6:00 PM
GB
Packers
GB -6.5 O/U 54.5
OAK
Raiders
Sun 11/1, 6:00 PM
CLE
Browns
CLE -2.5 O/U 54
LAC
Chargers
Sun 11/1, 9:05 PM
DEN
Broncos
LAC -3 O/U 44
SF
49ers
Sun 11/1, 9:25 PM
SEA
Seahawks
SEA -3 O/U 54
NO
Saints
Sun 11/1, 9:25 PM
CHI
Bears
NO -4 O/U 45
DAL
Cowboys
Mon 11/2, 1:20 AM
PHI
Eagles
PHI -7.5 O/U 43.5
TB
Buccaneers
Tue 11/3, 1:15 AM
NYG
Giants
TB -10.5 O/U 46.5
Georgia vs. Alabama Week 7 Preview
Alabama (-225) is favored by 6 points over Georgia (+185) with the over/under set at 59 total points
By Bryan Zarpentine - Oct 13, 2020, 1:25pm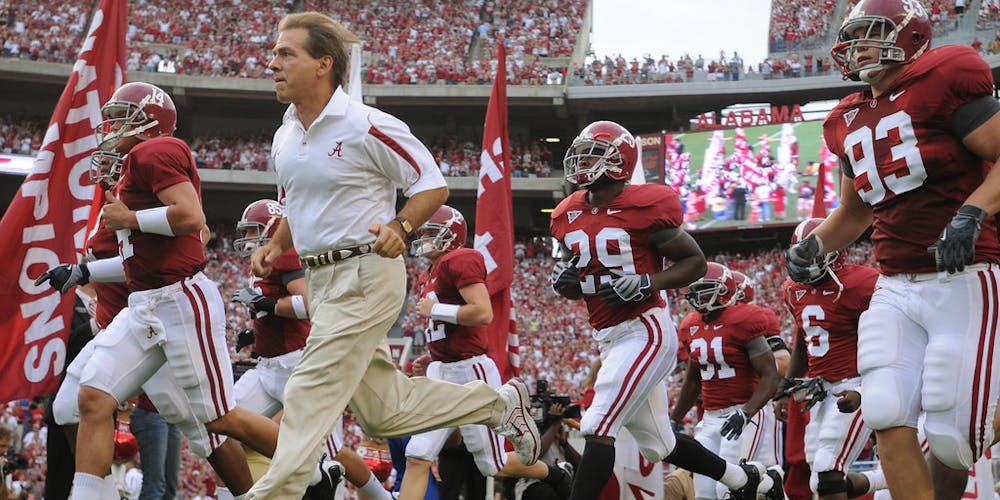 Quick-Hitters
The biggest game of the college football regular-season might be this week's SEC showdown between No. 2 Alabama and No. 3 Georgia.
Nick Saban is a perfect 20-0 against his former assistants, a record that's on the line against Georgia's Kirby Smart.
Mac Jones could be the biggest surprise of the season thus far, but he'll be challenged by an outstanding Georgia defense.
The Alabama defense has something to prove after giving up 48 points to Ole Miss last week.
Get all of BetQL's best bets for this week's NCAAF slate! Dating back a full calendar year, our five-star (max-value) bets have won 61% of the time!
Saban Domination
Alabama head coach Nick Saban is a perfect 20-0 when facing one of his former assistants. He's already added two more wins to that record this season, as the Crimson Tide have knocked off Jimbo Fisher's Texas A&M squad and Lane Kiffin at Ole Miss. The average score of those games has been 42-15, as none of Saban's former assistants have come close to out-smarting the Alabama coach. However, Georgia's Kirby Smart, who was at Alabama from 2007 to 2015, has come close.
First, there was the CFP National Championship in 2017 when Alabama escaped with a 26-23 win in overtime. A year later, Alabama beat Georgia 35-28 in the SEC Championship game. Those close games are part of the reason why the Crimson Tide are only 6-point favorites at home this week.
Mac Attack
Most of Alabama's success through three games this season has been due to the arm of quarterback Mac Jones. After fighting off true freshman Bryce Young for the starting job, Jones looks like a potential Heisman candidate. He has completed 79.5 percent of his passes and is averaging 367.0 yards per game. Lucky for him, he has the best wide receiver trio in the country and one of the nation's premier running backs at his disposal.
That being said, Jones will be challenged by a Georgia defense that has conceded three touchdowns this season while scoring two. They've made the Auburn offense look helpless and pitched a shutout in the second half against Tennessee last week.
Competitive Contest
If Saban expects to stay perfect against his assistants, he'll need to figure out his team's defensive issues. Last week, the Crimson Tide gave up 48 points and 647 yards against Ole Miss. It wasn't until late in the game that Alabama had an answer for Lane Kiffin's offense. While the Georgia defense may not be that explosive, Smart will know plenty of Saban's tricks on that side of the ball, especially after how vulnerable the Alabama defense looked last week.