Georgia Southern Looks To Continue Domination Of South Alabama
The Eagles have gone 5-0 in the short series history against the Jaguars
By Dan Karpuc - Oct 2, 2019, 9:11pm
Georgia Southern (-10) at South Alabama
Thursday October 3rd, 2019
Ladd-Peebles Stadium, 7:30pm EST
Since the rivalry was formed in 2014, Georgia Southern has gone 5-0 against South Alabama. 
South Alabama (1-4) has gone 2-3 ATS and only one of their five games has gone over the total. Georgia Southern (1-3) has gone 1-3 ATS and three of their four games have gone over the total.
South Alabama hasn't scored more than 13 points in a single game against Georgia Southern but the Eagles have scored over 24 points in every contest against the Jaguars. Despite that, BetQL's NCAA Football Model lists over 45.5 consensus total as a ★ ★ ★ bet. 
South Alabama has averaged 7.25 first half points this season while Georgia Southern has averaged 11.5 first half points this season. BetQL's algorithm lists Georgia Southern (-6) as a ★ ★ ★ ★ first-half bet and their -290 first-half moneyline as a ★ ★ ★ wager. 
South Alabama's Offense Against Georgia Southern's Defense
As a whole, the Jaguars offense has been a complete mess. They rank at or near the bottom of the nation in most offensive categories: passing (122nd of 130), passing efficiency (127th), total offense (113th) and scoring (123rd). To put that into context, they've only averaged 16.8 points and 333.4 total yards, including 140.0 passing yards per contest. 
Quarterback Cephus Johnson, a redshirt sophomore, is set to make another start despite completing just 53.6 percent of his passes for three touchdowns and five interceptions so far. Their one bright spot has been senior running back Tra Minter, who has averaged a remarkable 8.0 yards per carry for 432 yards and two scores. 
BetQL's NCAA Football Model went 12-10-1 on ★★★★★ Week 5 bets (3.95 avg return). Access all Week 6 picks!
Overlooking their Week 2 win over FCS Jackson State, South Alabama's offense has been stifled and limited to six, three and 17 points against Memphis, UAB and Louisiana-Monroe, respectively, in recent weeks. Arguably their best performance of the season came against Nebraska in their season opener, when they fell 35-21 and kept the game competitive throughout. 
Georgia Southern has allowed 135.5 rushing yards per game (50th in FBS) including 3.76 yards per carry (48th), which bodes well for their chances of limiting Minter, a necessary component for their success. 
Georgia Southern's Offense Against South Alabama's Defense
It's safe to say that Georgia State's triple-option offense didn't work in Week 1, when they lost 55-3 to then-No. 5 ranked LSU. However, things have been slightly heading in the right direction over the past four weeks when they beat FCS Maine 26-18, suffered a heartbreaking three-point loss to Big Ten opponent Minnesota in Week 3 and then lost 37-24 to Louisiana-Lafayette last time out. 
Overall, they rank 129th out of 130 teams in total offense, but that's due to the skewed nature of their scheme. The triple-option has only netted them 49.8 passing yards per game (2nd lowest in FBS) while they've put up a remarkable 201.8 rushing yards per contest. After a two-game absence, quarterback Shai Werts returned to action last week, but Georgia Southern's running attack has been, and will be, the focus in this one. 
BetQL's NCAA Football Model lists many★★★★ and ★★★★★ bets this week. The algorithm has gone 141-85 (62.39%) across all Sun Belt bets this season. Find out who the model likes!
For context, a pair of receivers (NaJee Thompson and Malik Murray) lead the team with four catches each through four games while both quarterbacks (Wertz and Justin Tomlin) have gone 19-for-41 passing combined. 
Meanwhile, running backs Logan Wright (45 carries for 248 yards, two touchdowns), Matt LaRoche (25 carries for 190 yards, touchdown) and J.D. King (44 carries for 158 yards, touchdown) have seen most of the touches and will continue to do so. Tomlin has rushed 29 times for 193 yards and two scores while Werts has also amassed 86 yards from the quarterback position. 
All this is bad news for a South Alabama defense that has allowed 179.0 rushing yards per game (99th in FBS), including 4.57 yards per carry. They haven't figured out Georgia Southern through their first five meetings, and BetQL's algorithm suggests that'll continue.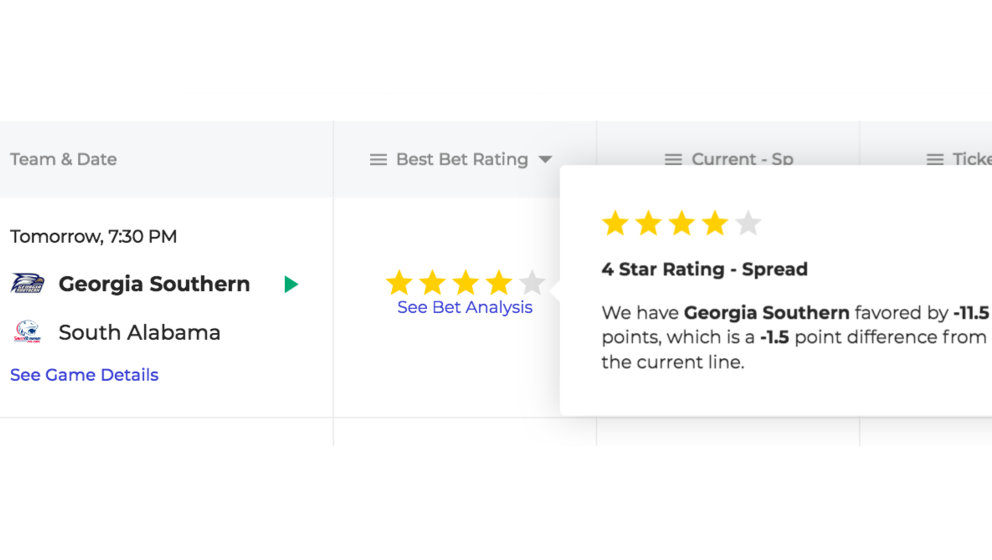 What BetQL's Model Says
BetQL's NCAA Football Model lists over 45.5 consensus total as a ★ ★ ★ bet.
BetQL's algorithm lists Georgia Southern (-6) as a ★ ★ ★ ★ first-half bet and their -290 first-half moneyline as a ★ ★ ★ wager.
In summary: Georgia Southern is a sharp spread and moneyline bet and should get off to an early start to lead by seven-plus points by halftime. Also expect this game to go slightly over the total.