Evaluating Heisman Trophy Candidates Through Week 5
Preseason frontrunner Trevor Lawrence is seemingly out of contention
By Jonathan Willis - Sep 29, 2019, 9:12pm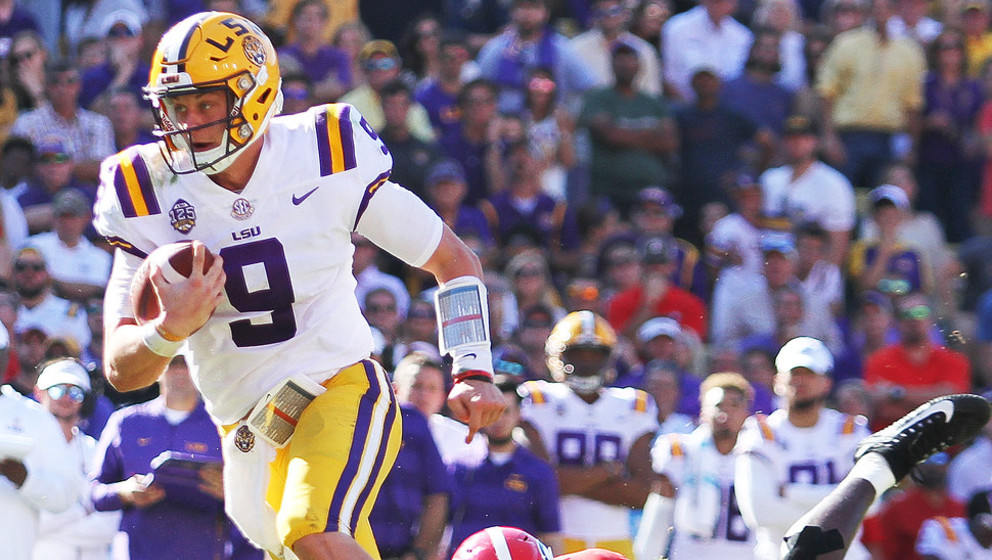 Alabama QB Tua Tagovailoa (+200) had another record-setting day against Ole Miss, setting the school record for career touchdown passes.
Oklahoma QB Jalen Hurts (+300) averaged 17.1 yards per attempt in a 55-16 win over Texas Tech.
LSU QB Joe Burrow (+350) saw his odds fall slightly during LSU's bye week.
Ohio State QB Justin Fields (+500) has 23 total touchdowns and just one turnover in leading the Buckeyes to a 5-0 start.
Wisconsin RB Jonathan Taylor (+800) had his fourth straight 100-yard game against Northwestern.
Clemson QB Trevor Lawrence (+2800) is no longer among the favorites after another mediocre outing on Saturday.
Tua Tagovailoa (QB, Alabama)
1,718 Pass Yds, 23 Pass TDs, 0 INTs, 76.4%, 11.6 YPP, 225.1 Rating
45 Rush Yds, 2 Rush TD (5 Games Played)
Last year's September Heisman is this year's September Heisman as well. Tua Tagovailoa is the frontrunner to win this year's award after coming up short last year, and he had an incredible performance against Ole Miss on Saturday. Tagovailoa set Alabama single game records with seven total touchdowns and six passing touchdowns in a 59-31 win over the Rebels, and he also broke the school record for career passing touchdowns. Tagovailoa has 86 passing touchdowns despite starting just 20 games for Alabama. 
The biggest tests for Tagovailoa are still to come though. Alabama has only played one decent defense (South Carolina), and the Crimson Tide have yet to face Texas A&M, LSU, or Auburn. The Crimson Tide have a bye next week, but they will face the Aggies in College Station on October 12 in their toughest test to date.
Jalen Hurts (QB, Oklahoma)
1,295 Pass Yds, 12 Pass TDs, 1 INTs, 77.6%, 15.2 YPP, 249.9 Rating
443 Rush Yds, 5 Rush TDs (4 Games Played)
Lincoln Riley has a deserved reputation as a quarterback whisperer. Jalen Hurts is putting up video game numbers at Oklahoma, and he is the third straight transfer quarterback to earn serious Heisman Trophy consideration after moving to Norman. Hurts currently leads the nation by a mile in yards per pass and quarterback rating, and his final numbers could be absurd as the Sooners are now in the meat of their Big 12 schedule.
There could be factors outside Hurts' control working against him though. Some Heisman Trophy voters might not want to give the award to an Oklahoma quarterback for a third consecutive season, especially considering what we've seen from Big 12 defenses during that stretch. In non-conference play, the Sooners faced terrible defenses in Houston, UCLA, and FCS South Dakota, so it might take a record-smashing season for Hurts to win the Heisman. 
Get a 50% deposit bonus up to $500 with your next DraftKings Sportsbook deposit! 
Joe Burrow (QB, LSU)
1,520 Pass Yds, 17 Pass TDs, 2 INTs, 80.6%, 12.3 YPP, 225.6 Rating
20 Rush Yards, 1 Rush TD (4 Games Played)
The Bayou Bengals were on a bye last week, so Burrow slipped behind Hurts in the race for the Heisman Trophy. Burrow will have a chance to move ahead of Hurts in October though as LSU's schedule gets very difficult and great games from the Tigers' quarterback will bolster his Heisman candidacy. 
LSU takes on a solid Utah State team next week and will follow that up with tilts against Florida, Mississippi State, and Auburn. Only the game against Mississippi State is away from home, so the Tigers are expected to be favored in all four contests. If Burrow can lead LSU to wins in those four games, taking the team's record to 8-0, the Tigers' showdown in Tuscaloosa with Alabama could decide the Heisman Trophy.
Justin Fields (QB, Ohio State)
1,092 Pass Yds, 16 Pass TDs, 0 INTs, 69.8%, 9.4 YPP, 194.4 Rating
222 Rush Yds, 7 Rush TDs (5 Games Played)
Ohio State obliterated Nebraska with the nation watching on Saturday night. There was extra attention on the game since College Gameday went to Lincoln for the affair, and the Buckeyes left no doubt who was the better team. The Buckeyes beat the Cornhuskers 48-7, and Fields' performance strengthened his Heisman Trophy case.
Fields doesn't have the gaudy stats of the other quarterbacks that are leading the field, but Ohio State's obliteration of its first five opponents has led to the quarterback's odds to win the Heisman Trophy steadily dropping. The Buckeyes average margin of victory is 43.8 points, but Fields will face a great defense next Saturday when Ohio State hosts Michigan State. The Spartans have one of the best defenses in the country. 
View all Week 6 College Football Best Bets! 
Jonathan Taylor (RB, Wisconsin)
559 Rush Yds, 6.7 YPC, 8 Rush TDs
9 Rec, 85 Yds, 3 Rec TD (4 Games Played)
Only three running backs have won the Heisman Trophy in the 21st Century, so the odds are against Jonathan Taylor. Taylor's incredible performance against Michigan is still fresh in the minds of voters, but he'll need to keep churning out big yards against the rest of Wisconsin's opponents to have a shot at the Heisman.
The Badgers will face three great defenses in their next five games. Wisconsin hosts Michigan State on October 12, travels to face Ohio State on October 26, and hosts Iowa on November 9. Michigan State and Ohio State are both ranked in the top three in defensive SP+, and Iowa is ranked 22nd. Those games are going to be tough for the Badgers, but if he surpasses 100 yards in two of those three outings he has a shot.
Note: The advice above reflects the writer's personal views and does not reflect the interest or stance of BetQL or RotoQL.