Evaluating Heisman Candidates Through Week 6
Two SEC quarterbacks have the best odds
By Daniel Mogollon - Oct 7, 2019, 4:59pm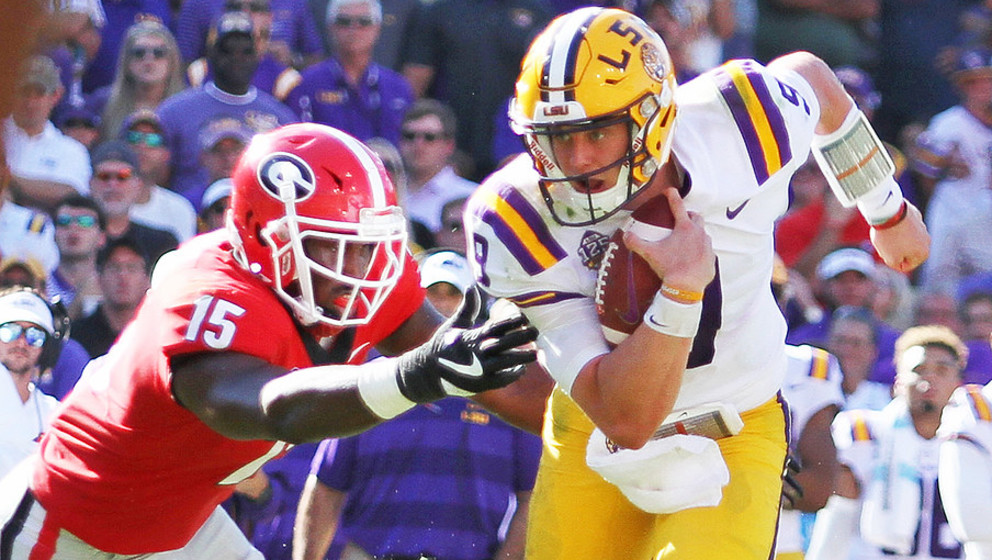 Alabama QB Tua Tagovailoa (+125) becomes an even bigger favorite despite not playing.
LSU QB Joe Burrow (+300) has his third game with five-plus TD passes and moved up to the second favorite. 
Oklahoma QB Jalen Hurts (+450) slipped after having his worst passing day with just 228 yards and fewer than 14 yards per pass (9.5 YPP) for the first time this season. 
Wisconsin RB Jonathan Taylor (+600) scored five touchdowns to put him pace for a remarkable 38 scores on the season. 
Ohio State QB Justin Fields threw for just 206 yards and was intercepted for the first time this season (18 TD passes). 
Tua Tagovailoa 
1,718 yards, 23 TDs, 0 INTs, 77.7%, 11.6 YPP, 225.1 Rating
45 rush yards, 2 rush TDs (5 Games Played)
Despite taking the week off, Tua Tagovailoa's stranglehold as the Heisman favorite got even stronger. That's what happens when you're putting up better numbers than last season when you were the Heisman runner-up, lead the No. 1 team in the country, and are the presumptive No. 1 overall pick. He's been flawless this season and is the man to beat.  
As good as Tagovailoa has been, he's yet to face a ranked opponent. This Saturday the Crimson Tide travel to College Station to take on Texas A&M, the first top-25 team on Alabama's schedule. Of course, the Aggies are just an appetizer to the main courses, which are LSU (Nov. 9) and Auburn (Nov. 30). How Tagovailoa performs against his SEC West rivals will make or break his Heisman candidacy. 
BetQL's NCAAF Model has gone 106-81-6 (56.7% win, +7.71 avg return) across all ★★★★★ bets this year. Find out how many are on this week's slate!
Joe Burrow 
1,864 yards, 22 TDs, 3 INTs, 78.4%, 11.5 YPP, 216.2 Rating
62 rush yards, 2 rush TDs (5 Games Played)
His hot start to the season has Burrow up to No. 2 on the Heisman list as he moves ahead of Jalen Hurts this week. He's built a foundation but there's a lot more construction ahead if Burrow is going to be holding the hardware by season's end. Three of their next four games are against ranked teams: vs. Florida (Oct. 12), vs. Auburn (Oct. 26), and at Alabama (Nov. 9). Those aren't just the three toughest teams on LSU's schedule, but the best three defenses the Tigers will face. 
Get a 50% deposit bonus up to $500 with your next DraftKings Sportsbook deposit!  
Jalen Hurts 
1,523 yards, 14 TDs, 2 INTs, 75.2%, 14.0 YPP, 231.3 Rating
499 rush yards, 7 rush TDs (5 Games Played)
As they do every year on the second Saturday in October, OU takes on Texas in the Red River Rivalry this coming week. This is Oklahoma's biggest game and with the Longhorns just outside the top 10 at No. 11, it's a chance for Hurts to gain some ground on his Heisman competitors. His performance in Dallas is the one that will be the most remembered when Heisman voters fill out their ballots. 
Jonathan Taylor 
745 rushing yards, 7.2 YPC, 12 rushing TDs
12 receptions, 114 receiving yards, 4 receiving TDs (5 Games Played)
For the first time this season, Jonathan Taylor ascended to the fourth slot on the list. He's gone from +1,000 to +800 to +600 in just a couple of weeks. The face of the surging Badgers, Taylor raced and rumbled his way to 186 yards (9.8 yards per carry) and four rushing touchdowns with 215 total yards and five touchdowns in a blowout win over Kent State. That puts him on pace for 38 touchdowns! That's the type of performance Taylor will need to continue to keep his name among the top contenders because the Heisman Trophy is slanted in favor of quarterbacks. 
Justin Fields 
1,298 yards, 18 TDs, 1 INT, 69.5%, 9.2 YPP, 187.5 Rating
283 rush yards, 8 rush TDs (6 Games Played)
The good news for Fields is the season is far from over and Ohio State has three huge games against ranked opponents who have been moving up the polls in Wisconsin (Oct. 26), Penn State (Nov. 23), and Michigan (Nov. 30). The game against the Badgers could be a Big Ten title game preview. If you have money on Fields, you should be rooting for those teams to keep on winning, as they all could be in the top 10 by the time the Buckeyes face them. 
BetQL's NCAAF Model went 79-45 (63.7% win, +7.35 avg return) across all ★★★ (and better) bets in Week 6. View the algorithm's Best Bets for Week 7!