Evaluating Heisman Candidates Through Week 4
Per DraftKings, these six standouts have the best odds to win the highest individual honor in the sport
By Daniel Mogollon - Sep 22, 2019, 6:02pm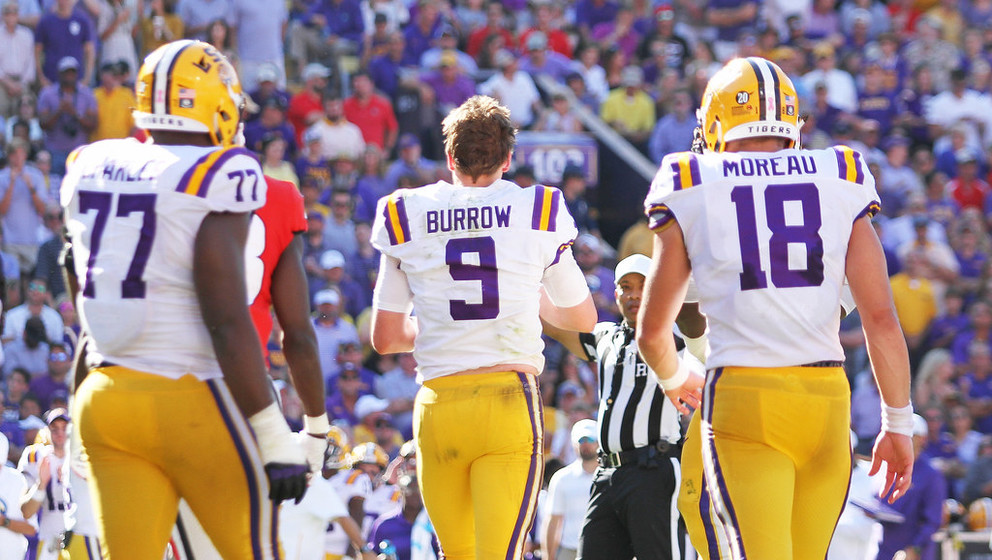 Alabama QB Tua Tagovailoa (+200) is on pace to throw 51 touchdown passes and hasn't thrown an interception yet this season. 
LSU QB Joe Burrow (+300) just enjoyed a 6 TD game on Saturday.
Oklahoma QB Jalen Hurts (+400) has put up mind-blowing numbers through three games for his new team.
Ohio State QB Justin Fields (+600) has accounted for 19 touchdowns and hasn't thrown an interception yet through four games. 
Clemson QB Trevor Lawrence (+800) has surprisingly struggled out of the gates.
Wisconsin RB Jonathan Taylor (+1000) broke onto the scene with a dominant performance against Michigan on Saturday.
Tua Tagovailoa (QB, Alabama)
1,300 Pass Yds, 17 Pass TDs, 0 INTs, 77.7%, 11.6 YPP, 225.3 Rating
44 Rush Yds, 1 Rush TD (4 Games Played)
For much of 2018, Tua Tagovailoa was the odds-on favorite to win the Heisman Trophy and he's playing even better this season. The southpaw is on pace to throw 51 touchdown passes and has yet to be intercepted. Both his completion percentage and yards per pass are improved from last season, as he leads the No. 2 team in the country. As former Heisman Trophy winner Tim Tebow said on television this week, Tua is "the best player in the country right now." 
The only question some have about Tagovailoa is ability to perform against elite teams and top defenses, which is when his numbers dipped a year ago. How he plays against No. 4 LSU on November 9 and at Auburn (considered by many to have the best defensive line in college football) to close out the regular season, will likely decide his Heisman fate. 
Joe Burrow (QB, LSU)
1,520 Pass Yds, 17 Pass TDs, 2 INTs, 80.6%, 12.3 YPP, 225.6 Rating
20 Rush Yards, 1 Rush TD (4 Games Played)
After Saturday's record-setting performance, coach Ed Orgeron said, "There's more to come." If Burrow is going to win the Heisman, that needs to be the case. Like Tagovailoa, Burrow will have to face Auburn's vaunted defensive front, but is there is one game that will make or break his candidacy, it's the Tigers' trip to Tuscaloosa to take on the Crimson Tide on November 9. To be the man, you've got to beat the man, and if Burrow can lead LSU to an upset over Alabama, he could vault the Bayou Bengals past the Tide in the SEC West standings and himself over Tua in the Heisman chase.  
Get a 50% deposit bonus up to $500 with your next DraftKings Sportsbook deposit! 
Jalen Hurts (QB, Oklahoma)
880 Pass Yds, 9 Pass TDs, 0 INTs, 80.3%, 14.4 YPP, 250.2 Rating
373 Rush Yds, 4 Rush TDs (3 Games Played)
Playing in the Big 12, Hurts doesn't have as many showcase opportunities or landmines as his SEC counterparts with the Red River Rivalry his best chance to make his Heisman case. The Sooners take on the Texas Longhorns in Dallas on October 12 and you can bet voters will compare his numbers to those of Burrow against the 'Horns. Getting OU into the playoffs could provide Hurts with a big boost as well; it's how Murray leapfrogged Tua late last season. 
Justin Fields (QB, Ohio State)
880 Pass Yds, 13 Pass TDs, 0 INTs, 69.5%, 9.3 YPP, 192.4 Rating
150 Rush Yds, 6 Rush TDs (4 Games Played)
As good as Fields was, it was against Miami (Ohio). The Buckeyes really haven't been tested, so it's been easy sledding for the dual-threat, but that also means getting pulled at halftime as he was on Saturday. That changes moving forward. OSU plays at Nebraska on Saturday where ESPN GameDay will be and the following week, Fields will be challenged by Michigan State's defense, the best in the Big Ten. There will also be a showdown with rising Wisconsin in October before they close out the season with East rivals Penn State and Michigan. The spotlight will find Fields in the coming weeks. 
View all Week 5 College Football Best Bets! 
Trevor Lawrence (QB, Clemson)
925 Pass Yds, 7 Pass TDs, 5 INTs, 62.3%, 8.7 YPP, 147.9 Rating
55 Rush Yds, 3 Rush TDs (4 Games Played)
Heading into the season, Lawrence was the Heisman Trophy favorite and the best NFL prospect at the position since Andrew Luck, maybe John Elway. He was the perfect quarterback. Coming out of high school, Lawrence was the seventh-highest rated player in the 247 Sports era (Fields was ninth) and he lived up to the hype as a true freshman, leading the Tigers to a national championship. However, he's gotten off to a troubling start, throwing five interceptions to just seven touchdowns through four games. Now, NFL scouts are most likely divided on just how "can't miss" the Clemson quarterback really is, while his Heisman odds have plummeted. 
Making matters worse for Lawrence is that he plays in the ACC. Lawrence doesn't face a highly-thought-of defense or top-10 foe the rest of the way. It's possible, that Clemson won't even play a ranked team or anyone who can challenge in their final eight regular season games. He does lead the No. 1 team in the country so don't count him out, but all Lawrence can do is dominate the teams that are in front of him. 
Jonathan Taylor (RB, Wisconsin)
440 Rush Yds, 7.7 YPC, 7 Rush TDs
6 Rec, 70 Yds, 3 Rec TD (3 Games Played)
Yes, running backs can win the Heisman Trophy, although it's become a rarity. Alabama's Derrick Henry is the only non-quarterback to bring home the hardware in the past nine seasons. If anyone can break the streak, it's Taylor, who already has two top-10 Heisman Trophy finishes. He set the freshman rushing record in 2017 (breaking Adrian Peterson's mark), rushed for 2,194 yards last season, and 2019 could be his best year yet. A strong runner between the tackles, Taylor has the electric breakaway speed his Wisconsin predecessors lacked. In their thrashing of No. 11 Michigan on Saturday, the New Jersey native had the type of game that catches the attention of Heisman voters with 203 yards (8.8 YPC) and two touchdowns, including a 72-yard scoring scamper.