With BetQL's Help, Craig Mish Placed Winning College Football Bets In Week 1
Two of BetQL's Best Bets paid off for the renowned sports radio host
By Craig Mish - Sep 3, 2019, 7:00pm
As someone who takes their sports wagering seriously, I thought it would be a good idea to fire up the BetQL app this past weekend for some 4 and 5 star bets. I picked three on Saturday to record and review and here is how they fared.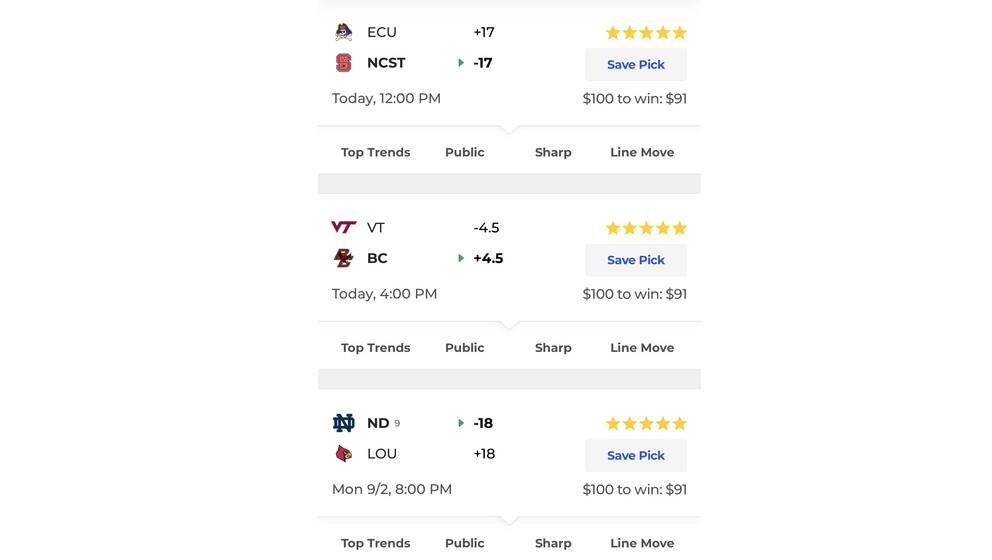 NC State -17 (★★★★★) vs. East Carolina 
FINAL : North Carolina State 34 East Carolina 6
Perhaps one of the easiest, and sweat-free wins on the early board Saturday, North Carolina State jumped out to a 24-3 lead and never looked back. NC State quarterback Matthew McKay became the third QB in school history to throw for more than 300 yards in his first career start. After losing 58-3 last season on the same field a year ago, this obviously was a well-analyzed selection and the day was off to a good start.
Virginia Tech at Boston College +4.5 (★★★★)
FINAL : Boston College 35 Virginia Tech 28
Turnovers were the key to this game, as the Hokies simply could not hold on to the ball for the majority of this one. Virginia Tech gave the ball away five times and allowed more than 350 yards of offense in the first half alone. This was an outright win for the underdog Eagles which put my 5 star selections for Saturday at 2-0.
For Week 2, there are 12 different 4 and 5 star bets in BetQL's model!
Notre Dame -18 (★★★★★) at Louisville
FINAL : Notre Dame 35 Louisville 17
Savvy bettors and users of the app will note that this line had the Irish -18 on Saturday. The closing line on Monday pushed Notre Dame to -19, and in some spots -19.5. That was key for those of you who took the early line. 
Notre Dame and Louisville were tied at 14 after an action-packed first quarter, and never quite pulled away until late. Irish running back Jahmir Smith scored his second of two touchdowns midway through the 4th and the score held at that point. The result: a push for those of you who got in on the line over the weekend, as historically speaking, more money comes in late on Notre Dame than virtually any other team in the country due to their popularity.
In closing, the three top plays I used on Saturday went 2-0-1, which is clearly a tremendous start to the college football season. From early indications, it looks like the BetQL App has another 5-star underdog barking this week, so it may be a good time to jump on board.
Find out who that underdog is!
About Craig Mish
Craig Mish is a National Sports Radio Host on the Fantasy Sports Radio Network (FNTSY). He also hosts weekly video livestreams along with Howard Bender on the Wager Alarm platform, reviewing their entries for the Golden Nugget Football Contest as well as the Las Vegas Supercontest. Craig also hosts the Swings and Mishes Podcast @swingsandmishes covering the Miami Marlins and Major League Baseball. You can follow him on Twitter @craigmish.