Clemson Tigers: Trends, Facts, Advanced Stats
What you need to know about Clemson heading into the National Championship Game
By Dan Karpuc - Jan 2, 2020, 4:34pm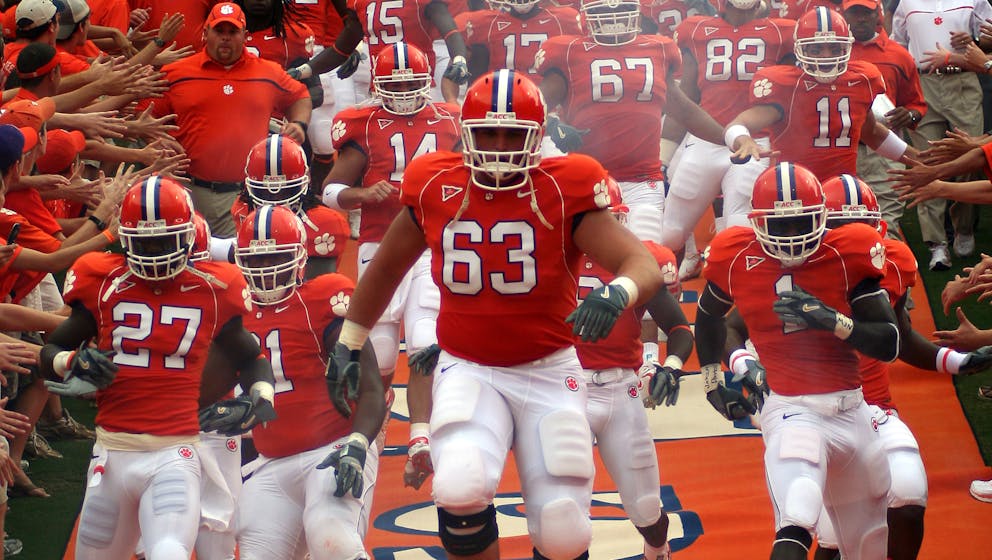 THE SITUATION 
The Clemson University Tigers (14-0) will take on the Louisiana State University Tigers (14-0) in the National Championship Game on Monday 1/13 at 8:00pm EST. The game will be played at the Mercedes Benz Superdome. 
TRENDS
Clemson has gone 14-0 overall and have been a quality weekly target for college football bettors, as they've gone 11-3 against the spread. They've been a favorite in all 14 of their previous contests and are the defending National Champions. 
The Tigers have covered their last five spreads, including in their 29-23 victory over the Ohio State Buckeyes in the Fiesta Bowl. They've covered in eight of their last nine games (the only time they didn't, they were 48.5-point favorites against Wofford and won by 45). 
Since the start of October (nine games), Clemson has outscored their opponents 444-101. It's safe to say that their near-upset loss to North Carolina lit a spark under them.
The UNDER has gone 8-6 in Clemson's games this season.
CLICK HERE to take advantage of exclusive sportsbook offers!
Clemson has gone 29-0 straight-up since the start of last season and has gone 69-4 with two national championships over their last four-plus seasons.
In their last 40 contests directly following a game in which they gained 6.25-plus yards per play, Clemson has gone 35-5 straight-up. They did so last game against the Buckeyes.
In their last 35 contests against teams who average 250-plus passing yards per game on offense, the Tigers have gone 30-5 straight-up. In their last 18 games against teams who average 275-plus passing yards per game on offense, the Tigers have gone 16-2 straight-up. LSU has thrown for 390.2 yards per contest (2nd in the FBS).
STATISTICAL RANKINGS (TEAM)
Clemson ranks 4th out of 130 FBS teams in scoring offense (43.5 points per game) and 1st in scoring defense (11.5 points allowed per contest). In all, they were perhaps the most dominant team in the entire FBS throughout the season and even if their opponents included just one program that ranked in the AP Top 10 at the time of their matchup, it's still a feat to be proud of. 
The Tigers have converted 46.5 percent of their third downs (17th) and have limited their opponents to a 31.0 third-down conversion rate (11th). This is just another sign of their utter dominance on both ends of the ball. 
Clemson amassed 370 first downs (3rd) and limited their opponents to just 189 (1st). Again, dominant on both ends of the ball.
The Tigers allowed just 151.5 passing yards per contest (1st), recorded 19 interceptions (3rd) and rank 1st in team passing defense efficiency (96.32). Those numbers were mainly obtained against much-lesser opponents, but it's still important to note their dominance against opposing passing attacks due to the elite and historic nature of Joe Burrow and LSU's aerial attack. 
CLICK HERE to see how sharp bettors are approaching this game!
Clemson scored on 87.7 percent of their red zone opportunities (46th) and limited their opponents to a 75.0 percent red zone scoring clip (T-16th). 
The Tigers have rushed for 246.1 yards per contest (12th) and have surrendered 112.6 rushing yards per game (16th). Clemson's offensive line has paved the way for one of the nation's elite rushing attacks, led by Travis Etienne (soon to be mentioned), while their defensive line has plugged holes with ease, making life very difficult for opposing running backs.
Clemson's defense generated 2.93 sacks per game (T-15th) and 7.9 tackles for loss (T-8th). Their collective explosiveness and ability to get into opposing backfields has been a staple of this dangerous front seven.
The Tigers own a +16 turnover margin: 30 takeaways and 14 giveaways (T-5th). Although the quality of their opponents certainly played a role in this metric, it's still wildly impressive.
Clemson's defense limited opponents to 35 plays of 20-plus scrimmage yards (T-1st). LSU's offense has had 102 different 20-plus scrimmage yard plays this season (2nd). Therefore, Clemson's ability to limit chunk plays could come in handy. 
The Tigers have scored 24 first-half rushing touchdowns (3rd) and 18 second-half rushing touchdowns (T-14th). They've scored 26 first-half passing touchdowns (5th) and 14 second-half touchdowns (T-20th). Due to their typical blowout game scripts, Clemson tended to lean on their running game in the second half throughout the year. It's safe to assume they might not be able to do so against a team like LSU that's capable of putting up a touchdown on every single down. 
STATISTICAL RANKINGS (PLAYERS) 
Quarterback Trevor Lawrence amassed 3,471 passing yards (18th), 36 passing touchdowns (5th), has completed 67.6 percent of his passes (10th), ranks 5th in points responsible for (266) and ranks 6th in passing efficiency. While the focus and spotlight has been on the Heisman winner Burrow, Lawrence rebounded from a slow start to the year and has never lost as a starting collegiate quarterback. He will likely have to shine in this matchup (and take care of the football) for Clemson to have a shot in this matchup.
Running back Travis Etienne compiled 1,536 rushing yards (7th) on an insane 8.0 yards per carry (1st) with 18 rushing touchdowns (T-9th) and 22 total touchdowns (6th). You read that correctly. The dude averaged 8.0 yards per rush. Clemson will undoubtedly look to establish the run with Etienne, who has very rarely seen large workloads this season in an effort to save him for this moment. 
Wide receiver Tee Higgins caught 13 touchdown passes (T-7th) with 1,115 receiving yards (24th). Look for Higgins to be very busy as Lawrence's top target. Especially if Clemson plays from behind, Higgins' big-play ability could come in very handy. 
CLICK HERE to check out the best bet against the spread, on the moneyline and on the total for this matchup!