LIVE
DAL
Cowboys
3
FINAL
WAS
Redskins
25
DAL -1 O/U 44.5
CAR
Panthers
24
FINAL
NO
Saints
27
NO -7 O/U 49.5
GB
Packers
35
FINAL
HOU
Texans
20
GB -2.5 O/U 55.5
BUF
Bills
18
FINAL
NYJ
Jets
10
BUF -9.5 O/U 46.5
CLE
Browns
37
FINAL
CIN
Bengals
34
CLE -4.5 O/U 50
PIT
Steelers
27
FINAL
TEN
Titans
24
TEN -1 O/U 51
DET
Lions
23
FINAL
ATL
Falcons
22
ATL -1 O/U 55
TB
Buccaneers
45
FINAL
OAK
Raiders
20
TB -4 O/U 51.5
SF
49ers
33
FINAL
NE
Patriots
6
NE -3 O/U 44.5
KC
Chiefs
43
FINAL
DEN
Broncos
16
KC -7 O/U 46
JAX
Jaguars
29
FINAL
LAC
Chargers
39
LAC -7.5 O/U 48
SEA
Seahawks
10
2nd Q
ARI
Cardinals
7
SEA -3.5 O/U 55.5
CHI
Bears
Tomorrow, 12:15 AM
LAR
Rams
LAR -6 O/U 44.5
ATL
Falcons
Fri 10/30, 12:20 AM
CAR
Panthers
CAR -3 O/U 51
Clemson Football Is Poised For An Historic 2020 Season
With key returning players, exciting newcomers and another easy schedule, expect Clemson to put together an historic campaign
By Ben Heisler - Feb 25, 2020, 5:08pm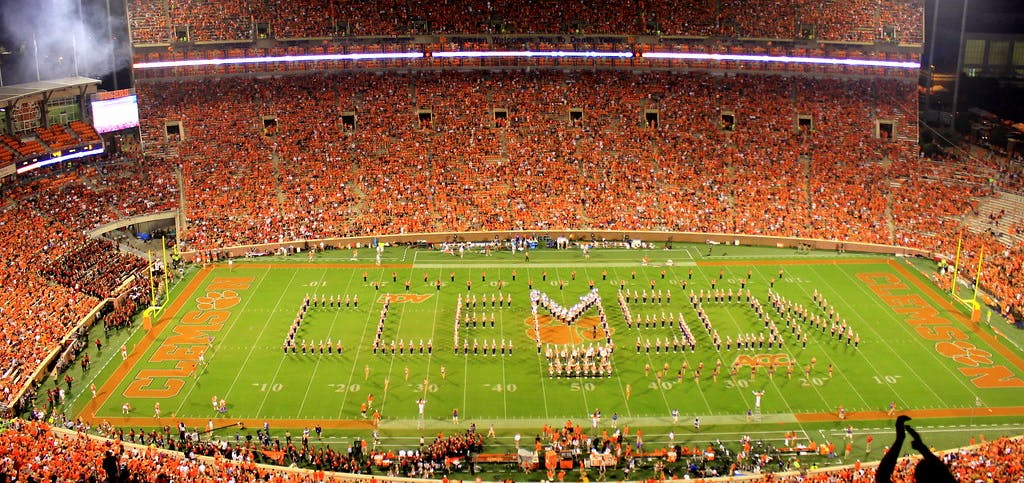 FanDuel Sportsbook has the Clemson Tigers listed at +200 to win the FBS Championship in 2020-21.
The Tigers finished the 2019 season 11-3-0 ATS as a favorite and 8-1-0 ATS in conference games.
Clemson returns six offensive starters, five on the defensive side and two special teams starters. Key losses on both sides include WR Tee Higgins, LB Isaiah Simmons, and CB A.J. Terrell.
Despite losing in the Championship, Clemson enters the 2020 season armed with the top recruiting class in the country.
After making it to the College Football Playoff in 2019 with an easy regular season schedule, the Tigers are primed to make it back with perhaps a softer schedule in 2020.
OFFENSE
KEY OFFENSIVE RETURNERS:
QB: Trevor Lawrence
RB: Travis Etienne
WR: Justyn Ross
LT: Jackson Carman
KEY OFFENSIVE NEWCOMERS:
WR: Amari Rodgers
WR: Eddie Williams Jr (FR)
TE: Braden Galloway
C/OL: Cade Stewart
Led by incoming junior Quarterback Trevor Lawrence, the Tigers offense returns six starters to the mix, including both Lawrence as well as standout running back Travis Etienne who many anticipated would enter the NFL Draft this April. Lawrence returns for his third season after back to back 30-plus touchdown seasons in his first two years, taking a step from 30 to 36 in 2019, as well as throwing for an additional 380 yards. He finished 10th in yards, 5th in touchdowns amongst all Division I quarterbacks. 
Meanwhile, Etienne rushed 207 times for 1,614 yards, averaging 7.8 yards/attempt and finished with 19 total touchdowns, good for the eighth-highest amongst all running backs. His 7.8 yards/play average was second-best in the nation as well.
Losing Tee Higgins to the NFL draft will be an adjustment. Higgins in 2019 caught 59 passes for 1,167 yards, averaging just under 20 yards/catch to go along with 13 touchdowns. It will be on receivers such as Justyn Ross, who led the Tigers in receptions last year, to take an even bigger leap forward in his junior season. Joining him will be 6'3", 183 pound freshman receiver Eddie Williams Jr., who enters as a top-ranked receiver in his class who turned down in-state offers from Alabama and Auburn to play at Clemson. They'll also have further experience with Amari Rodgers who despite being fourth on the Tigers in catches, still averaged more than 14 yards per catch and tied Etienne in receiving touchdowns with four. As for the tight end Galloway, his insertion into the starting lineup allows for another big-play threat after averaging 30 yards per reception in limited action last season.
The biggest adjustment for the Tigers this offseason will be to solidify the offensive line, with four new starters entering the mix. One name to watch will be Cade Stewart, who's accumulated nearly 700 snaps in 37 games for the Tigers as he enters his senior season. As for coaching transitions, Tony Elliott will be the sole play-caller on the offensive side of the ball after Jeff Scott left his co-coordinator position to coach at the University of South Florida.
DEFENSE
KEY DEFENSIVE RETURNERS:
DE: Justin Foster
DT: Tyler Davis
LB: James Skalski
CB: Derion Kendrick

KEY DEFENSIVE NEWCOMERS
DE: Myles Murphy (FR)
DT: Bryan Bresee (FR)
LB: Mike Jones
SS: Lannden Zanders
Led by linebacker Isaiah Simmons and cornerback A.J. Terrell, who are set to turn pro, the Tigers defense will be without two of their key contributors in 2020. However, there will be plenty of talent to spread around on a defense that finished second in the nation in opponent points/game, points/play, and fifth in opponent yards/game.
On the front line, defensive end Justin Foster will look to build on a very productive season with 4.5 sacks and 10.5 tackles for losses. Also, Tyler Davis and Nyles Pinckney will look to plug the running game and create pressure inside. Newcomers include two of the top three ranked freshman class members with Bresee at number one overall at defensive tackle, and Murphy number three overall as the number one defensive end. Inside Linebacker James Skalski finished behind Simmons in tackles, and will look to be the new leader of the defense in 2020. He'll be joined by Linebacker Mike Jones who finished his redshirt freshman season with four tackles for loss over 181 snaps. Finally, Derion Kendrick finished his freshman season as an All-ACC selection and will be the team's new shutdown corner with Terrell entering the draft. His new secondary mate will be safety Landen Zanders who's a ballhawking safety that played 112 snaps in 14 games last year.
SCHEDULE
One of the knocks on Clemson in 2019 was that they didn't play against many top-tier teams both in and out of conference. Last year, the Tigers only went up against two Top 25 teams in #12 Texas A&M (finished 8-5, outside the Top 25) and #23 Virginia. In 2020, the road to the College Football Playoff may even be easier than last year. The Tigers feature non-conference matchups against Louisville, Akron and The Citadel at home, with their lone road out of conference challenge at Notre Dame Stadium on November 7th. Lastly, they'll host their in-state rival South Carolina to wrap up the regular season on Saturday, November 28.
As for in-conference opponents, Clemson will travel to Georgia Tech to begin the season on September 3rd and will host Virginia before taking on Boston College, Florida State, and Wake Forest on the road. They'll additionally host NC State and Syracuse. In other words, it should be another cake walk to the College Football Playoff, excluding their road test against Notre Dame.