Cincinnati Will Have A Difficult Time Covering Against ECU
The Bearcats are 6-1, but haven't blown any American Athletic Conference team out of the water yet this season
By Daniel Mogllon - Oct 31, 2019, 2:07pm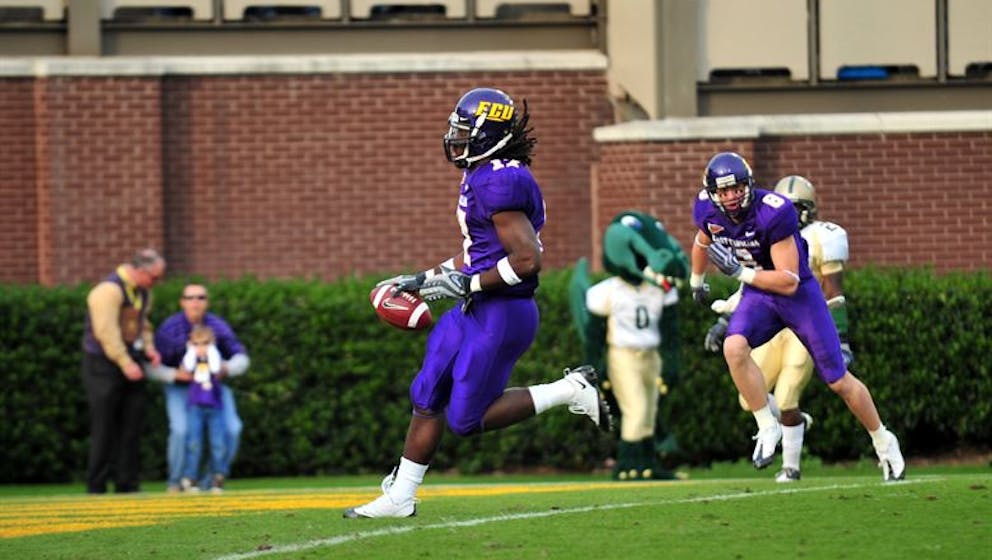 The East Carolina Pirates (3-5) host the Cincinnati Bearcats (6-1) in Week 10. 
East Carolina has gone 4-4 ATS and the over has gone 2-6 in their games, while Cincinnati has gone 5-2 ATS and the over has gone 2-5 in their games.
Last year, Cincinnati won 56-6 over East Carolina, but the Pirates won the last game played in Greenville, North Carolina 48-20 in 2017.
Led by senior defensive end Kendall Futrell, one of the best pass rushers in the country, ECU has a strong defensive line, which should give Cincinnati's quarterback trouble.
The Pirates have a big edge in the kicking game. 
The AAC Matchup
East Carolina comes into this Week 10 contest winless in four American games. After starting the season 3-2, the Pirates are on a three-game losing streak which has dropped them to 3-5 overall. 
Conversely, Cincinnati has reeled off five-straight wins since losing to Ohio State in Week 2 to improve to 6-1 coming into Saturday. The Bearcats sit in first place of the East Division within the American Athletic Conference with a perfect 3-0 conference mark, however none of their conference wins have come by more than 15 points.
This is ECU's first game against a ranked team and the Pirates will be getting 23.5 points on their home field on Saturday. Despite the way the teams are trending, BetQL's NCAA Football Model labels East Carolina as the best bet in this matchup. 
The Pirates end the season with Connecticut and Tulsa (both 2-6 overall, 0-4 in conference), so if they can pull off an upset, they still have a good chance at going bowling at season's end. 
Find out what ★★★★★ bets are in BetQL's Model for Week 10!
East Carolina's Defensive Line Is A Threat
The strength of East Carolina's defense is their defensive line, an experienced unit that features three seniors and a junior among their starting four. 
The leader of that quartet is defensive end Kendal Futrell, one of the American's top defensive players. Futrell comes into Saturday's game with 45 tackles, including a team-high 13 tackles for loss, with eight sacks, and eight quarterback hurries. He's also forced two fumbles and recovered one. Futrell's eight sacks are good enough to rank him second in the conference. Making it difficult to slide protection Futrell's way is fellow end Chance Purvis (10 TFLs, 2.0 sacks) and interior rusher Alex Turner (8.5 TFLs, 3.0 sacks). 
The Bearcats passing offense is just eighth in the American Athletic Conference. Quarterback Desmond Ridder has struggled with his accuracy over the past three weeks. After completing at least 65 percent of his passes in three of the first four games, he's been below 59 percent in three-straight games. 
Low-Scoring Affair
Former Ohio State defensive coordinator Luke Fickell has built the Bearcats in his image, a physical, defensive unit. But they are not explosive on offense, as Cincy is ninth out of 12 teams in the American with the fewest first downs in the conference. As good as Cincinnati is overall, they're ranked just ninth in the American in total offense. 
ECU has covered three of four conference games, as their defense allowed 24 points to Old Dominion in an upset win and 27 to Temple. While they did give up 41 to Central Florida, that was only a touchdown greater than the 34.5-point spread, which the Pirates covered with ease (13-point loss). It's also below UCF's season scoring average of 46.6 PPG. 
The Pirates have allowed 28.2 points per game, while the Bearcats are averaging 28.6 points per game, which simply doesn't add up to the 24-plus point margin needed for Cincinnati to cover the spread. 
Get a 50% deposit bonus up to $500 with your next DraftKings Sportsbook deposit!
A Special Teams Edge
The Pirates are unlikely to pull off the upset but one of the reasons they should keep it closer than the spread is their edge in the kicking game. Junior Jake Verity has made 16-of-20 field goal attempts on the season, including three-of-four from 40 to 49 yards. His 16 field goals lead the American and his percentage is good for third in the conference. 
Meanwhile, Cincy's Sam Crosa is ninth, as he's just five of nine on the season (55.6 percent), with all four misses coming from 30 to 39 yards. He's also had three field goals blocked. They could turn to Cole Smith, but he was even worse last year when he put just 5 of 12 through the uprights. Kickoff specialist Ryan Jones isn't much better, as he's delivered only eight touchbacks on 39 tries. 
Track line movement, public betting data, utilize sharp picks and view bets bets from our algorithm every week of the college football season!
What BetQL's Model Says
BetQL's NCAA Football model labels East Carolina (+23.5) as the best bet in this matchup. While the algorithm still labels Cincinnati as the overwhelming favorite, there's a lot of value in betting on the Pirates against this massive spread at home.