Sleepers for the 2019 College Football Season
Five Teams Sleeper Teams to Watch in 2019
By Sierra Kennedy - Jun 27, 2019, 3:41pm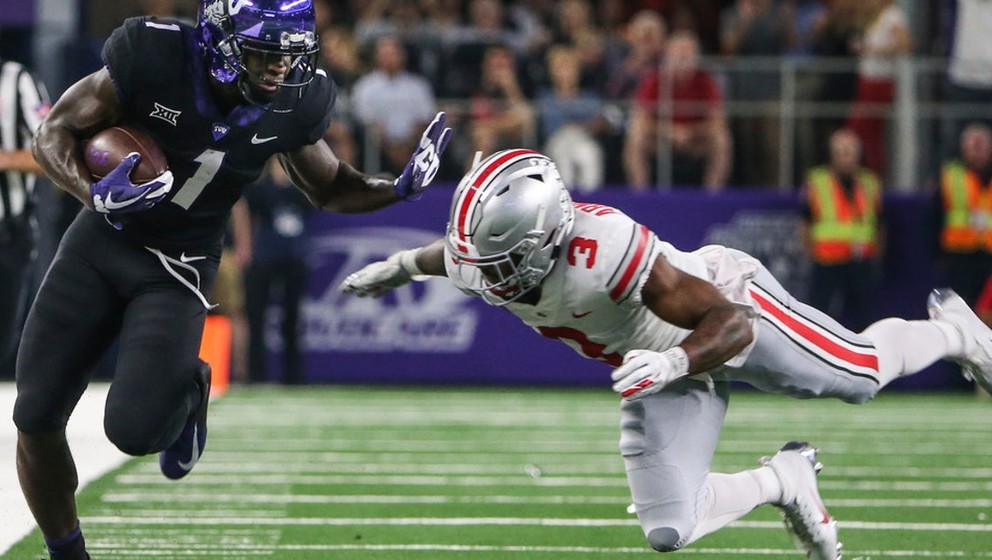 Each and every season, there are teams like Alabama and Clemson that tend to dominate their respective divisions and conferences. However, there are always a few teams that surprise everyone. To make the season more exciting and your bets potentially more profitable, here are the biggest sleepers for each of the Power-5 conferences for the upcoming season.
Sure, the Horned Frogs went 7-6 last season, but it would not be impossible for this team to bounce back with a great year in 2019.
In fact, TCU is known for coming back after a relatively mediocre season, going 11-3 in 2017 after a 6-7 season. I may be putting too much stock into Gary Patterson, but his record also does not lie. A 167-63 record and six conference championships while at TCU make Patterson's team the definition of a perfect sleeper that could potentially pay out at excellent odds in the Big 12.
For the 2019 season, all five starters from the offensive line will return along with top receiver Jalen Reagor. During his second season, Reagor became the youngest player in the program to ever record more than 1,000 receiving yards. The playmaker averaged about 15 yards per catch and 13 yards per rush. He managed to do this even with issues at quarterback, which remain the most prominent concern heading into the 2019 season. TCU could make a serious run in the Big 12 if they can find a starting quarterback on their roster and +2000 is worth the upside.
Iowa typically falls behind Ohio State and Michigan when it comes to the favorites in the Big Ten, but the 2019 season could represent a breakout year. Under head coach Kirk Ferentz, the team went 9-4 last year and beat Mississippi State 27-22 in the Outback Bowl. One key contributor was quarterback Nate Stanley, who will return for his senior year after throwing for 2,852 yards and 26 touchdowns last season. At the same time, the Hawkeyes lost T.J. Hockenson and Noah Fant as first round picks in the NFL Draft.
On the defensive side of the ball, A.J. Epenesa is expected to be an impact player after posting 10.5 sacks with limited snaps per game last fall. The Hawkeyes will have to replace six starters including Amani Hooker and Jake Gervase. However, there should be enough depth for Iowa to still have one of the best defenses in the conference. The schedule is not the easiest for the 2019 season, but if Iowa can beat teams like Michigan, Iowa State, or Nebraska on the road, it would actually work in their favor with the selection committee.
With Manny Diaz leaving his defensive coordinator position and stepping in as head coach, the 2019 season should usher in fresh talent for Miami. Last season the Hurricanes were without a reliable starting quarterback, but either N'Kosi Perry, Jarren Williams, or Tate Martell should be able to fill that role. Both Martell and Perry are dual-threat quarterbacks, which will make for a more consistent offensive threat this season.
New running backs coach Eric Hickson will have offensive weapons at the position with Deejay Dallas poised for a breakout year. Last season, in 13 starts Dallas lead the team with 1,260 all-purpose yards, caught 10 passes for 85 yards, and ranked 2nd with 617 rushing yards on 109 carries. That being said, Miami has significant question marks regarding the front seven, secondary, and starting QB. Once these issues are resolved, Miami could easily take advantage of their coastal division matchups and not having to meet Clemson in the regular season. The best bet to take on Miami if you are high on them is over 8.5 wins at -150.
The Utes made it all the way to the Pac-12 Championship last season and nearly beat Washington, but ultimately fell 64-54. Even with the loss, the fact that Utah did it without either RB Zack Moss or QB Tyler Huntley was enough to show that the team could go far in the 2019 season.
One thing the Utes have going for them that other teams on this list are missing is that there are plenty of returning players and consistency within the coaching staff. Moss will be back, after recording a career-best 11 rushing touchdowns in 2018 and his second 1,000+ yard season. Huntley posted 1,788 yards, 12 touchdowns, and completed 73 percent of passes for a 176.6 passer rating before breaking his collar bone. Utah's defense is already known as one of the best in the PAC-12, and minus a couple of linebackers, it remains relatively unchanged. Utah is undervalued at +1000 to win a wide open PAC-12, and I love taking them to win over 8.5 games even with the -150 line.
The SEC West is always tough to win with Alabama being the clear top dog, but LSU has a better chance than most. In 2018, the Tigers were able to remain a dominant team despite one of the most challenging schedules in the country. The team went 5-3 in the SEC and 10-3 overall with a Fiesta Bowl appearance. Offensively, LSU does tend to struggle -- last year the O-line allowed 36 sacks -- but new offensive coordinator Joe Brady should be able to iron that out. All six of the team's top receivers return for 2019, including Stephen Sullivan who finished last season with 23 catches for 363 yards and two touchdowns.
Devin White and Greedy Williams might be gone, but the defense returns with eight veteran starters and nine of their best tacklers. As long as the offensive line shows improvement and the LSU defense is consistent in stopping the run, then the Tigers can have an even more successful season this year. LSU will play most of their most difficult SEC games at home (Florida, Auburn, and Texas A&M), but a trip to Tuscaloosa at the beginning of November looms large. Upset Alabama in that game and they have a great shot at winning the SEC. The best bet for LSU in 2019 is over 9 wins at +100.
Betting NCAA Football futures is hard, if betting single games is more your style check out our NCAAF odds page where you can find odds, lines and spreads for week 1.