TB
Buccaneers
Sun 1/24, 8:05 PM
GB
Packers
GB -3.5 O/U 51
BUF
Bills
Sun 1/24, 11:40 PM
KC
Chiefs
KC -3 O/U 54
CFB Playoff Action Report: Sharp Bettors Backing The Buckeyes
A look into PointsBet USA's pro and public betting data
By Vikas Chokshi - Dec 30, 2020, 9:19pm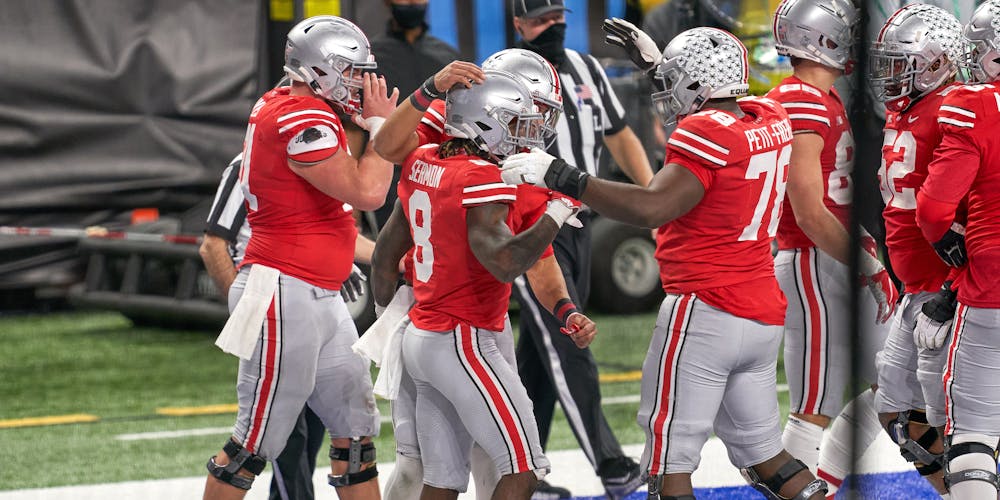 It's the most wonderful time of the year for College Football fans and bettors alike as the College Football Playoff (CFP) is finally here. Alabama earned the top seed and opened as monster favorites against No. 4 Notre Dame, while No. 2 Clemson and No. 3 Ohio State will match up in the second of the Jan. 1 semifinals.
The four teams in the CFP have accounted for 61% of the berths in the seven-year history of the event. Alabama, Clemson and Ohio State represent five of the six championships won in the CFP era, and Notre Dame is playing in its second playoff in three years.
Before you make your bets on the big games, it's worth knowing which sides are drawing sharp action.
To find out about the betting markets, we talked to Patrick Eichner, PointsBet USA's Director of Communications, to see how sharps and public bettors are playing the CFP.
Get all of BetQL's best bets for the Bowl season! Dating back a full calendar year, our five-star (max-value) bets have won 61% of the time!
Everyone is picking Alabama to win this game, and for a reason. They've been the best team in the country all season long, and it's hard to imagine things playing out any differently in the CFP against huge underdog Notre Dame.
The Crimson Tide is so loaded that they have two Heisman Trophy finalists in quarterback Mac Jones and receiver DeVonta Smith. 'Bama also has a stud running back in Najee Harris. With all those weapons, it's no wonder this team averaged 49.7 points per game this season. In fact, Alabama never failed to score fewer than 38 points in any game this year.
Notre Dame is led by their Quarterback Ian Book, who has shined all season long. But, their best chance of covering will reside on the defensive side of the football, where the Fighting Irish rank ninth nationally in SP+, per Football Outsiders. Notre Dame's D was able to slow down a potent North Carolina offense earlier this season, shutting out the Heels completely in the second half.
Play DFS? Be sure to get a 3-day free trial on RotoQL to check out our projections!
"As you can imagine, bettors are pretty heavy on Alabama. We're seeing 66% of the tickets and 80% of the money on the Crimson Tide," Eichner says. "And, moneyline even more so, as the majority are on 'Bama. In fact, people are moneyline parlaying both Alabama and Clemson to win."
As for the total, Eichner says they have nothing but over action in this one. "We have close to 90% on the tickets and 95% of the handle backing the over. Not much of a surprise, as we've seen that from Alabama all season long."
It isn't just the public who is pounding Alabama. PointsBet did see some sharp action come in early on the Crimson Tide. "We saw some sharp nibbles on 'Bama, as some people didn't think the initial line was high enough," per Eichner. "We opened at 19.5, held tight for a while, then moved the line to 20."
The Tigers and Buckeyes will square off in a CFP semifinal for the second time in as many years and the third time in the seven-year history of the playoff. And, if this game turns out to be anything like last year's where Clemson pulled out a 29-23 victory, we'll be in for a good one.
We came into the season with Clemson's Trevor Lawrence and Ohio State's Justin Fields as your two Heisman favorites, and for the most part, both players delivered. Only Lawrence finished as a Heisman finalist, with Fields playing just 6 games because of COVID issues.
The key to this game will be pressuring the quarterback. Ohio State has a strong pass rush, and if they can get to Lawrence, that can help level the playing field against the future NFL No. 1 pick. On the other side of the ball, you know Clemson is going to try to bring pressure against Fields. Per PFF, the OSU QB ranks just 85th out of 108 qualified FBS quarterbacks when pressured.
As for where the money is going?
"We're seeing more two-way action on the Clemson-Ohio State game," Eichner said. "While the bet count is 70% backing the Tigers, the handle is actually close to a 50-50 split."
Could Clemson-OSU be setting up to be a classic Pros vs. Joes type of matchup? Eicher thinks so.
"Definitely. The public is on the Tigers, but the heavier money is backing the Buckeyes as of now."