BetQL's NCAA Football Model Was All Over This Week 2 Upset
San Diego State ruined UCLA's home opener on Saturday
By Matt Reed - Sep 10, 2019, 7:01pm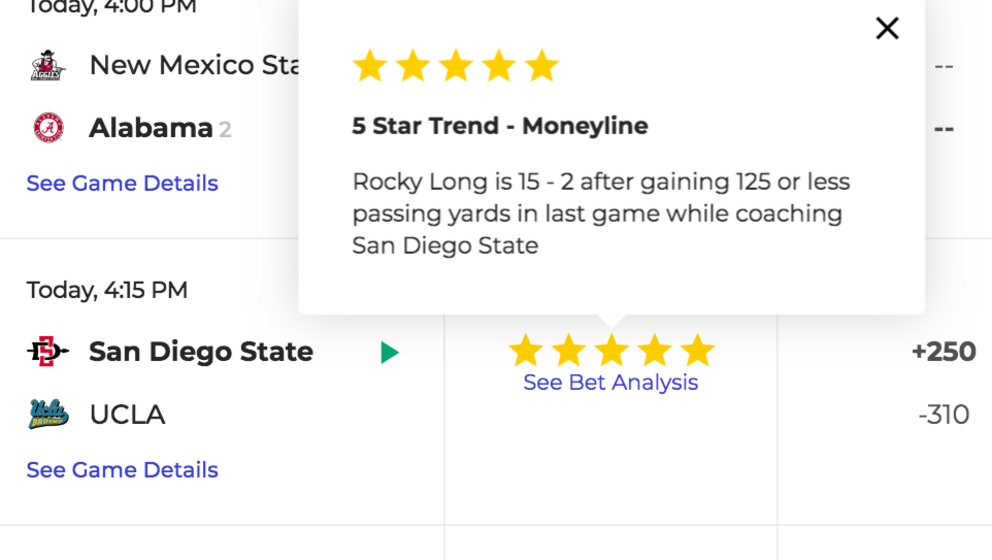 San Diego State at UCLA
Saturday, September 7
Consensus Odds: San Diego State (+250), UCLA (-310)
BetQL Rating: ★★★★★ (San Diego State +250)
Outcome: San Diego State won 23-14
Situation Before Kickoff
UCLA went through its share of struggles in 2018, but the Bruins were expected to take a step forward this season under Chip Kelly. After losing their first five games last season and finishing 3-9, the Bruins entered this game coming off a disappointing loss to Cincinnati in Week 1, where they only scored 14 points against the Bearcats. As 7.5-point underdogs, the Aztecs came to the Rose Bowl with few expectations. 
The Aztecs finished 7-6 last season, but lost their final four games of the season. After an underwhelming performance in Week 1, a 6-0 win over Weber State, UCLA was backed by 61 percent of tickets written and 69 percent of the total money wagered. 
Premium users have full access to our Public Betting dashboard, where all of this information is available for every D-I game.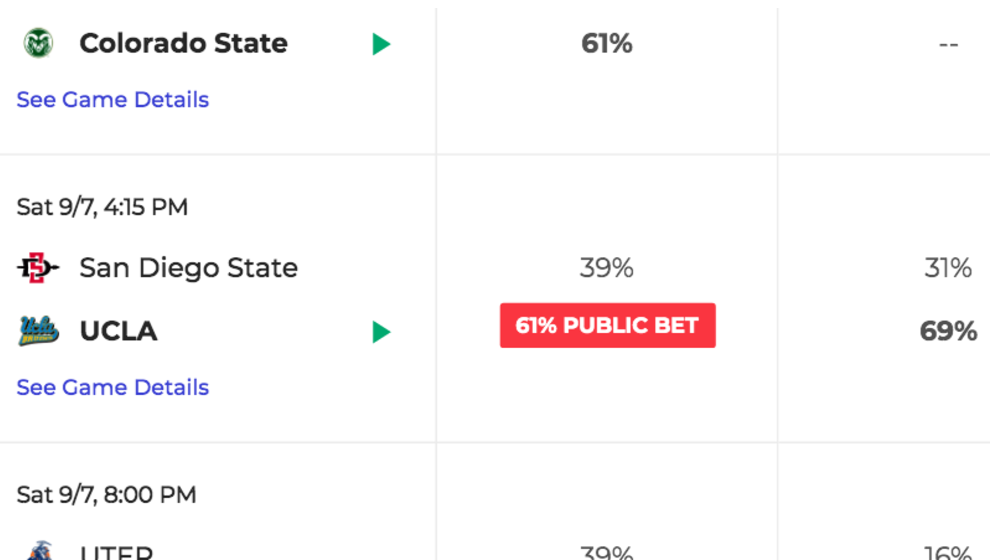 Game Recap
UCLA's early-season woes continued against San Diego State, who jumped out to a 10-7 lead after the first quarter. The Aztecs held that same lead going into the halftime break, and Chip Kelly's Bruins had no response for the Aztecs. San Diego State quarterback Ryan Agnew was efficient throughout the game, completing 23 of his 31 attempts and throwing for 293 yards, as well as a touchdown.
The Bruins lost control of the game early in the second half when quarterback Dorian Thompson-Robinson was stripped of the ball, leading to an Aztecs recovery. Agnew then launched a deep pass to Kobe Smith for a touchdown on the next drive, putting San Diego State ahead by 14 points. The visitors tacked on two more field goals for good measure, handing UCLA its second-straight loss to open the 2019 campaign. 
The BetQL Difference
Despite the public support for the Bruins, BetQL's NCAA Football Model successfully predicted the upset. The Aztecs were a five-star BetQL Moneyline Bet, and our premium users knew all along. 
Who will be the San Diego State of Week 3? Let us help you figure that out. View this week's Best Bets!