BetQL's NCAA Football Model Recap: Week 5
The model hit a number of four and five star bets on Saturday
By Roberto Arguello - Sep 29, 2019, 11:37pm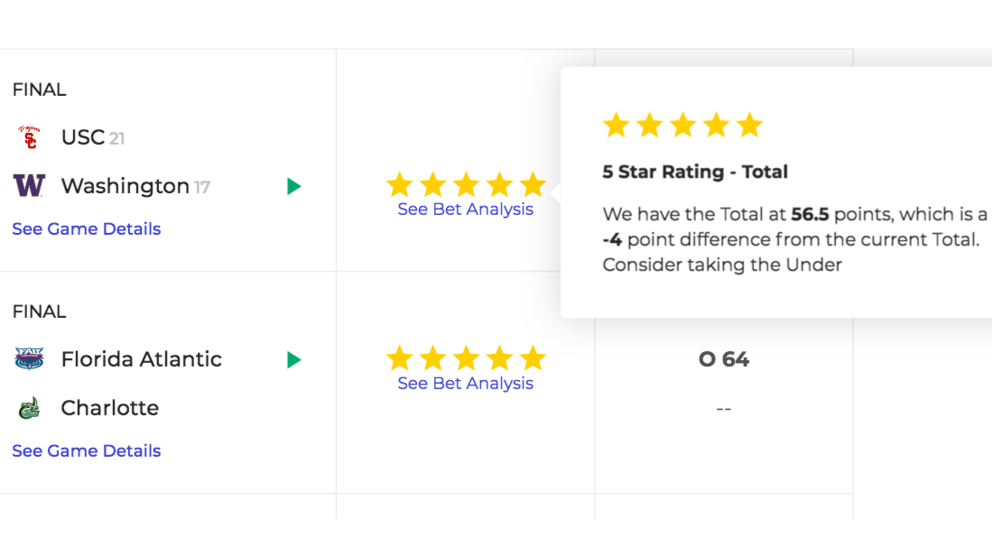 #21 USC at #17 Washington
Saturday, September 28
BetQL Rating: ★★★★★ Under 60.5 Point Total
Outcome: Washington won 28-14
After pulling a 30-23 upset at home over Utah last week, the Trojans traveled to Seattle with momentum. USC had just defeated one of the best defenses in the Pac-12 with their third-string quarterback, Matt Fink, but his success last week did not translate against Washington as he threw three interceptions (two of which were inside the Washington 30 yard line). 
Although Washington only had one sack on Fink, they forced three interceptions and only allowed him to throw for 163 yards. Husky quarterback Jacob Eason only threw for 180 yards himself and no touchdowns, but running back Salvon Ahmed led the way for the Washington offense with 153 rushing yards and a touchdown while averaging nine yards per carry. The offenses both struggled and amassed 42 total points, well below the 60.5 consensus total, just like BetQL's NCAA Football Model predicted.
Florida Atlantic at Charlotte
Saturday, September 28
BetQL Rating: ★★★★★ Over 64 Point Total
Outcome: FAU won 45-27
Quarterback Chris Robison led the way for the Florida Atlantic Owls in their 45-27 victory over Charlotte, going 20-for-27 for 312 passing yards and two touchdowns. The Owls also added 236 rushing yards on 4.6 yards per carry from a committee of running backs on their way to their first Conference USA game of the season.
After losing 52-10 at Clemson last week, Charlotte struggled to rush the ball again this week with just 52 yards on the ground on 27 carries. Quarterback Chris Reynolds had three touchdowns and 208 yards passing but also threw two interceptions. The 49ers allowed three Owl sacks and eight tackles for loss. The two teams accounted for 72 points, well above the consensus total. BetQL's model won another five-star bet!
BetQL's NCAA Football Model went 12-10-1 on ★★★★★ Week 5 bets (3.95 avg return). Access all Week 6 picks!
Buffalo at Miami (OH)
Saturday, September 28
BetQL Rating: ★★★★★ Over 47.5 Point Total
Outcome: Miami (OH) won 34-20
This matchup managed to hit the over despite poor quarterback play on both sides. Miami's Brett Gabbert completed just 8-of-17 passes for 120 yards while Buffalo's Matt Myers completed just 4-of-16 passes for 59 yards and two interceptions. 
Miami scored 31 straight points in the second and third quarters behind running back Jaylon Bester's 104 yards on the ground. Both he and Gabbert had rushing touchdowns. Buffalo's rushing attack kept them in the game and helped hit the over as their top two running backs, Jaret Patterson and Kevin Marks, combined for 284 rushing yards and two touchdowns. 
Nonetheless, BetQL's model chalked up another victory!
Wake Forest at Boston College
Saturday, September 28
BetQL Rating: ★★★★ BC +5
Outcome: Wake Forest won 27-24
Wake Forest won its fifth game in a row to start their season and their first ACC win with a 27-24 win over Boston College. Junior Quarterback Jamie Newman led the way for the Demon Deacons with 243 yards passing, two touchdowns, one interception and 102 yards rushing. 
After getting embarrassed in a home loss against Kansas two weeks ago, Boston College put up a respectable effort in the loss this week. Running back AJ Dillon rushed for 6.9 yards per carry and 159 yards in total. Quarterback Anthony Brown threw for 265 yards and two touchdowns but also two interceptions. As predicted by BetQL's model, this game stayed close and although Wake Forest won the game, they failed to cover.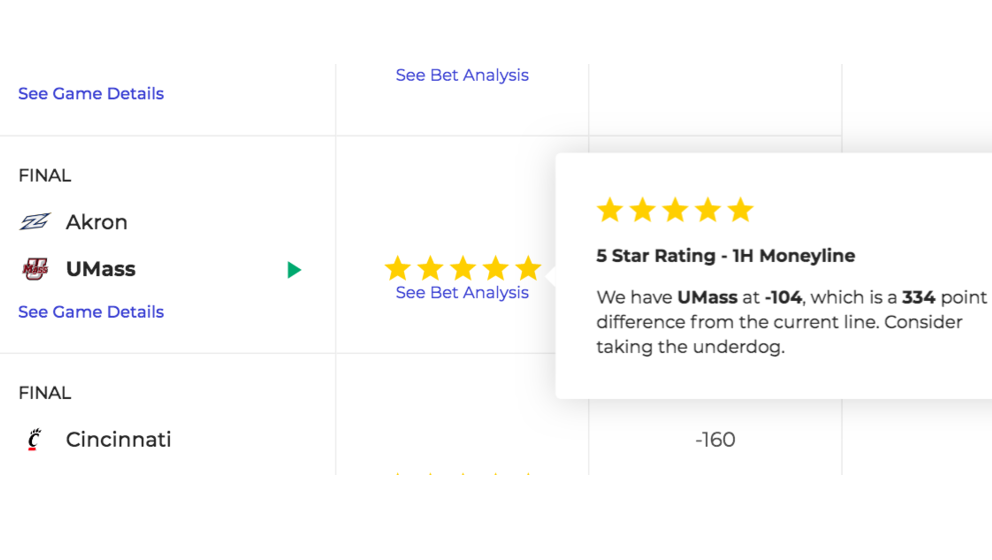 Akron at UMass
Saturday, September 28
BetQL Rating: ★★★★★ UMass +9
★★★★★ UMass 1H Moneyline 
Outcome: UMass won 37-29, led 20-14 at halftime
After falling behind 7-0, UMass scored 17 unanswered points to take a 17-7 lead halfway through the second quarter. UMass led 20-14 at the half and went up as many as twenty points before winning the 37-29. Our model had UMass +9 and the first-half Minutemen moneyline as five-star bets and both hit. 
UMass won this battle of previously winless teams behind quarterback Michael Curtis who had 173 passing yards, 69 rushing yards and three total touchdowns. The Minutemen had 220 yards rushing and averaged 5.2 yards per rush while giving up just 2.6 yards per carry to the winless Akron Zips.
Houston at North Texas
Saturday, September 28
BetQL Rating: ★★★★★ Over 59.5
Outcome: Houston won 46-25
After star quarterback D'Eriq King announced he would redshirt the rest of this season earlier this week, Houston bounced back from a disappointing loss at Tulane with an impressive 46-25 win at North Texas. Quarterback Clayton Tune impressed as he completed 16-of-20 pass attempts for 124 yards and a touchdown. He also had nine rushing attempts for 100 yards, including a 55-yard rush in King's absence. 
North Texas struggled defensively to stop any aspect of the Houston offense. Cougars running back Patrick Carr had a big day with 139 rushing yards (8.7 yards per carry) with three touchdowns. North Texas quarterback Mason Fine completed 35-of-55 passes for 353 yards but couldn't keep up with Houston. 
East Carolina at Old Dominion
Saturday, September 28
BetQL Rating: ★★★★ East Carolina +3
Outcome: East Carolina won 24-21
East Carolina took a 17-3 lead into halftime, but the Pirates escaped Old Dominion with a 24-21 win after the Monarchs made it interesting in the second half. East Carolina took a 10-3 lead after Warren Saba blocked a Bailey Cate punt and recovered the football for a four-yard touchdown. Holton Ahlers led the Pirates with two touchdown passes despite also throwing two interceptions. 
After beating FCS Norfolk State in Week 1, Old Dominion is winless in three games since then against FBS opponents. After losing this week to start their Conference USA season, the Old Dominion Monarchs will look to get back on track next week when they host Western Kentucky who is 2-0 in conference play.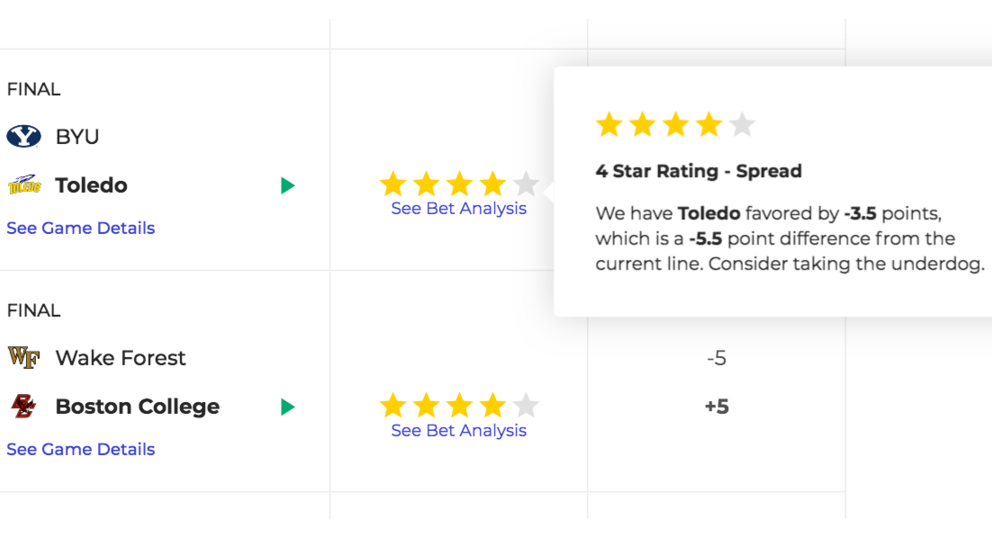 BYU at Toledo
Saturday, September 28
BetQL Rating: ★★★★ Toledo +2
★★★★ Toledo Moneyline 
Outcome: Toledo won 28-21
Toledo outscored BYU 14-0 in the fourth quarter to pull off the 28-21 upset at home.  Kahlil Robinson intercepted BYU quarterback Zack Wilson with less than a minute to play and set up the Toledo offense inside the BYU five yard line after a 40 yard interception return. Shakif Seymour's touchdown run cinched the comeback for the Rockets as they advanced to 3-1 on the season and 2-0 at home.
After pulling their own upsets against Tennessee and USC in weeks two and three, BYU has now lost back-to-back games. The Cougars were steamrolled 45-19 last week at home against Washington before being upset this week. They will look to get back on track after a bye this week at South Florida on October 12. 
BetQL's NCAA Football Model lists many★★★★ and ★★★★★ bets this week. Find out who the model likes!
Louisiana-Lafayette at Georgia Southern 
Saturday, September 28
BetQL Rating: ★★★★ ULL -3
Outcome: ULL won 37-24
The Ragin' Cajuns advanced to 4-1 on the season with a 37-24 road win over Georgia Southern on Saturday. Running backs Trey Ragas and Elijah Mitchell combined to rush for 212 yards and scored two touchdowns apiece. Quarterback Levi Lewis only threw for 165 yards, but completed 11-of-18 passes with a touchdown and no interceptions.
After nearly upsetting Minnesota on the road before their bye week, Georgia Southern was outscored 13-3 in the fourth quarter of its Sun Belt Conference opener. This was also Louisiana's Sun Belt opener and its first win in a conference opener since 2016.
Stanford at Oregon State
Saturday, September 28
BetQL Rating: ★★★★★ Over 55.5
Outcome: Stanford won 31-28
Coming into Corvallis, the Stanford defense had allowed opposing quarterbacks to complete 69-of-87 passes (79.3 percent) for ten touchdown passes and zero interceptions over the Cardinal's three game losing streak. Stanford shut out Oregon State in the first half and led 14-0 at intermission, but the Beavers offense finally started to execute after missing on several early opportunities and tied the game at 28 with fewer than two minutes to play.
Stanford's backup quarterback and former five star recruit, Davis Mills, led the Cardinal on a seven play, 29 yard drive after a 43 yard Connor Wedington kickoff return gave Stanford good field position. Hawaiian kicker Jet Toner split the uprights on the game-winning 39-yard field goal with one second remaining. Stanford won their first Pac-12 game and has now won ten in a row against Oregon State.