NCAAF
Avoid Betting On These Three 2020 Heisman Options
These guys have upside, but they're longshots for a reason
By Bryan Zarpentine - Feb 19, 2020, 5:09am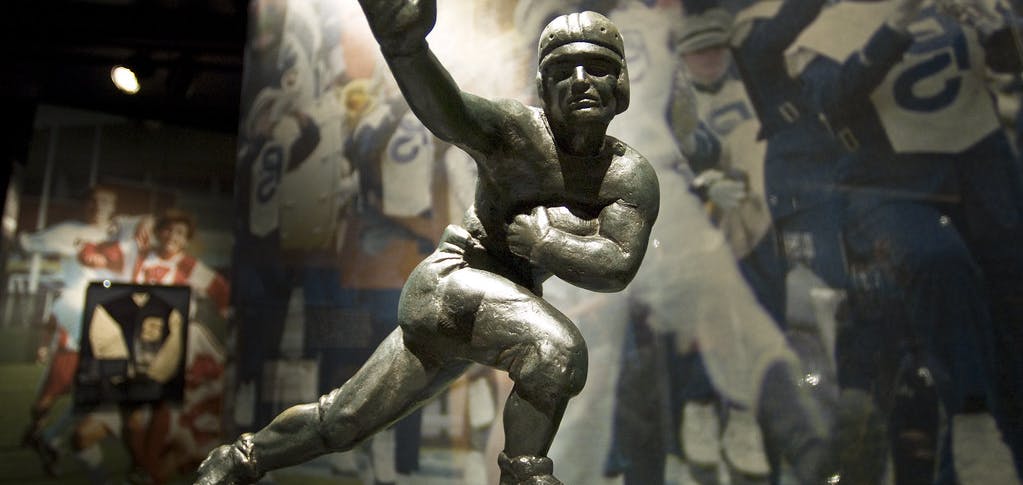 When it comes to betting on the Heisman Trophy winner in college football, there's usually value in finding a preseason dark horse. Players with rather long odds offer a massive payout if they end up winning. Plus, the pre-season Heisman favorites rarely live up to the billing. Just look at last year with Joe Burrow, who wasn't on anybody's radar as a serious Heisman candidate before the season. Of course, that doesn't mean you can just put your money on anybody. Here are a few players that you might think are viable dark horses to win the Heisman but who you should avoid.
Najee Harris, Alabama (+5000)
In theory, an Alabama running back isn't a bad bet to win the Heisman. Both Mark Ingram and Derrick Henry have won the Heisman as the lead back for the Crimson Tide. In fact, Ingram and Henry are the only two non-quarterbacks to win the Heisman since Reggie Bush's vacated win in 2005. Harris is also coming off a season in which he ran for over 1,200 yards and 13 touchdowns. With Alabama turning to an inexperienced quarterback in Mac Jones, Harris is no doubt poised for a big season.
However, that doesn't make him a good candidate for the Heisman. Even if running backs had a fair shot to win the Heisman, which they don't nowadays, Clemson's Travis Etienne and Oklahoma State's Chuba Hubbard are head and shoulders above Harris in the running back hierarchy. Plus, Harris has to watch his back with rising sophomore Keilan Robinson likely to take carries away from him next season.
Tanner Morgan, Minnesota (+6600)
The Minnesota Golden Gophers were one of the biggest stories in college football in 2019. Quarterback Tanner Morgan was a big reason why. He more or less came out of nowhere to have a monster season, throwing for over 3,200 yards and 30 touchdowns while limiting himself to just seven interceptions. Now that he's got some name recognition, Morgan is ready to become a serious Heisman contender, right?
Well, not so fast, my friend. While Morgan has a chance to be one of the better quarterbacks in the Big Ten, he's not going to put up Heisman-worthy numbers. Minnesota head coach P.J. Fleck has always put great emphasis on the running game, which isn't going to change. Fleck will enjoy knowing that he has a quarterback he trusts and can make plays, but the Gophers figure to run the ball at least 60% of the time next year. Morgan won't have enough opportunities to impress Heisman voters week after week. He's also losing top wide receiver Tyler Johnson, leaving Minnesota with a group of unheralded and unproven receivers outside of Rashod Bateman. That just doesn't add up to a Heisman campaign for Morgan.
Sean Clifford, Penn State (+8000)
Clifford is another Big Ten quarterback who could play his way into the Heisman race in 2020. He was an unknown commodity last year after serving as Trace McSorley's backup in 2018. But he put himself on the map after throwing 23 touchdowns to just seven interceptions while leading the Nittany Lions to an 11-2 record. Clifford is also a crafty runner who had over 400 rushing yards and five touchdowns on the ground, which will certainly help him draw the attention of Heisman voters.
However, lost in the shuffle of all of his attributes was Clifford's issues with accuracy. He completed less than 60% of his passes in 2019 and it's doubtful he'll make a significant improvement in that area next season. Moreover, Clifford struggled in big games, throwing three picks in a loss to Minnesota and managing just 71 passing yards against Ohio State. He wasn't even that good in Penn State's bowl win over Memphis when the Nittany Lions ran their way to victory. Penn State isn't likely to get over the roadblock that is Ohio State, meaning Clifford isn't going to get a signature "Heisman moment" that will allow him to win the award.
While it seems like there's obvious upside with all three players above, it'd be smart to avoid wasting your hard-earned money betting on them to win the highest individual honor in college football.
Click the button below for a risk-free bet up to $500 and head over to FanDuel to make some early 2020 Heisman bets!