Saturday's Army/Navy Game Features The Nation's Top Two Rushing Offenses
The nation's top two rushing offenses collide in one of the most storied sports rivalries
By Dan Karpuc - Dec 11, 2019, 5:36pm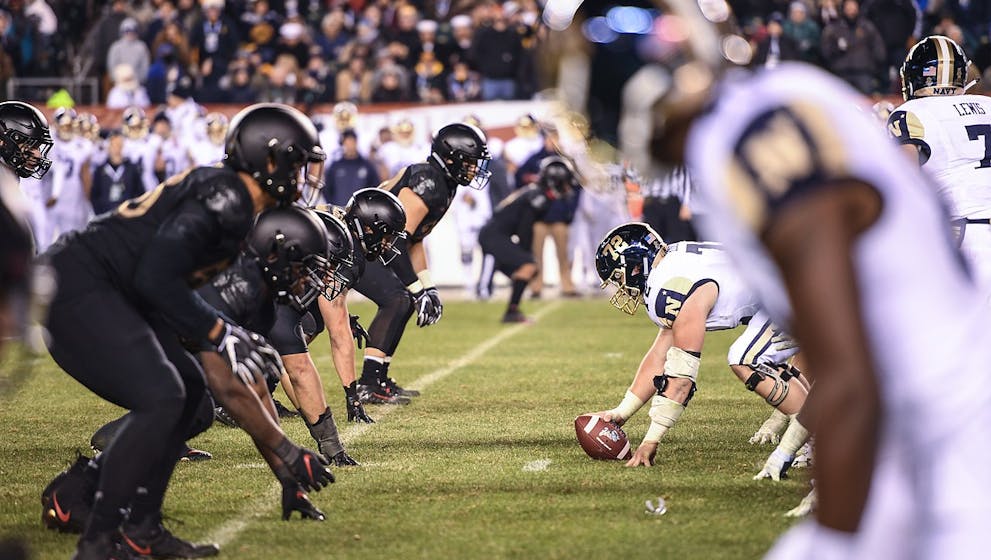 Army (5-7) vs. #21 Navy (9-2)
NAVY -10.5, O/U 40.5, Saturday December 14th, 3:00pm EST
This will be the 117th football meeting between Army and Navy. The Midshipmen own a 60-49-7 record in the rivalry. This year's contest will be played at Lincoln Financial Field, the home of the Philadelphia Eagles. Last year, Army beat Navy by the score of 17-10, improving to 10-2 on the year while Navy fell to 3-10. The teams are in opposite positions this season heading into the big game. 
Army (5-7) has gone 5-7 ATS and the over has gone 5-6-1 in their games. They're coming off a 52-31 loss to Hawaii and have lost six of their last eight games overall (3-5 ATS in that span). The over has gone 5-6 in their contests.
#21 Navy (9-2) is coming off a 56-41 victory at Houston, has gone 8-3 ATS and the over has gone 7-4 in their contests. They've won six of their last eight games overall (6-2 ATS in that span). The over has gone 7-4 in their contests.
BetQL's NCAA Football Model lists a bet bet against the spread, on the moneyline and on the total of this game. Keep reading to find out what they are!
Army
Regardless of the game script, one thing is for certain: Army is going to run their old-school, flexbone triple-option offense. The Black Knights have attempted a total of 120 passes this season and rushed the ball 696 times. Further, they've scored six passing touchdowns and an incredible 44 rushing scores (2nd in the FBS) while six different players have over 372 rushing yards and 13 have scored a rushing touchdown. The triple-option presents numerous difficulties for opposing defenses, and despite their disappointing record coming off a solid 2018 campaign, it'll be a threat once again in this matchup. As a team, they've amassed 3,740 rushing yards on 5.4 yards per carry. That team rushing yardage mark ranks second in the FBS, and you'll never guess what team ranks ahead of them...
DraftKings is offering a special promotion for BetQL users. Claim it!
It's worth mentioning that six of Army's seven losses were by single digits (with the lone exception of last week's blowout loss in Hawaii). The Black Knights took Michigan to double-overtime earlier in the season and have been firmly in the mix in every game on their schedule. Army is also 8-3 in their last 11 games played on a grass field. (Lincoln Financial Field is a grass surface.) Therefore, their win-loss record might not be a true barometer of their talent of the threat that they are.
Navy
Like Army, Navy runs their own triple-option offense, and they've done so with even more productivity. Navy ranks first in the FBS in total rushing yards (3,969), has scored 48 rushing touchdowns (1st), and has averaged 5.98 rushing yards per attempt (5th). Quarterback Malcolm Perry has received some buzz as an NFL prospect and has dazzled, amassing 1,027 yards and six touchdowns through the air and 1,500 yards on 6.3 yards per carry with 19 rushing scores on the ground. He will likely be the best individual player on the field in this matchup. 
Get one free week of BetQL VIP access when you claim this MGM offer!
A differentiating factor in this contest might come on the defensive side of the ball. Navy ranks 19th in the FBS against the run, allowing just 109.7 yards per contest. Meanwhile, Army ranks 52nd, allowing 144.1. While neither team has faced a purely triple-option designed offense this season (thus questioning the overall relevance of those numbers), it's still something to note. Further, in their last 42 games coming directly off a contest in which they didn't commit a turnover, Navy has gone 31-11 SU. (They didn't have a turnover against Houston last week.) In their last 29 games directly following a contest in which 70 or more total points were scored, Navy has gone 23-6 SU. (A total of 97 points were scored in their last matchup.) Those trends suggest Navy is a solid moneyline bet in this matchup. Click below to find out whether our model agrees and if Army or Navy is the best bet ATS!
Prediction
Expect a ton of drama and some old-school, run-centric offensive playcalling from both sides in this storied rivalry game. BetQL's NCAA Football Model lists a bet bet against the spread, on the moneyline and on the total of this game. Click here to find out what they are!