BetQL's Model Listed Army As A Best Bet Vs. Michigan
The Black Knights were 22-point underdogs and ended up losing in overtime
By Matt Reed - Sep 8, 2019, 11:41pm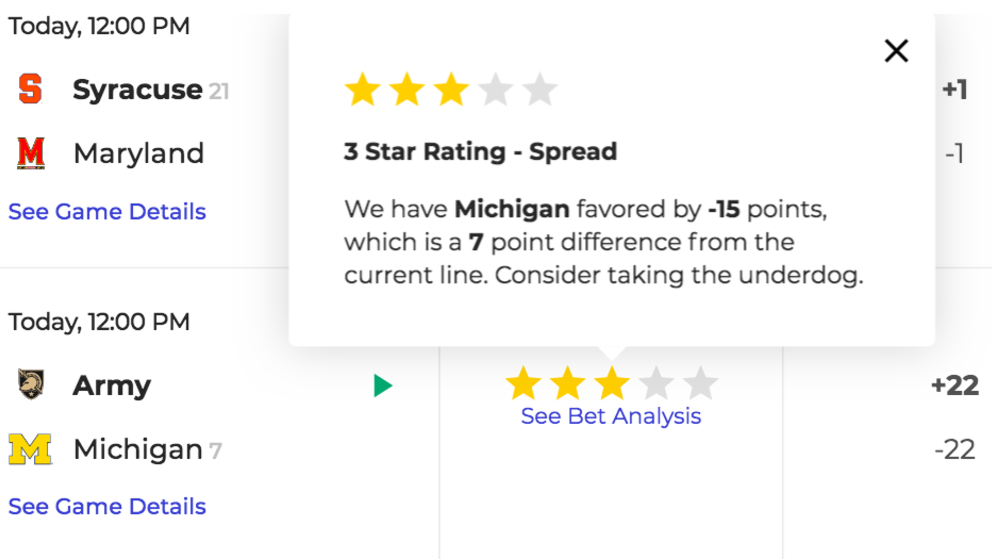 Army @ Michigan
September 7, 2019
Consensus: Army +22
BetQL Model: Army +15 (7-point difference)
BetQL Rating: ★★★  (Army)  
Final Score: 24-21 OT Michigan
Situation Before Kickoff
Michigan entered a matchup with Army as a heavy favorite after handling Middle Tennessee State in Week 1 in a 41-20 win. The Wolverines were a consensus -22 favorite against the spread vs Army and an overwhelming moneyline favorite at -1880. Many have had high hopes for the Wolverines this season as returning quarterback Shea Patterson has a new play-caller in offensive coordinator, Josh Gattis. Gattis has been well thought of and viewed as the man to get the Michigan offense into the modern era, something head coach Jim Harbaugh has struggled with.
Army entered this clash with Michigan after a 14-7 home opening win over Rice, in which they only allowed 243 yards of offense. Dating back to last season, that was the sixth straight game in which Army's defense had allowed 14 or fewer points. The Army program finished 11-2 in 2018 and finished 19th in the Associated Press poll. In a game that Army likely had circled all summer, it felt a bit curious as to why Michigan would be laying more than three scores against such a stout defense. 
Game Recap
Army was first to get on the board in the first quarter, jumping out to a 7-0 lead. The drive that resulted in the score was only Army's second possession of the game and it lasted 10 plays and nearly six minutes of game time. Army's triple option attack under head coach Jeff Monken allowed the Black Knights to control the time of possession throughout the game and keep Michigan's offense on the sideline. Even when the new-look Michigan offense took the field and scored, it took over 70 yards on 11 plays to tie the game at 7-7. It became evident to fans in the Big House that they would have their hands full on Saturday after Army proceeded to go 40 yards over 11 plays to go ahead 14-7 towards the end of the second quarter. In total, Army would rush the ball 61 times for 200 yards and control the time of possession to a tune of 31:35 to 28:25. 
Michigan didn't tie the game until late in the fourth quarter to send the game to overtime at a 14-14 tie. While Army would score first in overtime, Michigan was able to respond to send the game to a second overtime in which Michigan would convert on a field goal and Army finally ran out of gas on their final attempted drive resulting in a sack-created fumble. Army's game-plan nearly won the game outright. Pound the ball, control the clock and keep Patterson and Michigan's offense in front of them. 
BetQL Difference
With a consensus spread of +22, BetQL's model had the value on the right side as a 3-star model rating. Army didn't just cover the spread, they positioned themselves to win outright. The Black Knights were quite literally one final play away from pulling off the upset. Get access to all Week 3 college football Best Bets!