4-Star Bet Iowa Takes Care Of Rutgers In Week 2
The Hawkeyes took care of business and covered the 18-point spread
By Matt Reed - Sep 10, 2019, 6:55pm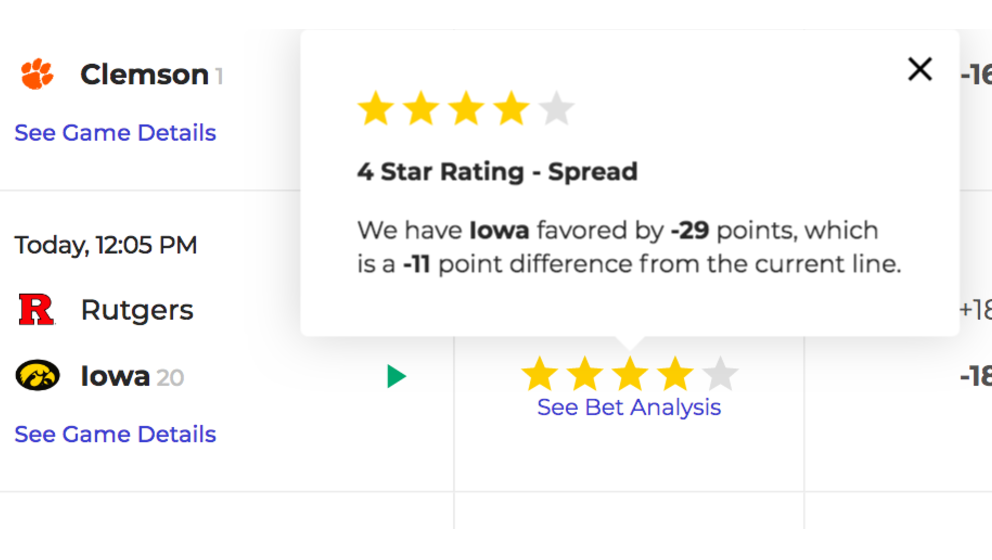 Rutgers at Iowa 
Saturday, September 7
Consensus Odds: Rutgers +18, Iowa -18
BetQL Rating: ★★★★ (Iowa)
Outcome: Iowa won 30-0
Situation Before Kickoff
Iowa entered 2019 coming off a nine-win campaign, and the Hawkeyes looked poised for another big season after being ranked inside the top 25 nationally. The Hawkeyes routed Miami (Ohio) at Kinnick Stadium in Week 1, and were looking to keep up their momentum against a struggling Rutgers team. Head coach Kirk Ferentz and his Hawkeyes entered the game as 18-point favorites.
The Scarlet Knights earned a 48-21 win over Massachusetts in Week 1, however, Rutgers had a similar start in 2018 when they defeated Texas State in their season opener. Following last season's opening-day victory, Rutgers went winless the rest of the campaign, and finished 1-11.
Interestingly, just 55 percent of tickets were written on Iowa, while 45 percent of the money was wagered on them. The public must have read too much into Rutgers' opening-week victory or thought the spread was too large.
Premium members have full access to our Public Betting Dashboard.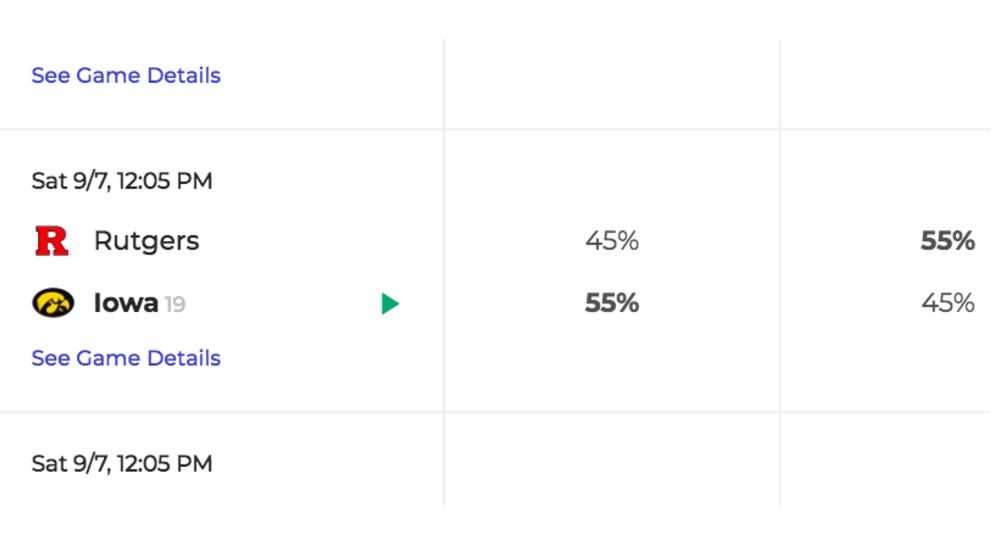 Game Recap
For the Hawkeyes, this game was won almost immediately. Iowa quarterback Nathan Stanley threw for over 200 yards and three touchdowns, while the Hawkeyes added over 170 yards on the ground. Through two games, the Hawkeyes have allowed just 14 points (seven points per game). Against Rutgers, Iowa forced 10 punts, two interceptions and a fumble recovery en route to victory.
Scarlet Knights punter Adam Korsak was by far the most active player for the visitors on the day, as he was tasked with punting the ball away on 10 separate drives. Rutgers has struggled mightily in their Big Ten tenure and that trend continued on Saturday against Iowa. The Hawkeyes held the Scarlet Knights to under 150 total yards, including just 41 passing yards between quarterbacks McLane Carter and Artur Sitkowski.
The BetQL Difference
BetQL's model labeled the Hawkeyes as 29-point favorites against a weak Rutgers squad. The Hawkeyes were never in danger of losing this game, and dominated the Scarlet Knights from start to finish, easily covering the 18-point spread. 
BetQL Premium members have access to these types of Best Bets every week. Get in on the action!