2020 Sugar Bowl Preview: #5 Georgia vs. #8 Baylor
This should be one of the best bowl games of the season
By Brian Hunt - Dec 29, 2019, 8:13pm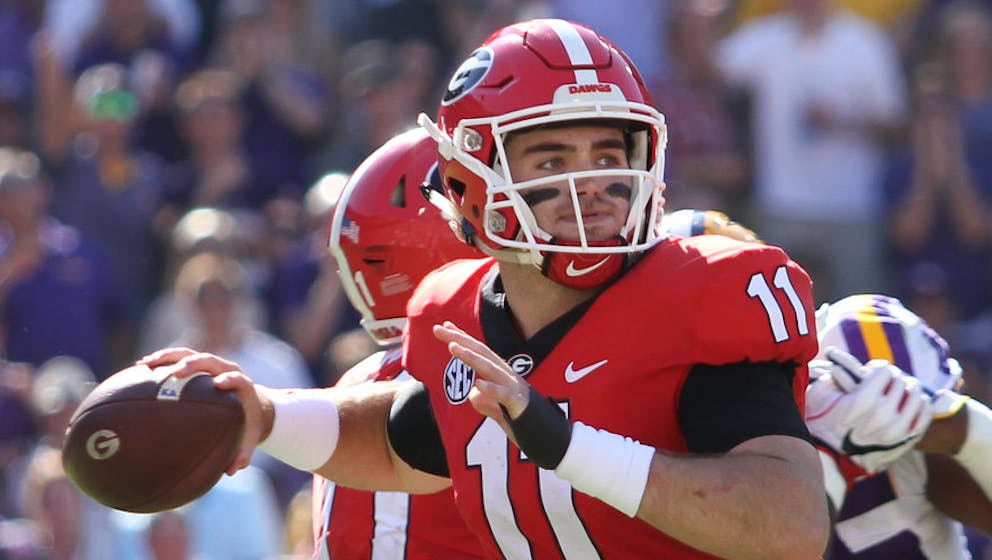 #8 Baylor (11-2) vs. #5 Georgia (11-2)
Wednesday 1/1, 8:45pm EST
VIEW LIVE ODDS, TRENDS AND SCHEDULE SUMMARY
The Sugar Bowl is one of the best college bowl games each year and this year we have a great game. The #8 Baylor Bears are taking on the #5 Georgia Bulldogs on 1/1 at 8:45pm. The Big 12 vs. The SEC is always a good formula for good football and crazy football fans.
The point spread currently sits at +/- 6 with Georgia as the favorite.
The Bears enter this matchup with the following records: 11-2 overall, 9-4 against the spread, 2-2 as the underdog (4-0 ATS).
The Bulldogs enter this matchup with the following records: 11-2 overall, 7-6 ATS, 11-1 as the favorite (7-5 ATS).
The over/under line is set at 41. Keep reading to see our full Baylor Georgia prediction below:
BAYLOR
The Baylor Bears are college football's Cinderella. From sitting at the front door of the death penalty to making it to the Sugar Bowl, this is really a testament to Matt Rhule's coaching ability. In 2019 Baylor did what they had to do and beat everyone on the schedule besides Oklahoma. Baylor lost to Oklahoma twice this year, once during the regular season and once in the Big 12 Championship. In both games Baylor lost by only one score. Other than that the Bears handled their Big 12 schedule and this is a team that is hard to knock right now. They haven't been tested too much this year and Georgia may be the second best team they. The point spread sitting only at +6 for Baylor shows how much respect they are getting from the books.
The Baylor offense is good, nothing spectacular but they get the job done. They lost their starting quarterback Charlie Brewer in the first half of the Big 12 Championship and they still forced the game to overtime. Baylor has done a good job running and passing the ball this year and overall is just a good football team. Brewer's status is important for this Sugar Bowl game. If they have Brewer you know for a fact that their offense will be clicking. If they don't, the Bears will still be competitive but expect that line to move.
Get one free week of BetQL VIP access when you claim this MGM offer!
The Baylor defense is just like their offense, they are consistent. Winning in the Big 12 means you need to stop team's passing attacks and Baylor has done that all year. Their secondary is good and they will really need to step up to beat Georgia. If Baylor is able to slow down Georgia's offense it is going to give them a really good chance to cover the spread, or even win the game.
Baylor hasn't been an underdog often this year but here they are getting 6 points in the Sugar Bowl. Although Baylor is 2-2 straight up as the underdog, they have done a great job of keeping those games close and they are 4-0 against the spread. This game may unfold similar to their two matchups against Oklahoma where Baylor is the underdog but is good enough to keep it close, and more importantly cover the spread. Baylor is a team you don't want to be giving points to.
GEORGIA
Georgia football does what Georgia football does they build up all their fans and then they let them down. Luckily for Bulldog fans Georgia got that out of the way early this year. Georgia has looked really good at times but also nothing too impressive this season. Dropping a game to South Carolina in September was the real low point and beating Florida in the largest cocktail party in the world was probably the high point. Georgia showed their true colors in their last game of the year against LSU where they got run out of the building 10-37. Georgia is a good football team which is why they are the favorite here, but they haven't done a great job covering spreads and we are sure if they will in this game. Keep reading this Georgia Baylor prediction to see who we recommend betting.
Georgia's offense is good but they haven't really been able to push it over the edge this season. The Bulldogs have only averaged 28 points per game this season, which is impressive, but not for an SEC powerhouse. They have been good with running the ball and bullying teams, but it is surprising they haven't been able to dominate in the air. Jake Fromm was supposed to be the next big thing but it just hasn't happened yet. The Bulldogs may finally be able to open it up in the Sugar Bowl, but their low scoring makes that Baylor line look a little more juicy.
Wondering if expert bettors are leaning towards Georgia or Baylor? Find out now!
The Bulldog defense is TOUGH. They only allow an average of 12 points per game which ranks them #2nd overall. They rank 4th in yards against, 3rd in rushing yards per game, and 19th in passing yards per game. That is terrifying. This is an SEC East team that plays very legitimate teams week in and week out. Baylor plays in the Big 12 where defense isn't exactly the highest priority. Facing an elite defense may be a bit of a shock for the Bears. The Bulldogs defense is the reason they are playing in the Sugar Bowl, and if they play well enough it will be the reason they are hoisting the Sugar Bowl trophy.
Georgia wins a lot as the favorite but do they cover? The Bulldogs are 7-5 against the spread as the favorite. They have covered a lot of big spreads against lesser schools but the comparable lines they faced this year were when they covered against Florida (-6.5) and Auburn (-3). The Baylor offense is up there with Florida and Auburn and both those teams got shut down by Georgia's defense. Can they do it one more time when it matters most?
Prediction
We are hoping this Sugar Bowl is a classic. Baylor has played in two of the more exciting college football games this season and we hope they spark this Georgia team to play an exciting game. Georgia isn't the most fun team to watch because their defense is just so smothering. Big 12 teams are so much fun to watch because they just don't care about defense too much. The Sugar Bowl is always so fun because it's two different philosophies going head to head. Baylor is going to put up a fight but who knows if they can really score the football. Georgia's defense is their calling card but will they be able to score enough to cover the spread? Subscribe to BetQL to see our full score prediction, our first half score, and see who our model recommends betting in this game.
Find out the best bets for this matchup and for every other bowl game!