2019 Pinstripe Bowl Preview: Michigan State vs. Wake Forest
Yankee Stadium will play host to this exciting Big Ten vs. ACC matchup
By Dan Karpuc - Dec 23, 2019, 8:17pm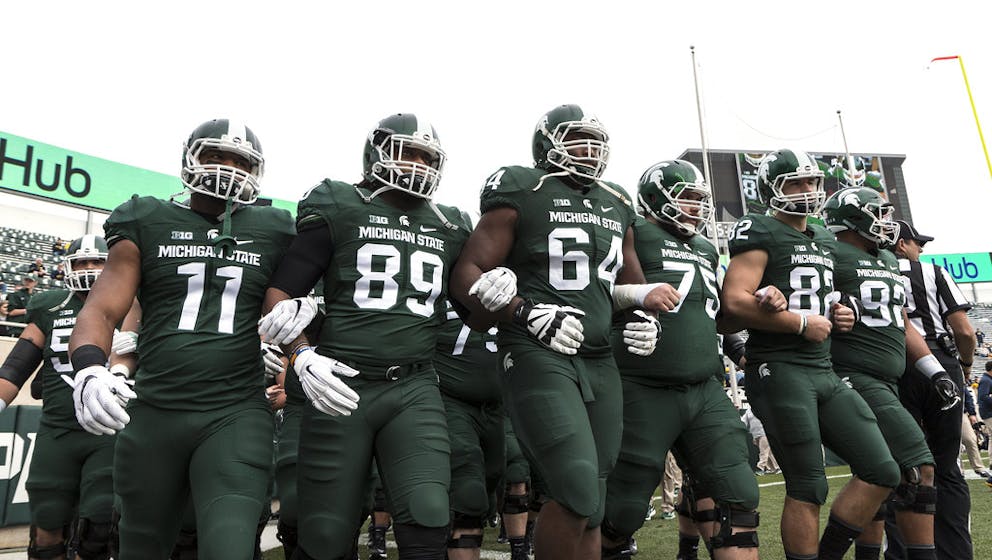 Michigan State (6-6) vs. Wake Forest (8-4)
MSU -3.5, O/U 50, Friday 12/27/19, 3:20pm EST
The Michigan State Spartans (6-6) will take on the Wake Forest Demon Deacons (8-4) in the Pinstripe Bowl at Yankee Stadium on Friday 12/27/19.
Michigan State got off to a 4-1 start to the season, but dropped five of their last seven games and went 1-6 ATS in that span.
On the season, the Spartans went 3-9 ATS and the over went 5-7 in their games.
Wake Forest got off to a 7-1 start (with their lone loss coming by three points to Louisville on 10/12), but then lost three of their last four contests (and went 1-3 ATS in that span). On the year, they went 5-6-1 ATS and the over went 5-7 in their games.
Michigan State is listed as slight favorites in this matchup and the over/under has hovered right around 50 points. Read our Michigan State/Wake Forest Pinstripe Bowl prediction below.
Michigan State
The Spartans rank 107th out of 130 FBS teams in scoring (22.0 points per game), but their defense performed at an above-average level all season long and ranks T-36th (22.7 points allowed per contest). However, Michigan State has one of the top rushing defenses in the NCAA. Despite facing Jonathan Taylor and J.K. Dobbins, the Spartans rank 15th against the run (108.6 yards allowed per game). Since Wake Forest is a run-heavy offense (105 more running plays than passing plays called) and average 3.9 yards per carry as a team, it could be tough sledding against a stout MSU front seven. Offensively, the Spartans will rely on senior quarterback Brian Lewerke (2,759 passing yards, 19 total touchdowns - 16 passing, 12 interceptions), freshman running back Elijah Collins (892 rushing yards, 4.4 YPC, five TD) and junior wideout Cody White (58 receptions, 825 yards, five touchdowns).
Get one free week of BetQL VIP access when you claim this MGM offer!
Wake Forest

The Demon Deacons rank 39th in scoring (32.8 points per game), but their defense ranks 79th (29.3 points allowed per contest). Their offense runs through junior dual-threat quarterback Jamie Newman, who amassed 2,693 passing yards, 556 rushing yards, 29 total touchdowns and 10 interceptions this year. Newman's ability to make an impact in the air and on the ground might create some issues for Michigan State's defense. Newman ran the ball a team-high 163 times this season and also led the team in rushing touchdowns (six). Sophomore Sage Surratt (66 catches, 1,001 receiving yards, 11 touchdowns) is one of the best receivers in the country while senior wideout Kendall Hinton (70 receptions, 953 yards, three touchdowns) has also been a reliable target, as has wideout Scottie Washington, who has seven touchdown catches on 35 total receptions (with 607 yards). Wake Forest has the clear advantage offensively, but Michigan State has the clear advantage defensively. It will be fascinating to see how this one plays out.
DraftKings is offering a special promotion for BetQL users. Claim it!

Prediction

As seen in our Michigan State/Wake Forest Pinstripe Bowl preview, it's tough to identify a clear advantage for either team. The Spartans went 1-5 SU against teams with winning records this season, but have gone 5-2 in their last seven bowl games. Which Michigan State team will show up in the Bronx?
In addition to our Michigan State/Wake Forest Pinstripe Bowl prediction, you can see more trends, updated odds, injuries and more on our game page.