2019 New Orleans Bowl Preview: Appalachian State vs. UAB
The Mountaineers are heavy favorites in this matchup
By Dan Karpuc - Dec 18, 2019, 5:14am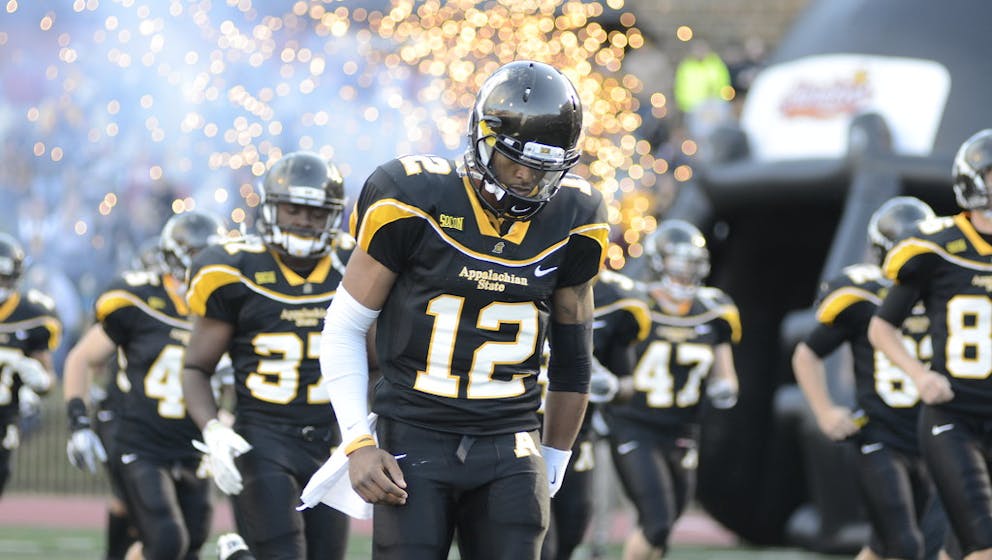 No. 20 Appalachian State (12-1) vs. UAB (9-4)
ASU -16.5, O/U 48, Saturday 12/21, 9:00pm EST
New Orleans Bowl VIEW GAME PAGE
The No. 20 Appalachian State Mountaineers (12-1) will take on the University of Alabama at Birmingham Blazers (9-4) in the New Orleans Bowl at the Mercedes-Benz Superdome on 12/21/19.
Appalachian State is listed as a large favorite in this contest, had an impressive regular season and repeated as Sun Belt Champions following their 45-38 victory over Louisiana-Lafayette. The Mountaineers' only loss came against Georgia Southern (24-21) back on Halloween.
UAB had a solid year as well, but were absolutely demolished by FAU in the Conference USA Championship (49-6). The over/under has hovered just under 50 points due to the elite nature of both defenses. On the season, UAB went 7-5 ATS while Appalachian State went 9-4 ATS.
Read our Appalachian State/UAB New Orleans Bowl prediction below.
Appalachian State
Appalachian State ranked 42nd out of 130 teams in the FBS in total yards (435.5 per game) and scored 62 touchdowns this season, averaging an impressive 39.4 points per contest (9th). Defensively, they also had a strong year, as evidenced by the fact that they ranked 27th in total defense (335.9 yards allowed per game) and 22nd in scoring defense (20.2 points allowed per contest). Junior quarterback Zac Thomas (2,576 passing yards, 26 touchdowns, five interceptions) and junior running back Darrynton Evans (1,323 rushing yards, 5.6 YPC, 22 total TD) will be the two studs to watch when the Mountaineers have the ball, and it's worth noting that five different players have four-plus touchdown receptions this year. Defensively, senior linebacker Jordan Fehr (96 tackles) and sophomore defensive back Shaun Jolly (five interceptions) have stood out. In all, Appalachian State has been a dominant team on both sides of the ball and is set up to continue their success into next season.
Get one free week of BetQL VIP access when you claim this MGM offer!
UAB
UAB ranked 105th in total yards (352.9 per game) and scored 34 touchdowns this season, averaging 23.6 points per contest (100th). Defensively, UAB ranked 9th in total defense (294.1 yards allowed per game) and 26th in scoring defense (20.8 points allowed per contest). Defensively, these two teams performed similarly, but the Blazers' offense did not create nearly as much firepower as Appalachian State's. UAB's quarterbacks combined to complete just 55.9 percent of their passes for 18 touchdowns and 19 interceptions and their run-heavy approach averaged 3.9 yards per carry as a team. While junior wideout Austin Watkins (933 receiving yards, five touchdowns) and senior receiver Kendall Parham (608 receiving yards, six touchdowns), both have big-play ability, as evidenced by the fact they've averaged 19.9 and 21.0 yards per catch respectively, the Blazers have not had a reliable passing attack all year. Defensively, junior linebacker Kristopher Moll (95 tackles, nine sacks, four forced fumbles) and sophomore linebacker Jordan Smith (10 sacks, four forced fumbles) have been nightmares for opposing offenses all season. Both will be expected to step up and create disruptions in the Appalachian State backfield. 
DraftKings is offering a special promotion for BetQL users. Claim it!
Prediction 
As seen in our Appalachian State/UAB New Orleans Bowl preview, it's tough to identify a clear advantage for either team against the spread. As such large favorites, can Appalachian State put up enough points to cover against a strong defense? Or will the Mountaineers repeat what FAU did to UAB last week?
Find out which team our model favors and whether the over or the under is the best bet!