TB
Buccaneers
Sun 1/24, 8:05 PM
GB
Packers
GB -3.5 O/U 51
BUF
Bills
Sun 1/24, 11:40 PM
KC
Chiefs
KC -3 O/U 54
How Luka Garza & No. 5 Iowa Will Get Revenge On Michigan State
The senior is 0-4 against the Spartans, but that should change on Thursday
By Dan Karpuc - Jan 12, 2021, 11:27pm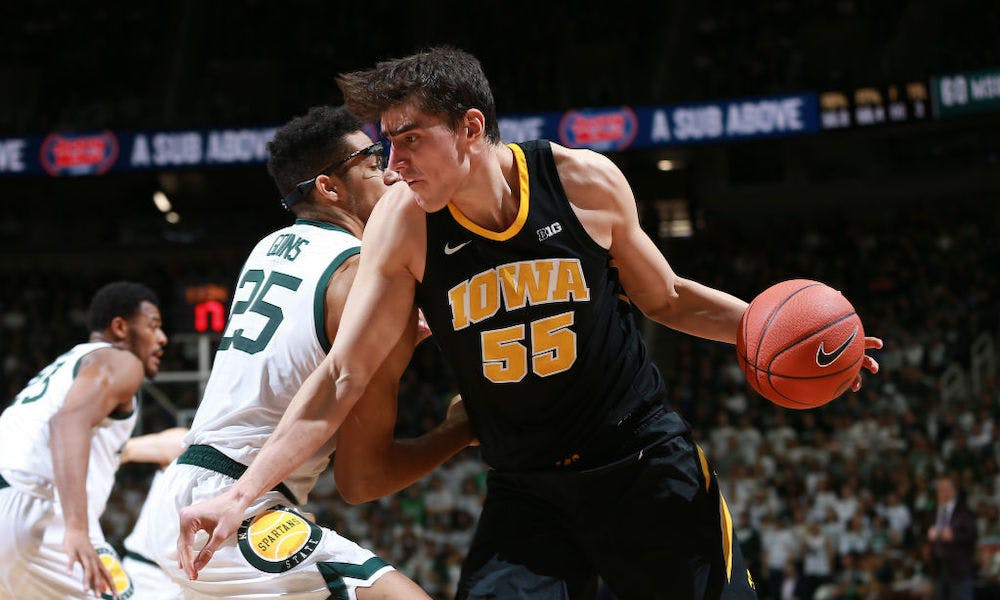 University of Iowa Basketball center Luka Garza (-500 on BetMGM) is the clear-cut favorite to win the 2020-2021 John R. Wooden Award.
For reference, Illinois guard Ayo Dosunmu has the second-best odds at +450.
Garza is averaging 27.6 points and 8.6 rebounds in 30.1 minutes per game for No. 5 Iowa (11-2).
The senior big man is shooting a blistering 62.7% from the field, including 48.9% from three-point range and has clearly been the most dominant player in college basketball.
Garza has gone 0-4 against Michigan State in his legendary Hawkeyes career, but that should change on Thursday. Keep reading to find out the top three keys to an Iowa victory against the Spartans (8-4).
BetMGM is letting you bet $1 to win $100 if Garza scores a single point in this matchup. Click the button below to redeem the offer now!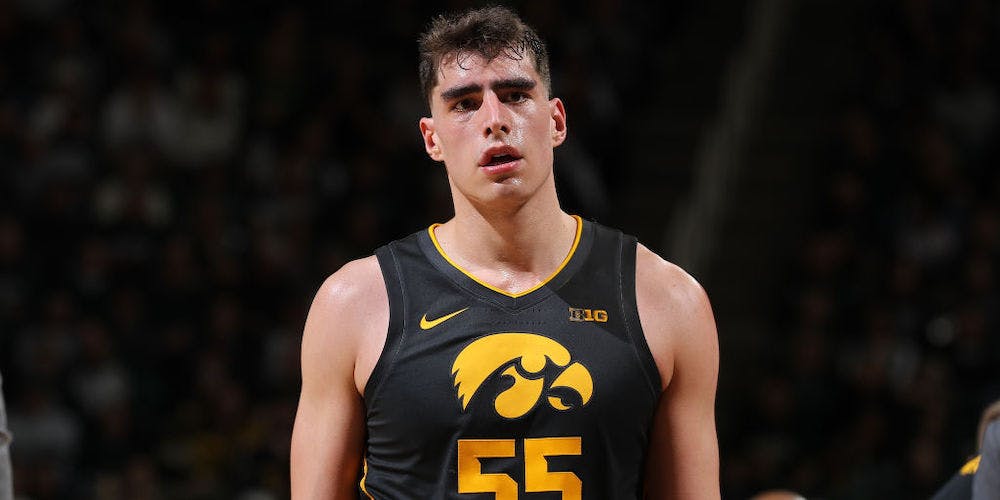 Key #3: Get Good Perimeter Looks
Here's how the Hawkeyes have shot from three-point range in their last three outings against Michigan State: 6-27 (22.2%) in last year's 78-70 loss, 5-24 (20.8%) in a 82-67 loss in January of 2019 and 6-22 (27.3%) in a 90-68 loss in December of 2018.
Not good.
Iowa ranks 13th out of 338 Division-I teams by averaging 10.5 made three-pointers per game this season and has hoisted up 26.6 per contest, which shows their commitment. Meanwhile, the Spartans have allowed their opponents to shoot 32.9% from deep, which ranks 179th, so it's clear that they're not an incredibly stingy team out on the perimeter and are just average in that regard.
It'll be important for Garza and his supporting cast to take advantage of good looks and for Fran McCaffery's offense to function at an efficient rate as it has all season long. The Hawkeyes rank 2nd in Division-I scoring at 91.9 points per game.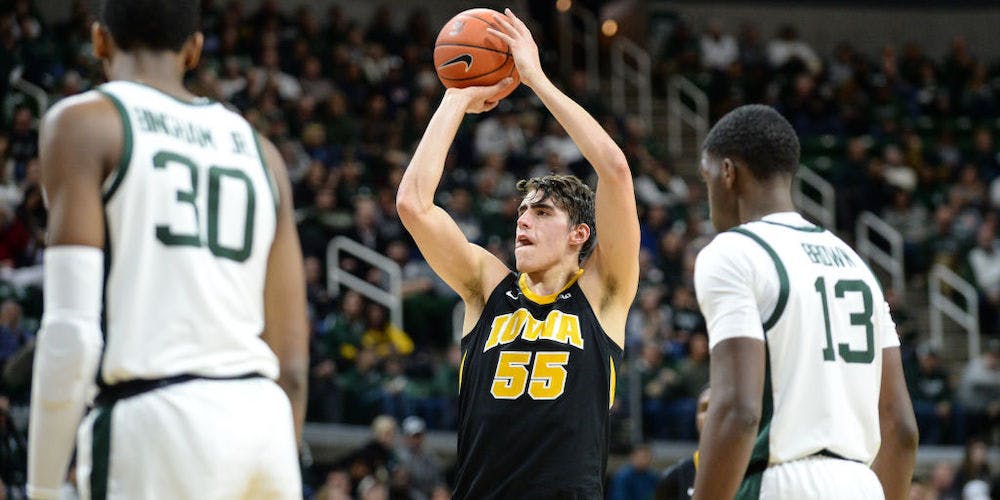 Key #2: Throw Something New At Tom Izzo
Michigan State will most likely double-team Garza in the post repeatedly during this game and while he only has 20 assists through 13 games, this could be an opportunity for him to kick the ball out to teammates like Joe Wieskamp (40.7% from three-point range), Jordan Bohannon (39.6%) or CJ Fredrick (51.1%) on the perimeter.
Running off-ball action in anticipation for those double-teams could result in some wide-open looks from outside or some backdoor cuts on the weak side.
Izzo is a legendary head coach for a reason. He's 4-0 against Iowa in Garza's career there. It'll be essential for McCaffrey to introduce some unexpected looks on both ends of the floor and to win the coaching battle. That's something he hasn't done to this point.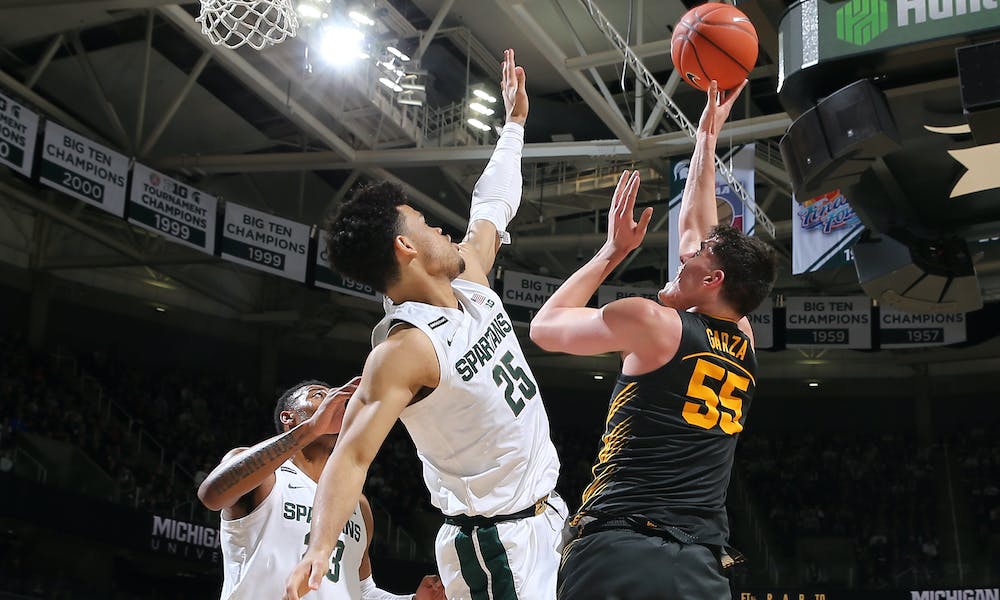 Key #1: Overwhelm Michigan State Offensively
The Spartans average 76.0 points per game which ranks 71st in the country. However, they've shot just 44.8% from the field as a team and lack a true go-to scorer.
Junior forward Aaron Henry (13.9 points in 29.7 minutes per contest) is their leading scorer and fellow junior forward Joey Hauser (11.8 points in 23.2 minutes per game) is the only other Spartan to average double-figures.
Unlike previous years, Michigan State can't rely on any star players to guide them offensively. The Hawkeyes can. Look for Garza and company to roll in the first of two matchups between these programs this season.
Check out the best spread and moneyline bets from BetQL's model and see live sharp and public data ahead of this Big Ten showdown.