TB
Buccaneers
Sun 1/24, 8:05 PM
GB
Packers
GB -3.5 O/U 51
BUF
Bills
Sun 1/24, 11:40 PM
KC
Chiefs
KC -3 O/U 54
Ken Barkley: College Basketball Overnight Bets for Thursday January 7, 2021
Taking a look at Thursday's best college basketball values
By Ken Barkley - Jan 7, 2021, 1:24am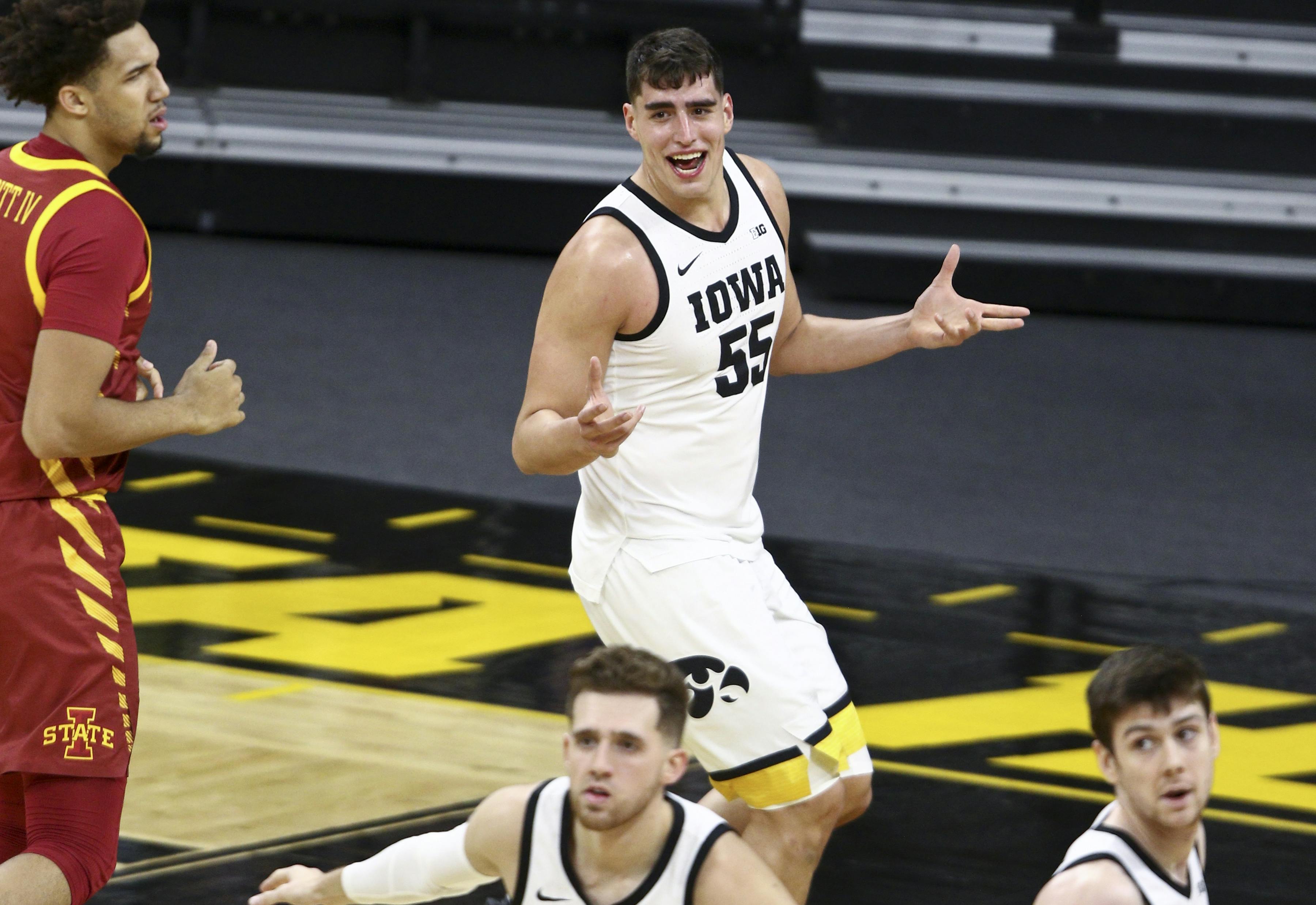 Overnights don't get better than they did Tuesday night. A perfect record, and a ton of CLV on literally every game. It was...well, perfect. Not sure how Wednesday is going to go since I am writing this as the games are tipping off, but then that's the whole point of overnights, isn't it? We bet and handicap for games FAR in advance. Let's do that for Thursday night's college basketball now.
A note on this game because it's already moving quickly. My number is Iowa -6.5, it opened -4, and is moving. It should continue moving. I recommend -5 is a half-unit, if -4.5 ever comes back for whatever reason that's a full-unit bet on Iowa for me. A big game, with a lot of interest, and involves a Top 5 team, so I wanted to get my thoughts out there in case there were questions, despite the fact a full edge doesn't exist for me in my process.
We end up on or against Murray State a lot. I feel like they're the Wofford of the OVC in that way. I think you're also getting Murray State in a great situation, as they've lost 3 games in a row and clearly that is starting to affect where they are lined in games. Eastern Illinois has a couple sticky losses against better teams, but a win over Murray State would represent, BY FAR, the best victory they'd have this season. And the game is being lined like that's a 50-50 proposition, more or less. To me, that is a mistake. I am more like Murray State -5 in the game, so there's room to play this up a couple points in my opinion.
I know Northwestern has been surprisingly good, and has a couple of upset wins already this season. That might make you hesitant to play them in this situation. But we've seen in the market with Northwestern games has been quite consistent: they are not a good team. They are never lined like a good team, and the market closing line represents the best information we have about the true difference between teams. Yes, Northwestern has outperformed that, but "lucky" outcomes also occur with frequency, all around us. 
I trust the market more than the results for Northwestern, still, and my number in the game is -9.5 for Illinois. Both -7 and -7.5 would be bets, this line originally opened at -6 and moved quickly.
Identically totaled games and I like opposite ends in each. I am grouping these together to explain my thresholds for making a total bet. Early in the season, say something like weeks 3 to 7, I give myself a larger margin of error, and I want a big difference between my number and the market before I bet. As my numbers get much better, the difference I seek can be smaller. Currently, I want about a 3-4 point difference between my number and the market to make a bet on a college total. That's what exists in both these games. 
My number in Cincinnati SMU (139.2) means this total can be played down from 145 for a couple points, and my number for Portland San Francisco (152.5) implies there is a lot of room for this number to skyrocket. I'd say 3-4 points isn't something I necessarily recommend to anyone else, or a "rule" you should ever implement, but it's been what's proven to be successful for me with my methods, and I wanted to share that here.
Listen to Ken Barkley Monday-Friday on You Better You Bet and follow him on Twitter @LockyLockerson.